Introduction of Phosphate Ore Flotation Equipment
2018-06-20 XinHai Views (962)
If you want to know more information, like quotation, products, solutions, etc., please contact us online.
Generally, low-grade phosphate ore often contains high gangue minerals content in China, and the phosphate ores are closely associated with gangue minerals, so flotation process is the most effective separating method, which can be divided into six kinds of flotation processes: direct positive flotation, single reverse flotation, reverse-direct flotation, direct-reverse flotation, double reverse flotation and grading flotation.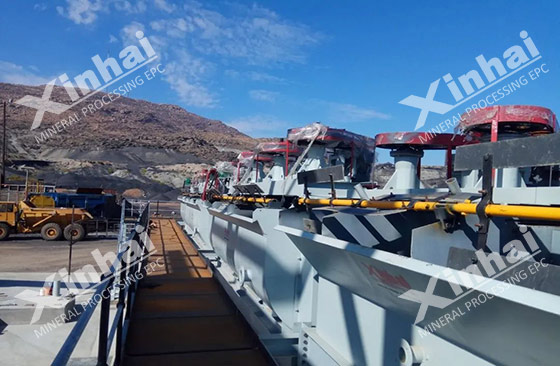 1. Direct positive flotation is to inhibit gangue minerals and concentrate phosphate minerals into foam products. This flotation process is suitable for siliceous or calcium-silicate phosphate ore, the whole flotation process is to inhibit siliceous and carbonate minerals. Besides, this process has simple flow, flotation reagents and equipment. But direct positive flotation cannot separate carbonate minerals, and foam is too sticky, which is not easy to convey and handle.
2. Single reverse flotation process is to inhibit phosphate ore and concentrate gangue minerals into the foam products. The process is suitable for those compact massive or banded phosphate ores, as well as the carbonate-type phosphorous with low siliceous mineral content. Besides, it is also applied in the separation of colloid phosphate and dolomite.
3. Direct-reverse flotation is to concentrate the phosphate ore into the foam products, enrich the gangue minerals of phosphate foams in the bubble, then float them. This process is usually used in calcium-silicate phosphate.
4. Reverse-direct flotation process refers to keep the phosphate ore in underflow of pulp by reverse flotation, then concentrate the phosphorus ore of underflow by the positive flotation. This process is generally used to deal with silicon-calcareous phosphate.
5. Double reverse flotation process refers to separate desilication and de-calcification repeatedly by the reverse flotation process. This process is suitable for mixed phosphorite with low siliceous gangue and carbonate.
6. Grading flotation process is to grade raw ore firstly, then float phosphate ore. This process is suitable for colloidal.
Xinhai is the most professional phosphate flotation equipment manufacturer in China. We are strict in design, production, testing and sales of various specifications flotation machines, agitation tank, etc.