GLAD TIDINGS: Xinhai successfully acquired Shandong Jiangxin Design Institute
2018-06-15 XinHai Views (1257)
If you want to know more information, like quotation, products, solutions, etc., please contact us online.
Recently, Shandong Xinhai Mining Technology & Equipment Inc held a board meeting and unanimously passed the proposal of acquiring Shandong Jiangxin Design Institute. Founded more than ten years, Shandong Jiangxin Design Institute has been engaged in mine engineering construction EPC, engineering design and consulting service, and obtained "Class B in Gold Mining Engineering in Metallurgical Industry". As a senior mineral processing EPC provider, Xinhai has completed more than 500 mineral processing EPC projects, whose equipment has been exported to over 90 countries and regions, and won ISO9001:2015 international quality management system certification, CE certification, self-support import and export right, International contracting projects qualification certificate, intellectual property management system certification, CNAS Certification, HI-tech enterprise qualification. This acquisition would gather the joint force of "strong foundation", and it was another major step for Xinhai to continue to promote its development strategy.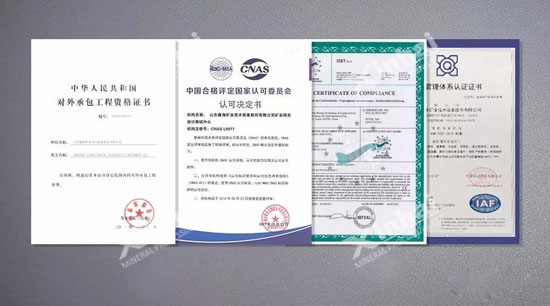 (International contracting projects qualification certificate, CNAS Certification, CE certification, international quality management system certification)
Xinhai is committed to providing "mineral processing EPC service", that is, "design and research - complete equipment manufacturing and purchase - commissioning and delivery". As the first link of the mineral processing EPC service, mine design and research will directly influence the process indicators and final benefits of the plant.
Xinhai mining design & research institute consists of two departments: testing center and ore dressing laboratory. Testing center also consists of testing group, sample processing group and management group. It is equipped with plenty of professional and technical personnel, whose task is to analyze the ore sample, and make the test report according to the test results. Besides, it is also possess complete sets of advanced equipment, such as crushing equipment, grinding equipment, flotation cell, gravity separation, magnetic separation, roasting equipment, dewatering equipment, drying equipment, analysis equipment. Ore dressing laboratory is equipped with various mineral processing laboratories, which are related to the crushed sample, rock-mineral determination, grinding fineness test, gravity separation, magnetic separation, flotation process, cyanidation process, wet ore dressing process, bacterial oxidation and some special ore dressing processes, heap leaching process. It is responsible for carrying on all kinds of test on mineral processing methods and conditions, then forming the experiment report and provide the best ore beneficiation process.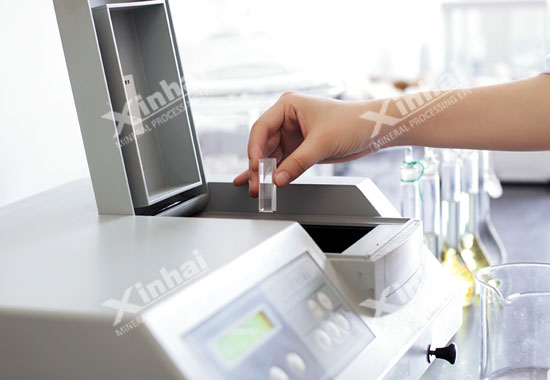 Xinhai mining design & research institute complete 180 pieces of research every year, and the test report completely reaches the industry standards. In addition, it guides plant design and production more than 80 per year. So far, the test center has obtained 10 authorized invention patents; Professional papers that published were more than 10 pieces per year; What's more, published The Latest Research Achievements and Applications of Refractory Gold and Silver has made outstanding contributions to Chinese mineral processing research field.
Xinhai mine design institute is made of more than ten departments and hundreds of professional talents in geology, mining, mineral processing, civil engineering and electric power. They can provide customers with detail drawings about civil construction, water & electricity transformation and equipment installation. Besides, they also can offer the investment & income analysis to the customer, and provide professional advice about mine management.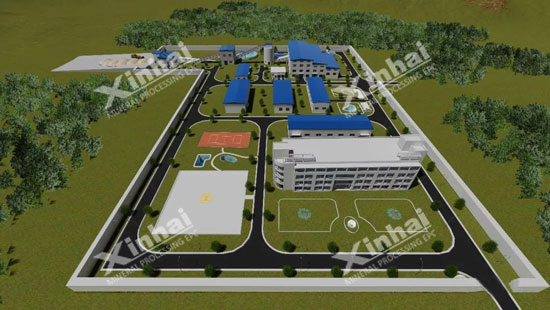 (3D plan of Nigeria gold ore dressing plant)
Based on the principles of ensuring mine safety, saving area, reducing civil construction investment, Xinhai mine design institute often adopts the best equipment configuration to maximize the profits according to the best ore dressing process and basic data that customer offers!
This acquisition consolidated the technical strength of Xinhai, which was in line with the overall development strategy of the company. And it was conducive to the sustainable development of Xinhai in the long run. In the future, Xinhai will continue to focus on providing customized mineral processing EPC service for each mine!