Xinhai Chairman Zhang Yunlong Invited as Adjunct Professor of Shandong University of Science and Technology
2018-10-16 XinHai Views (856)
If you want to know more information, like quotation, products, solutions, etc., please contact us online.
On October 15, College of Chemical and Environmental Engineering, Shandong University of Science and Technology held the employment ceremony for announcing Zhang Yunlong, chairman of Shandong Xinhai Mining Technology & Equipment Inc as an adjunct professor. Lv Xianjun, dean of College, Li Chuiwen, secretory of College, Han Qingwang, Xinhai admin director, Wang Chuanmo, office director, Ma Xiangqin, vice-minister of Human Resources, Li Shun, engineer of Mine Design Department, attended this ceremony.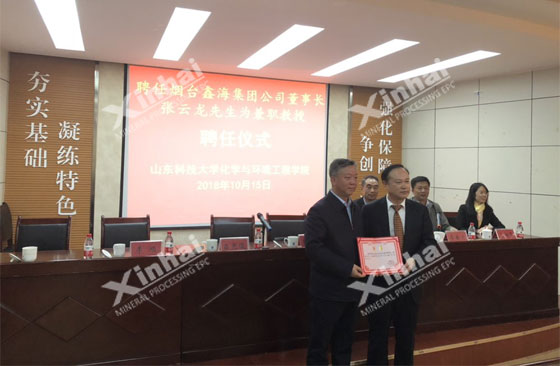 (Site of Employment Ceremony)
In order to achieve the complementary advantages of both sides, Shandong University of Science and Technology set up its innovation and entrepreneurship practice base at Xinhai based on the principle of complementary advantage, resource sharing and mutual benefit. This practice base provided a good platform for professional teachers and students to display their ability. It was an important step for both sides to achieve further communication and cooperation that Mr. Zhang hired as the adjunct professor of mineral processing engineering at Shandong University of Science and Technology.
Currently, Mr. Zhang is acting as chairman of Xinhai Mining Group, Shandong Xinhai Mining Technology & Equipment Inc, Yantai Xinhai Mine Design and Research Company, Yantai IATO mining Company. Besides, he was also the AusIMM academician, international mining consultant and senior ore dressing engineer.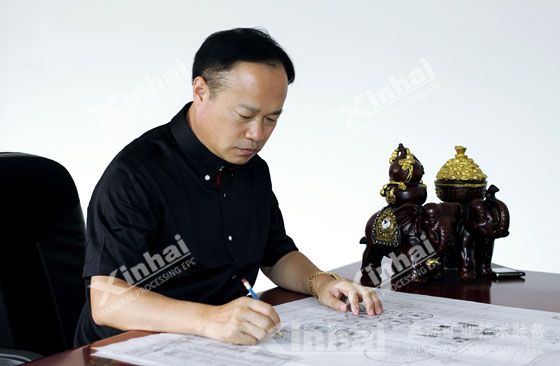 (Chairman Zhang Yunlong)
So far, he has served nearly 2,000 mines, of which there were more than 500 mineral processing EPC projects, invested multiple mining development projects and provided many management contracting services for foreign mines. Relying on rich experience of mining technology, the mine projects that he served were all around Southeast Asia, Australia, Africa, South America, North America, and Central Asia. As a senior ore dressing engineer for more than 30 years, Mr. Zhang successfully obtained 11 invention patents, 54 utility model patents and one international leading scientific and technological achievement.
After the signing ceremony, Mr. Zhang also explained the course about "overview of agitation floating machine" for mineral processing major students, and shared his experience on employment and development, which aroused discussion among students. They actively asked some questions about mineral processing that they confused, Mr. Zhang explained the theoretical knowledge by taking the mine projects that he served as the example, and emphasized the importance of the practice for mineral processing major students.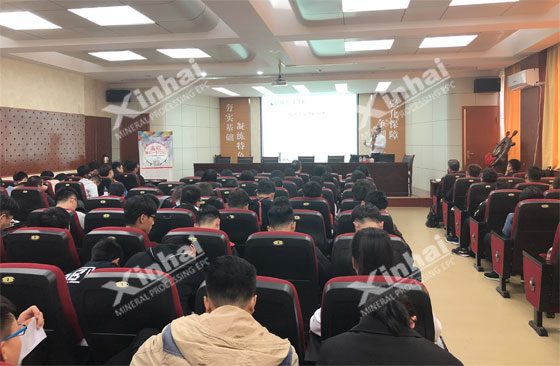 (On-site course)
The course concluded with student's cheers. In the future, Mr. Zhang will provide students with more practical experience in mineral processing, and impart his knowledge in this way to students who are going to engage in the mining industry and contribute to China mining development.