【INVITATION】See You in CHINA MINING 2018 !
2018-10-12 XinHai Views (1197)
If you want to know more information, like quotation, products, solutions, etc., please contact us online.
Exhibition Name: CHINA MINING Congress & Expo 2018
Exhibition Time: Oct. 18th-20th, 2018
Exhibition Center: Tianjin Meijiang Convention and Exhibition Center (18, Youyi South Road, Xiqing Dist, Tianjin)
Booth Number: N1-1503
As the global mining forum & expo, CHINA MINING has become one of the world's four biggest mining events and one of the world's largest platforms for mineral exploration and development deal. It covers the whole value chain, including geological survey, exploration & development, mining rights trading, mining investment and financing, smelting and processing, technique and equipment, mining services, etc. it is not only a trading platform for mineral exploration and development, but also a bridge for communication between domestic and foreign mining enterprises and relevant institutions. Over the past 19 years, CHINA MINING has witnessed the ups and downs of the global mining industry. Now, it has become an important weather vane for indicating the development of the mining industry. Relying on this platform, domestic and foreign counterparts can summarize and explore the successful model of mining development, make the in-depth exchange on the experience of revitalizing mining industry, and jointly explore the win-win cooperation path, finally contribute to the sustainable and healthy development of mining industry.
Use the table of contents below to navigate through the guide:
01
Xinhai Booth Distribution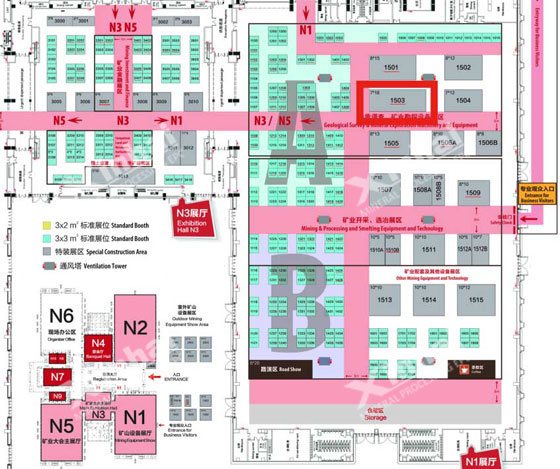 Xinhai Booth Number: N1-1503 (Above the red box area)
The booth area of Xinhai covers 126 square meters. In addition to showing advantages and characteristics of Xinhai mineral processing EPC service to international customers, Xinhai will also focus on foreign technical exchanges and trading cooperation with world-class mining machinery enterprises, further grasp the latest technology development trend in the field of engineering machinery, mining machinery and power facilities & technology, striving to build a close and developing service platform for you.
02
Xinhai's Highlight
1. Provide attentive consulting service to you in five languages (Chinese, English, French, Russian and Spanish).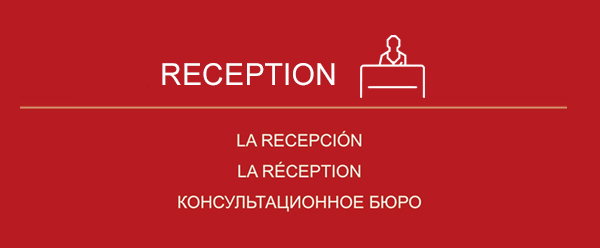 2. AR Interactive Experience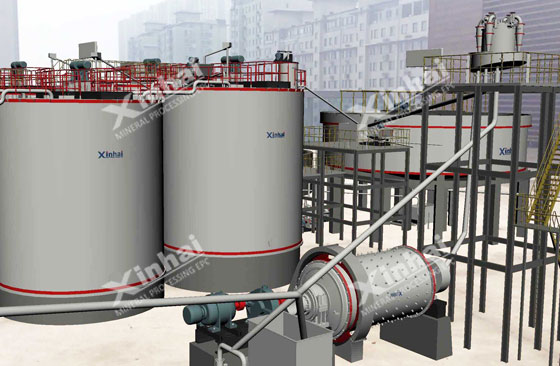 Mineral processing plant is getting closer, and mineral processing equipment is more visible! AR interactive experience feel as if you are there, taking you to experience a different mineral plant design!
3. Order on the scene and get iPhoneXS
Order on the scene and get an iPhoneXS gift card

4. Inter-connectivity with Robot "Xiaobao".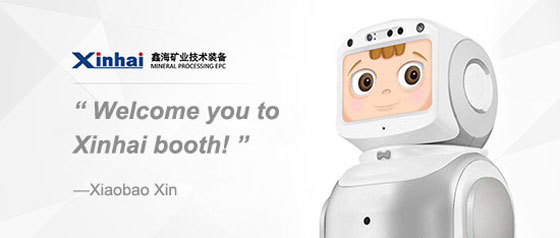 5. Win good gift through enough Likes.
During the exhibition, you can add the WeChat of Xinhai staff, then post it into Wechat Moments, like "I am at the site of Xinhai Booth, CHINA MINING Congress & Expo 2018, and participating in the activity of collecting praise and winning good gifts. Please give me a thumb up!". Then, you can win good gifts through enough Likes!
6. Scan the QR code to join "Mine EPC Group", and grab red packets on the hour.
During the exhibition, scan code to join "Mine EPC Group", then grab red packets on the hour(10:00AM, 16:00PM) every day. 10000 yuan red envelope is waiting for you!
7. We also provide you with various gifts, snacks and drinks, relieving your exhibition journey!
Then Xinhai Chairman Yunlong Zhang will also attend the exhibition. As the fellow of the Australiasian Institute of Mining and Metallurgy, Vice Chairman of Strategic Union for Technology Innovation of Gold Industry, Vice President of Green Mine Construction Promotion Committee of China Mining Association, Mr. Zhang leads Xinhai to focus on mineral processing EPC service more than 20 years. Xinhai has always adhered to the service concept of "what you need is what we can do!" and has made an outstanding contribution to China's mining industry.