Xinhai appeared in 2017 Canton Fair
2017-04-28 XinHai Views (703)
If you want to know more information, like quotation, products, solutions, etc., please contact us online.
During April 15 to 19, 2017, the 121th China Import and Export Fair (Canton Fair) was held in Guangzhou. As the iconic brand of Chinese exhibition industry, Canton Fair has become the best platform for global equipment manufacturing enterprises to show their new technology and products. Xinhai Mining displayed various mineral processing equipment introduction, EPC case and professional mineral processing EPC solution, which attracted many domestic and foreign merchants.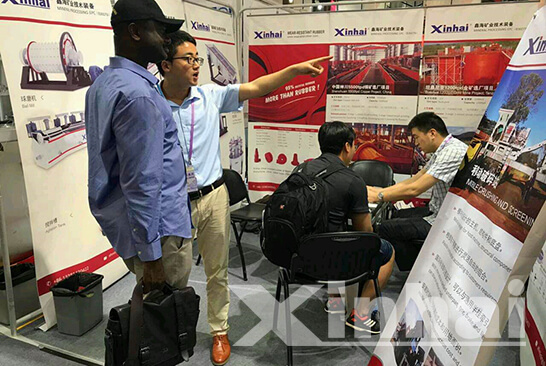 ▲ Xinhai sales staff explained to clients.
Compared with previous years, the quantity and quality of Canton fair in this year were improved, especially a lot of customers from countries along "One Belt And One Road" were increased.
In recent years, with deeper promotion of "One Belt And One Road" strategy layout, trade cooperation of countries along "One Belt And One Road" is constantly emerging new business opportunities. In the field of resources and energy opening, it was more obvious that these countries achieved complementary advantages through trade cooperation, which provided a good opportunity for Xinhai to search new sales growth. Relying on Canton Fair platform, the high quality products and services of Xinhai better enter into Southeast Asia and Middle East.
During the exhibition, new customers also streamed into Xinhai booth. Xinhai sales team always adhere to the particularity and patience, striving to create good consulting service experience for every customer.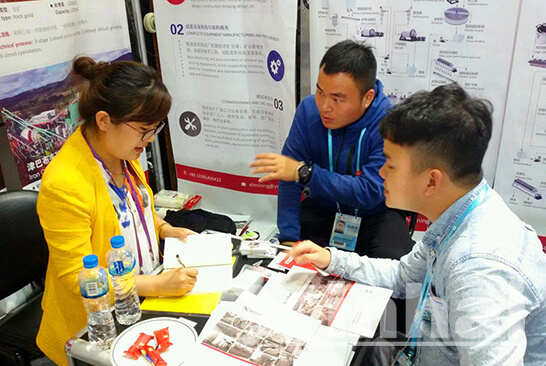 ▲ Xinhai international sales staff not only answered customer's question, but also recorded customers' requirements.
In the exhibition site, there were so many kinds of mineral processing EPC consulting, in order to solve customers' problems timely and effectively, Xinhai sales staff carefully recorded the consulting details of every customer, which was easy to file and follow up.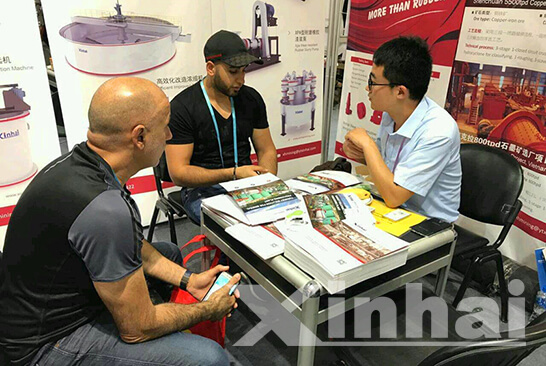 ▲ The customer from the Middle East consulted the details of Xinhai mineral processing EPC.
In terms of mineral processing EPC service, customers always care more about project cost and construction period. Based on Xinhai more than 500 EPC cases, Xinhai will choose the similar case to analyze and provide optimized mineral processing plan according to the plant information.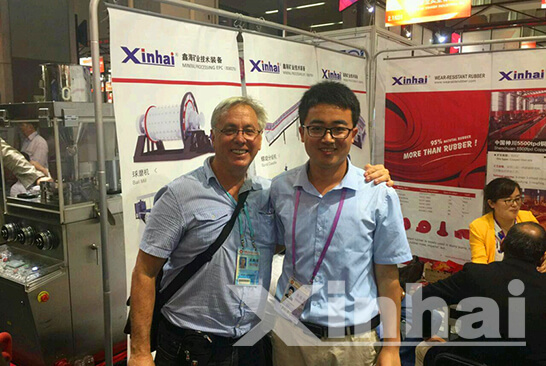 ▲ Xinhai strives to be careful, patient to every customer on service. And a pleased smile from customer is definitely a great encouragement for Xinhai.
In recent years, Xinhai Mining responded to "One Belt And One Road" strategy, speeded up "Going-out" step, actively explored overseas markets, who has set up overseas offices in multiple countries. With the expansion of the international business market, Xinhai will continue to optimize its service ability to provide customers with more perfect, professional mineral processing EPC service.