Focus on the NPC&CPPCC, Xinhai is Firmly on the Way Forward !
2022-03-14 XinHai Views (656)
If you want to know more information, like quotation, products, solutions, etc., please contact us online.
Time has never changed the pace of progress. In the face of the unprecedented changes in the world in a century and the impact of COVID-19 pandemic, we have responded calmly and moved forward under pressure to achieve a good start to the "14th Five-Year Plan". As an important foundation for promoting sustainable and high-quality economic and social development, mining is the top priority. In this critical year, the development of these industries is closely related to Xinhai.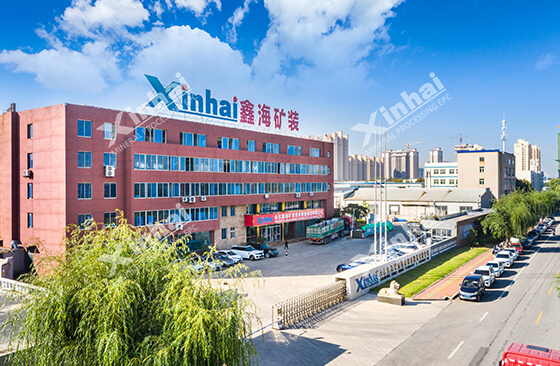 (Xinhai Office Building)
Use the table of contents below to navigate through the guide:
01
New technologies promotes the construction of intelligent mines
With the development of economic globalization, relying on scientific and technological innovation to promote high-quality development and strengthening intelligent construction have become a new trend in mining development. The mining industry is still in the initial stage of intelligent construction. How to further strengthen the research and development support for the key technologies and equipment of intelligent mines and accelerate the pace of the construction of intelligent mines is still a key concern of the industry.
In recent years, Xinhai has been committed to promoting the development of mine automation and intelligence, and has applied technologies including 3D, AR, VR, 720 panoramic, and holographic projection to mineral processing tests and other links. In 2021, with a total investment of 700 million yuan, covering an area of 117.36 mu and a total construction area of 64,034.78 square meters, the Xinkuangfu Intelligent Equipment Industrial Park will start construction.
After the project is completed, Xinhai Mining will have an intelligent high-end equipment production center, a mineral processing test and pilot design center, a mineral processing experience center that combines virtual and model displays, an exhibition center for mining equipment and electromechanical materials, R&D center for mine automation, intelligence and informatization. Further realize the industrial interconnection of manufacturing systems, and promote the development of the technical level of the mining service industry to an intelligent and high-end development.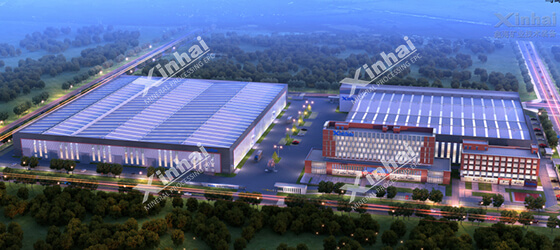 (Xinhai intelligent equipment industrial park rendering)
02
Realize the carbon peaking and carbon neutrality goals
In order to achieve green development under the carbon peaking and carbon neutrality goals, the mining industry should optimize the industrial structure, reduce energy-intensive industries, and reduce intermediate transfer links. On the other hand, it is necessary to optimize the energy structure, reduce the use of traditional fossil energy such as coal, oil and natural gas, and replace it with more renewable energy.
As a proposer and practitioner in mineral processing EPC+M+O service, Xinhai has been designing mines with forward-looking thinking. From the early stage of the project, the comprehensive utilization of resources, green development, and intelligent mine construction have been taken into consideration. Not only provides customers with high-efficiency and energy-saving mineral processing equipment, but also tailor-made innovative and practical process technology, complete and professional production line configuration and high-quality and considerate butler-style services according to the actual mine, which greatly reduces investment budget overruns, construction delays, and expectations. Mineral dressing indicators are not up to standard, and problems such as transformation after production are started. In order to optimize the industrial structure and achieve the goals of carbon peaking and carbon neutrality, Xinhai contributes its strength.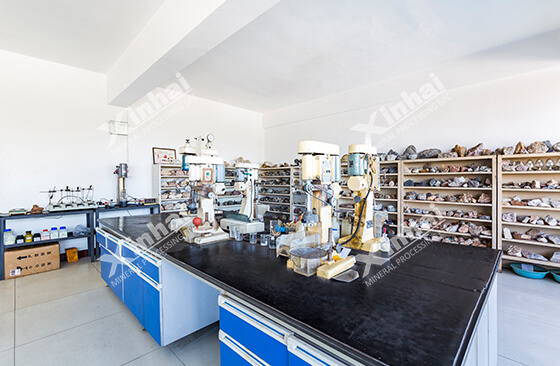 (Xinhai laboratory)
03
Technological innovation leads the development of the industry
Putting innovation in the first place is because innovation is the first driving force for development. In the government work report of the two sessions, it is proposed to improve the ability of scientific and technological innovation. Implement a ten-year plan for basic research and strengthen long-term stable support. To achieve this goal, continuous enhancement of technological innovation capability is the key.
Throughout the development of Xinhai, every step is inseparable from the achievements and foreshadowing of innovation. Taking technological innovation as the core driving force of enterprise development, it has established three faculties: Mineral Processing Research Institute, Mine Design Institute and Mechanical Design Institute. Continuously increase investment in enterprise innovation and reform, and attach great importance to scientific and technological innovation and development.
With strong independent innovation ability and many professional and technical personnel, more than 80% of the mineral processing equipment has been successfully improved and developed. And a variety of innovative mineral processing processes have been proposed, so that the equipment can better adapt to the technological process, and achieved multiple patents. On this basis, Xinhai attaches great importance to technology research and development and protection, has established a sound intellectual property management system, actively records and summarizes scientific research results, and promotes the development and continuation of scientific research work.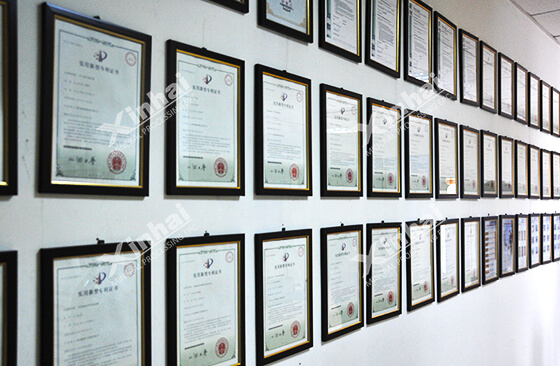 (Xinhai patent certificate)
2022 is an important year for entering a new journey to build a socialist modern country in an all-round way and to march towards the second centenary goal. Xinhai takes it as its mission to spread the correct concepts and methods of mine construction, and constantly uses new technological means to enhance its core competitiveness. Adhere to high-quality development, continue to promote the further implementation of the "five-mode strategy" of market internationalization, marketing interconnection, manufacturing service, management modernization, and development innovation. To meet new challenges of "scientific and technological innovation", " intelligent mine " and " carbon peaking and carbon neutrality ", Xinhai is firmly on the way forward!