Post-epidemic Era, Being Upstream "Made in China"!
2020-08-12 XinHai Views (964)
If you want to know more information, like quotation, products, solutions, etc., please contact us online.
As the foundation of national development, the manufacturing industry is the assurance of sustainable development. In 2020, the epidemic is spread all over the world, which is deeply influencing economic development. The manufacturing industry also faced multiple challenges. During this period, China manufacturing industry shows strong vitality, laying a solid foundation to find chances in dangers. As one of "Made in China", Xinhai Mining against the current and made over-predicted performance during the epidemic. How did Xinhai Mining make it happen? The answers are like these.
Use the table of contents below to navigate through the guide:
01
One. Transformation and development, innovation as the engine
Innovation is the motive power of enterprise development, Xinhai always uses innovative thoughts in every aspect of enterprise development, accelerating the transformation development of the mine manufacturing industry. In the beginning, Xinhai Mining creatively put forward the mine project train service, which caused a strong response in the mining industry. In the later 20 years, Xinhai continuously improved and upgraded it, and put forward the mineral processing EPC+M+O service in 2019, which included design and research, all set equipment manufacturing and purchasing, commission and delivery, mine management and operation. It is user-oriented, thinking about what customers thought, urgent needs of customers, and solve the confusion of customers. Therefore, the projects of Xinhai Mining rooted in over 90 countries and regions.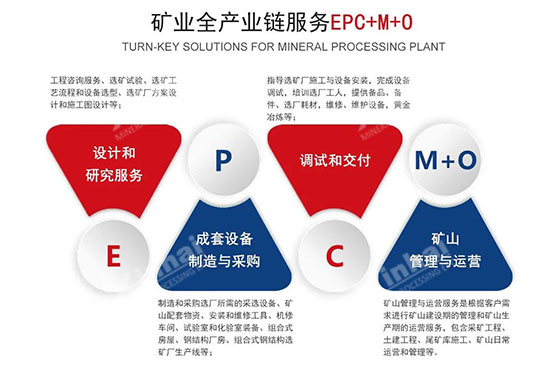 Since 2011, with the development of internet technology, Xinhai Mining also took the advantage of "Internet+", advancing side by side with multiple marketing ways. It broke the bottleneck in the environment impacted by the financial crisis, and realized the reverse growth of foreign orders. During the epidemic, Xinhai Mining depended on its online marketing basis and experience, showed it paces on the "clouds". It actively connected with clients with online ways, but also share overseas mine investment risk analysis and prevention and control measures through live telecast, with the hot response.
02
Two. Lay a solid foundation, technology as motive power
Xinhai Mining knows that the efficiency of the modern enterprise is profit from good technology, and the good technology is reflected in the reasonable processing flow and energy-saving equipment. For this, Xinhai Mining set up the mine research institute, mine design institute, and mechanical design institute, providing strong technical support for mineral processing EPC+M+O service.
The mine research and design test center of Xinhai Mine Research Institute is certified by laboratory accreditation certificate of China National Accreditation Service for Conformity Assessment. It can provide accurate experiments for over 70 kinds of minerals with innovative thoughts. For multiple mine points complex experiments, it starts from the representation of ore samples. It also set up the process commissioning section, to ensure the ideal process index into reality.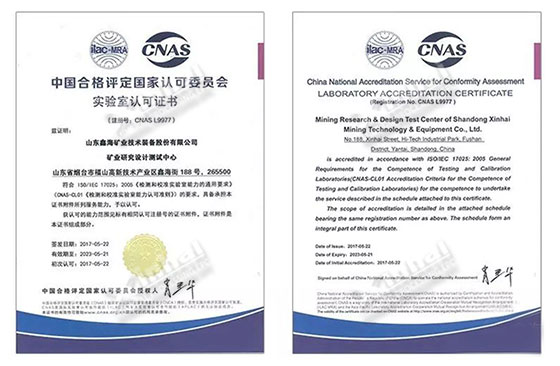 Xinhai Mine Design Institute has class B design quality of metallurgy industry. It has 6 section offices, 18 professions, over 80 professional design talents. It can carry out common mine design, 3D design, mobile processing plant design, combined steel structure processing plant production line design, according to multiple design standards. It customizes design solution for every mine, rather than copying.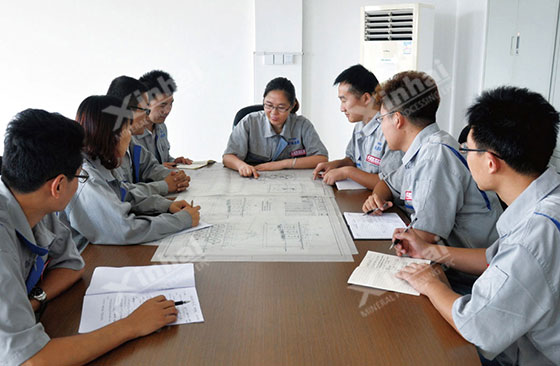 Xinhai Mechanical Design Institute takes the responsibility of equipment development, design, improvement and other tasks. With a large number of technics with mechanical design experience and practical experience, it updates over 80% common mine equipment and accumulated applying for multiple patents.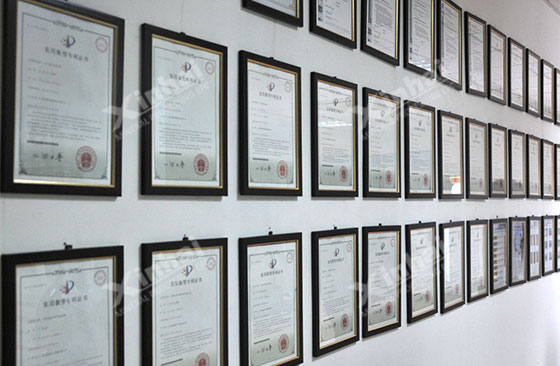 03
Three. The foundation, quality as supporter
As the supporter of the brand, quality is the key factor of manufacturing industry development. With the "Made in China 2025" putting forward, Xinhai Mining continuously improves the control of product quality. Xinhai production management center has 2 production plant, covering an area of 100 acres, with over a hundred machining equipment like milling, planing, boring, drilling, stamping, welding, roll plate cutting, etc. It has over a dozen mine machining equipment, such as independent research and developing special machine tool for ball mill, dedicated loading and unloading equipment forbearing and pulley. It can produce over 1000 kinds of equipment for mining, processing and smelting, and provide whole main and auxiliary equipment for capacity under 50000 tons/day.
At present, Xinhai Mining is already passed ISO9001:2015 International Quality Management Certification and EU CE certification. Besides, Xinhai Mining also established a complete and rigorous quality management system, to ensure the production and purchasing operating according to the quality manual. Xinhai keeps enhance the brand value and won by quality in development.
Now, with the pace of domestic resumption of work and production picking up, the good momentum China manufacturing industry appears. According to the statistics, China Manufacturing Purchasing Manager Index in July is 52.8%, 1.6 percentage points higher than last month, and in the expansion range for three consecutive months. The production index is up to the new top since February 2011. Manufacturing output is in the expansion rage for five consecutive months. The new order index is also up to the new top since February 2011 and in the expansion range for two consecutive months. Although the overseas epidemic drags down the exports, the new order index is still in the contraction zone, and the drop is lowest in six months.
The epidemic is still continuing, but all signs show that China Manufacturing Industry production resume is speeding up. Even if there are many challenges, Xinhai Mining will continue to face and overcome them, chasing the opportunity and being the upstream "Made in China" in the post-epidemic era.