Congratulations to Xinhai Gaining Two Invention Patents
2018-02-27 XinHai Views (880)
If you want to know more information, like quotation, products, solutions, etc., please contact us online.
Since the 13th Five-Year Plan", Xinhai has seized new opportunities of mining industry development, actively responded to the call for "One Belt And One Road" strategy. According to the experience of high-end manufacturing enterprise in Europe and America, Xinhai started the transformation of manufacturing industry servicizing, it expanded main business from "mining equipment manufacturing" to "mineral processing EPC service"(mining design, complete equipment manufacturing and procurement, commissioning and delivery" dressing total package service). Xinhai dedicated to providing customers with high-efficient, energy-saving, environmental mineral processing equipment and process. At the same time, Xinhai attached great importance to pre-sales, sales and after-sales service, which was beneficial to the high-quality growth of mining industry.
At present, China's mining machinery industry is at the stage of upgrading. With the continuous development of "made in China 2025", Xinhai also increased its investment in innovation and reform, attached great importance to the technological development and innovation. Depending on its strong independent innovation ability and many mechanical and mining technicians, Xinhai has successfully developed and improved 80% mineral processing equipment. Currently, Xinhai possesses 24 authorized patents, including 11 invention patents and 13 utility model patents.
Recently, Xinhai successfully obtained two invention patents again – mobile mineral processing plant, a connection device and welding method that can improve the efficiency of automatic submerged arc welding machine. It was not just represented Xinhai's mineral processing power, but also meant a great progress of China's mineral processing industry.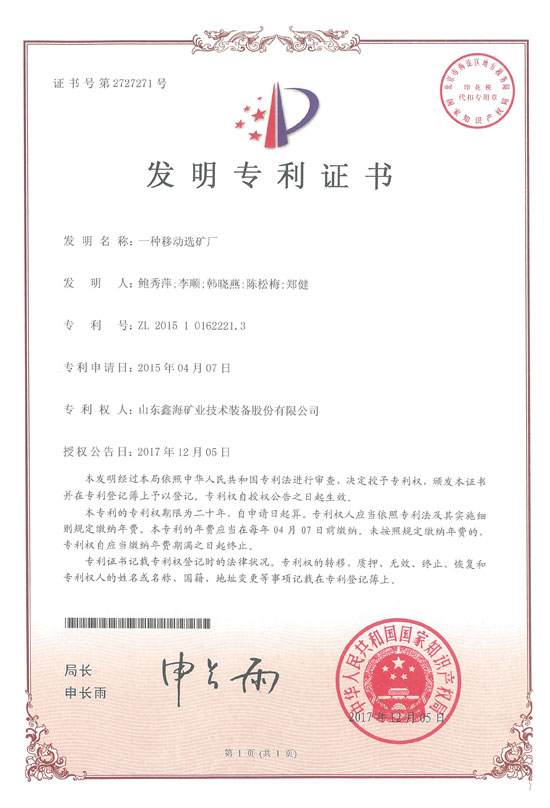 With the continuous promotion of brand recognition, Xinhai's mineral processing power in recent years was widely recognized. In the future, Xinhai will grasp the development opportunity, and show the power of "made in China" in the international mineral processing market with high quality and continuous innovation.