Xinhai Han Qiang Won Top Ten International Accountants
2017-12-08 XinHai Views (1210)
If you want to know more information, like quotation, products, solutions, etc., please contact us online.
On November 26, 2017, the Association of International Accountants (AIA) and China Association of Chief Financial Officers (CACFO) co-organized 2017 China AAIA graduation ceremony in Beijing Wanfangyuan Hotel. More than 300 financial elites from all over the country were awarded the AAIA certificate (one accountant double certificates).
CACFO and AIA firstly elected the top ten AIA international accountants in 2017, Han Qiang, Xinhai chief financial director, included. Mr. Han was invited to the ceremony and delivered a wonderful speech as an outstanding representative. He not only shared his thirty years of work experience, but also expressed his emotion for 30 years of China's rapid economic growth and unceasing development of China's accounting industry. He said: "in the present this era of rapid development, with the rapid ascension of China's international status and continuous promotion of economic development, China increasingly needs a large number of high-level, high-standard and high-quality international professional accountants, who can understand international accounting standards and policies, possess international management level and undertake international business, meet requirements of international development."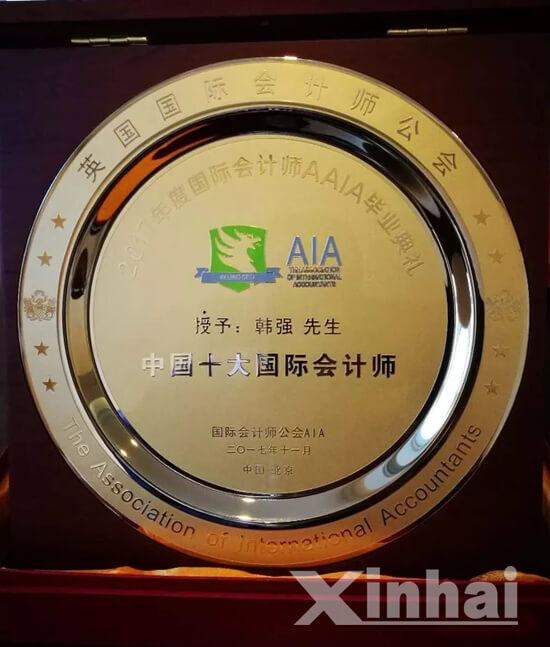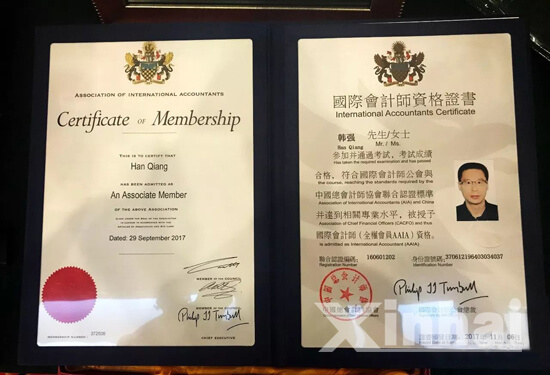 The Association of International Accountants(referred to as "AIA") is founded in 1928. The head office is located in UK. It's a world-leading international accounting certification group, and possesses branches in many countries, its members spread all over the world. AIA is one of the five largest international accounting certification authorities, and accountants with AIA qualification certificate can be legally employed in the European Union, Caribbean nations, African nations and Hong Kong under the protection of laws. In addition, they can also obtain CPA in Canada, Australia and other countries with strings attached.
Besides, Mr. Han also expressed his thanks to AIA: "with the help of AIA, I had a better understanding of international accounting standards and international financial knowledge, and I also obtained comprehensive promotion in the enterprise strategy, budgeting, organization operation, investment and financing, performance, internal control and risk management. So to speak, AIA not only expanded my accounting horizon, but also helped me to solve many problems that encountered in daily business management. All in all, AIA has brought a modern and global enterprise management model and approach, which provided another thinking way. I sincerely hope that AIA will flourish in China, develop more high-level professionals with international financial management knowledge and global vision for China's accounting industry."