Xinhai EPC: The Perfect Choice for Mineral Processing
2017-08-03 XinHai Views (1294)
If you want to know more information, like quotation, products, solutions, etc., please contact us online.
As a common mode used in international project contracting, EPC mode achieved the optimization of project construction, effectively controlled the whole schedule, cost, and quality, and ensured good investment benefit. Xinhai mineral processing EPC service" was undoubtedly the model of EPC in mining engineering procurement construction.
Use the table of contents below to navigate through the guide:
——
Design and Research——Engineering consultant service, mineral processing test, mineral processing technological process, equipment selection mineral processing plant design construction drawing design, etc.
Complete Equipment Manufacturing and Procurement——Manufacturing and procurement of mineral processing equipment, mine supporting materials, tools for installation and maintenance devices for test and chemical test.
Commissioning and Delivery——Guidance on plant construction and equipment installation, achievement of equipment commissioning, training of plant staff providing of spare parts, plant consumables, equipment repair, and maintenance, etc.
02
1. Mineral Dressing Test
Provide accurate test for more than 70 kinds of mines
Mineral dressing test was in charge of Xinhai Mineral Dressing Research Institute. The technical personnel would test more than 70 kinds of minerals and then provide a reliable solution.
Xinhai Mineral Dressing Research Institute consisted of Chemical Lab and Mineral Dressing Research Room.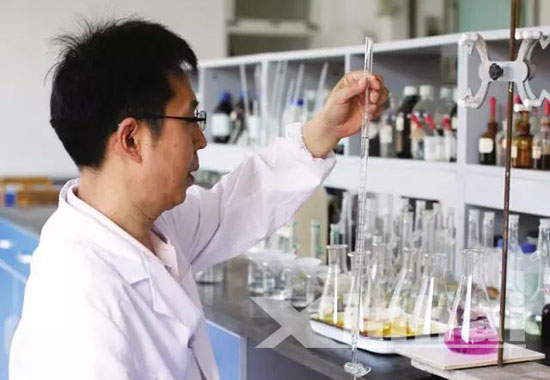 Chemical Lab was responsible for chemical analysis of samples, products (intermediate products, final products) and other samples.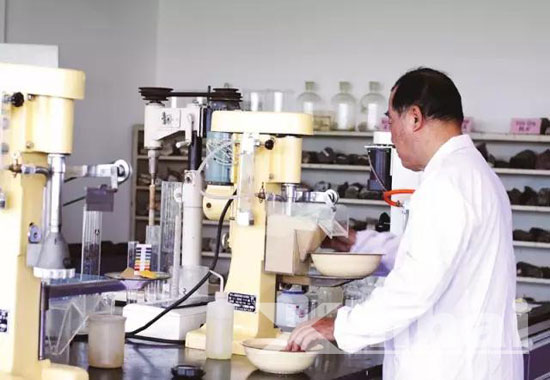 Mineral Dressing Research Room was equipped with crushing sample room, mineral appraisal, grinding fineness test, and various mineral processing laboratories, such as gravity separation, magnetic separation, flotation, cyanide leaching, wet dressing, bacterial oxidation and the special dressing, heap leaching. Xinhai Mineral Dressing Research Room was responsible for all kinds of processing methods and processing condition experiments, then formed the test report and put forward reasonable mineral processing technology.
At present, Xinhai has set up offices and mineral dressing research institute in multiple countries, and provided local customers with comprehensive and reliable service.
03
2. Mine Design
Grade-A license on mineral design, more than 200 mineral processing EPC projects
Xinhai Mine Design Institute was responsible for turning the mineral dressing process into an executable solution, provided customers with a professional and reliable mine design scheme.
At present, Xinhai Mine Design Institute included 14 departments, such as mining, ore dressing, civil engineering, electric power, and more than 100 professionals, which can provide all kinds of mine design of non-ferrous metals, ferrous metals, gold and other precious metals, non-metallic, coal, building materials mines, chemical mines and rare earth mine. Thanks to the technical support of the Mine Design Institute, Xinhai completed more than 200 mining projects in the past 20 years.
04
3. Equipment Manufacturing and Purchase
Provide complete mineral processing equipment for small and medium-sized plants
05

Mechanical Design

The Mechanical Design Institute was in charge of research and development, design and improvement of Xinhai equipment. According to the equipment requirements from Mineral Dressing Research Institute and Mineral Dressing Research Institute, Xinhai technical personnel provided the required equipment for the customer, making the customers enjoy one package service in "dressing experiment, beneficiation process, and equipment selection, mining design, equipment customization" link.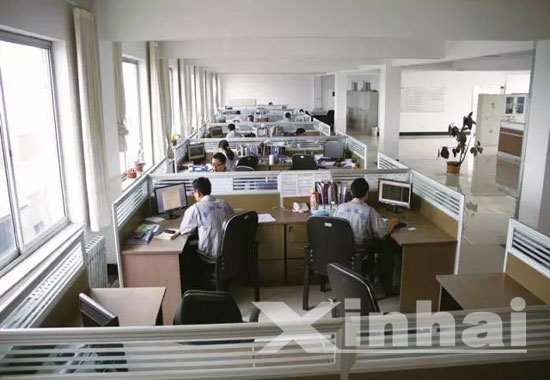 According to different customer needs, Xinhai Mechanical Design Institute would reform the equipment selection every day, striving to match the process perfectly.
Xinhai Mechanical Design Institute carried out the technical renovation for more than 80% common mineral processing equipment and now has obtained 20 national patents. Mechanical equipment was a very important link in the mining operation. Xinhai kept improving in equipment research and development, made it combine with process perfectly, improved the production rate, reduced the energy consumption and prolonged the stale running time, providing customers with cost-effective service.
06

Equipment Manufacturing

Unlike the traditional purchasing form, as a mining machine service provider, Xinhai also had his own three equipment production bases, provided the required equipment and accessories for different plants, which greatly reduced the procurement cost of project equipment.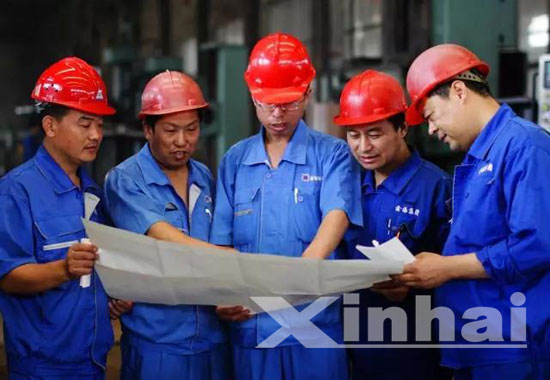 The workers of the mechanical equipment manufacturing workshop were assigning tasks according to the equipment drawings.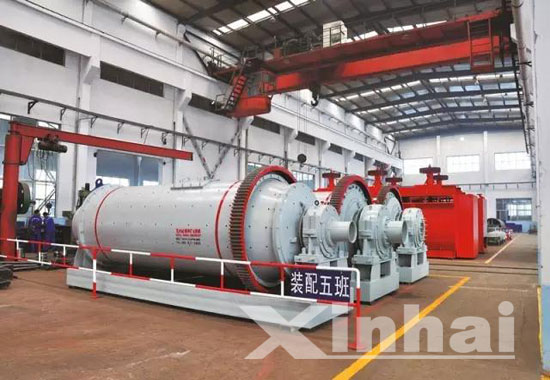 The site of Xinhai equipment manufacturing
All equipment was painted with a marine coating, which was suited to a long time marine transport. Xinhai also set up packaging and shipping department, the main tasks included equipment packaging design and implementation, packing plan, implementation and transportation, a summary of product specification, commodity inspection, and customs clearance.
07

Equipment Procurement

The mature procurement and supply management system proposed by Xinhai can provide:

1) Purchase required equipment and materials that used in project construction and mining operation;

(Including mining equipment, ore dressing equipment, supporting materials, installation and maintenance tools, laboratory and laboratory equipment, spare parts and plant consumables, etc.)

2) Improve procurement efficiency, reduce procurement costs and ensure procurement quality.
08
4. Packing and Shipping
Perfect packing and shipping system
According to the construction site layout, Xinhai would determine the packing of each work area and accurate unloading location, which avoided inconvenience from secondary handling and hoisting, reduced transport and unloading costs, and it was also beneficial to site management and enhanced the working efficiency in installation.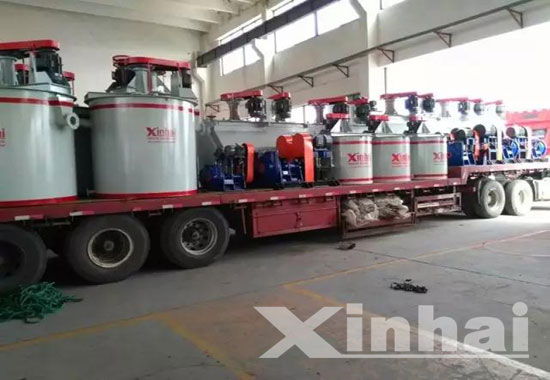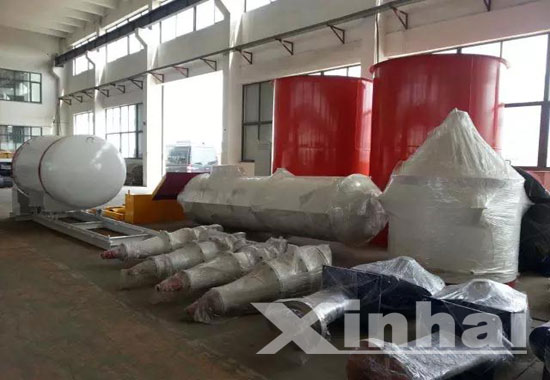 In order to ensure the equipment reaches the plant completely, Xinhai established the perfect packaging and delivery management system: using the waterproof coil, stretch film, pallets, wooden boxes to avoid the damage that occurred in the process of transportation, such as collision, wear, corrosion and so on.
09
5. Installation and Commissioning
Quick install and commissioning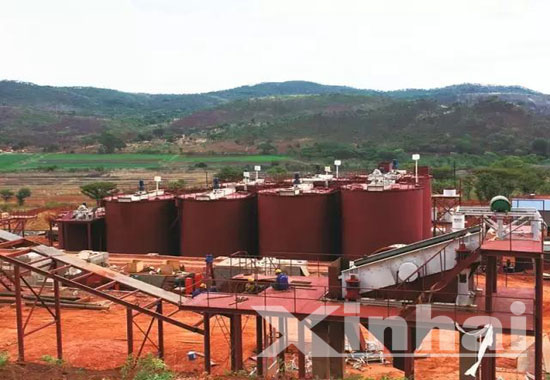 The installation site of Zimbabwe Iron Cap 700tpd gold project
Xinhai installation team was from the first line of mine production and was made of engineering and technical personnel who served as the core position of the mineral processing plant. And they served for more than 200 mineral processing plants with rich experience, and they were able to deal with the routine problems in the process of plant construction, provided the guarantee for customers and ensured designed capacity, this was one of the important factors for Xinhai mineral processing EPC service to win high praise.
010
6. Worker Training
Train technical team, guarantee plant operation
Xinhai provided training for customers' workers, helped customers to build their own technical team, ensured the stable operation of the plant, and avoided the big loss.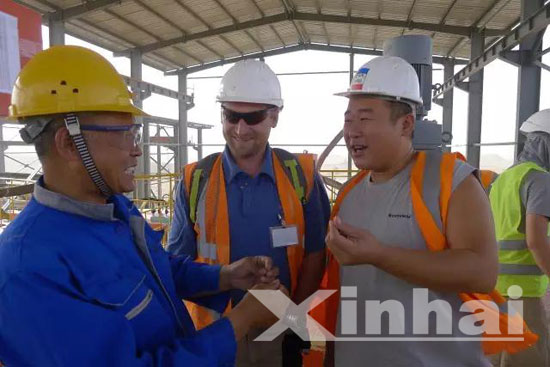 Xinhai engineers were explaining the technical details to foreign technical teams.
Xinhai also provided the customer with free books, like common mining equipment failure treatment, operation and maintenance procedures of plant, operation and maintenance procedures of mineral equipment. These books gathered much experience of more than 200 Xinhai mineral processing projects.
011
7. Designed Capacity Reached
More than 200 mineral processing projects experience
For mineral processing EPC service, Xinhai would let your plant put into operation quickly, and promised that the recovery rate would reach the expected result, the production capacity achieves the goal designed for customers' plant, and product quality reaches the requirement, each indicator meets the requirements, the production cost was controlled efficiently, the equipment can operate stalely, and ensured stable befit.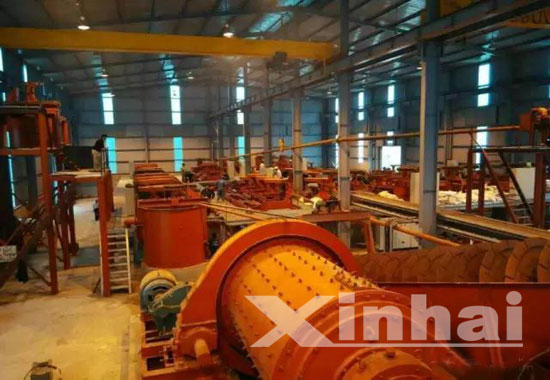 Vietnam Kra 800tpd graphite ore dressing plant project adopted two stage closed crushing + one stage closed grinding+ one roughing- two scavenging-ten cleaning flotation process.
So far, Xinhai has completed more than 200 mineral processing EPC projects, possessed more than 70 kinds of mineral processing techniques and experiences, and has obtained 20 patents. Besides, Xinhai has established overseas offices in multiple countries.