The Vietnam 800t/d graphite mineral processing plant was an EPC+M+O project. The major mineral was graphite granulite, while the second one was graphite schist. The major beneficial mineral was medium flaky graphite which had a much better ability of beneficiation.
Xinhai Solution
01

Two-stage closed-circuit crushing-one-stage closed-circuit grinding and classification-flotation process of one-stage roughing, two-stage scavenging, and ten-stage concentration.

02

The mineral processing test showed that graphite concentrates could be produced through nine-stage grinding, one-stage roughing, one-stage scavenging, and nine-stage concentration, with a yield of 14.20%, fixed carbon content of 92.30%, and a recovery of 87.91%.

03

To obtain high-carbon graphite concentrates, the graphite concentrates were treated by wet screening. As a result, the yield and fixed carbon content of -140 mesh concentrates were 3.68% and 95% respectively; those of -140 mesh concentrates were 10.72% and 91.46% respectively.
Project Result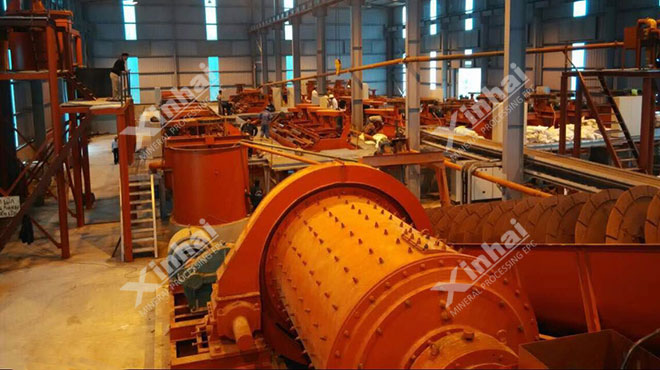 Thanks to a sound technological process and a simple reagent system, advanced indices were achieved for the project. The recovery of graphite concentrates was up to 92%, promising an annual profit of $48 million.