What are the Benefits of Xinhai Center Driving Thickener?
2018-09-14 XinHai Views (904)
If you want to know more information, like quotation, products, solutions, etc., please contact us online.
Xinhai center driving thickener mainly consists of thickening pool, rake, transmission device, rake lifting device, feeding device, unloading device and safety signal device. It is applied in the dewatering treatment of wet concentrate, and it is also the initial stage of dewatering operation — thickening. Besides, it can also be used as the dewatering operation between cleaning and filtrating.
There are more and more requirements for mineral processing equipment and technology in the modern mining industry, the thickener is no exception. Xinhai never stops its step on the research of center driving thickener. According to the configuration and movement principle of the traditional thickener, Xinhai collaborates with some well-known universities, introduces the foreign advanced technology, and finally develops this center driving thickener.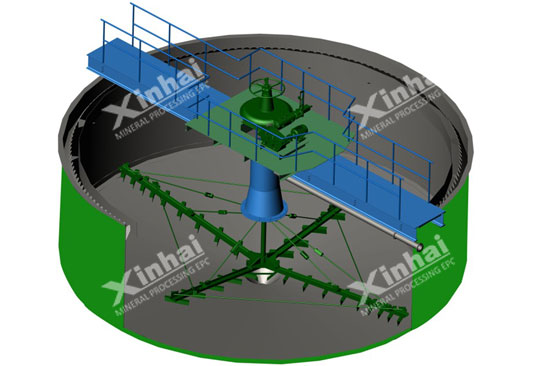 Xinhai especially adds PLC automatic sensor in the center driving thickener, which realizes the signal controls hydraulic to lift rake automatically. Besides, under the action of flocculation technology, the pulp can be directly inputted to the thickener area, then forms the filter bed in the thickening pool. Those unflocculated fine particles input from the bottom is pushed to the filter bed and collides with the particles. Due to the effect of flocculant, the particles fall down by combining with other particles, thereby increasing the concentration of bottom slurry, and decreasing the concentration of upper overflow. With the help of flocculant, the particles are easy to form groups, which greatly improves the sedimentation velocity and processing capacity per unit area. According to the measurements, the sedimentation velocity of this thickener is 4 ~ 8 times that of the traditional thickener.
In addition, the inner diameter of Xinhai center driving thickener is up to 100m and the processing capacity reaches 15000t/h, which is the largest thickener equipment in China at present. Except for these technical improvements, Xinhai can also accurately test the erosion of overflow and the height of the slurry interface according to the concentration of materials and make corresponding adjustments to improve the thickening efficiency.