Xinhai Phosphorite Ore Dressing Process
2018-01-16 XinHai Views (1114)
If you want to know more information, like quotation, products, solutions, etc., please contact us online.
Phosphorite often refers to phosphate mineral that can be recycled, and its grade is represented as W (P2O5) %.
Phosphorite is widely used in the fertilizer industry, aviation, food, medical, defense and other sectors. With the rising demand for phosphorite and rapid exploration of phosphorus-rich ore in recent years, phosphorus-rich ore becomes less and less. Therefore, how to explore phosphorus lean ore arise more attention, which also prompts the innovation and development of phosphorite ore dressing technology and equipment
Introduction:
1. Crushing and Screening
Most phosphate ore has the lower hardness that is easy to crush. Therefore, Xinhai usually uses two stage a closed circuit or two opening crushing. Xinhai jaw crusher is used for coarse crushing, cone crusher is used for secondary crushing, and then round vibrating screen and linear vibrating screen are generally used for screening equipment.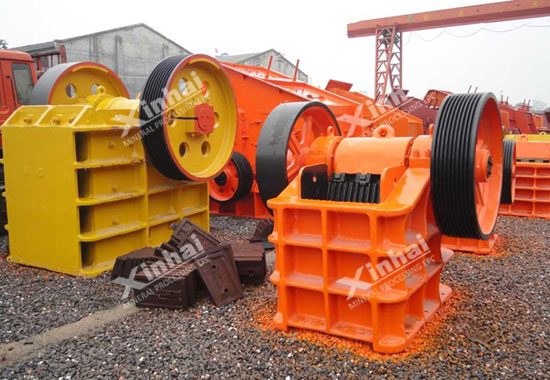 Jaw Crusher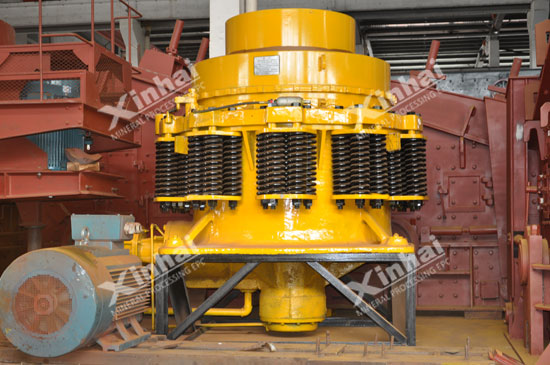 Spring Cone Crusher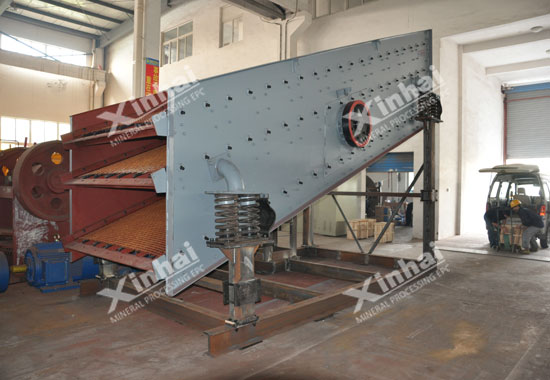 Round Vibrating Screen (YA)
2. Grinding
Phosphorite has high grindability, so Xinhai often adopts a closed-circuit or two stage a closed-circuit grinding process. In general, conventional ball mill (grid type ball mill or overflow type ball mill) has great energy consumption, large steel consumption and high grinding cost. Then Xinhai especially improved each type of ball mill that makes steel consumption decrease by 20% ~ 30%. In addition, Xinhai especially adopts super wear-resistant rubber liner, which can effectively improve the service life of liner and improve operating rate of ball mill.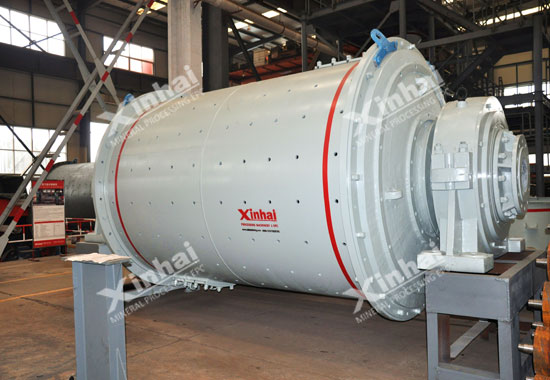 Overflow Type Ball Mill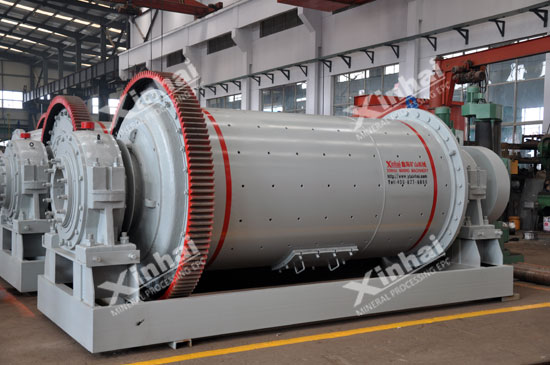 Wet Grid Type Ball Mill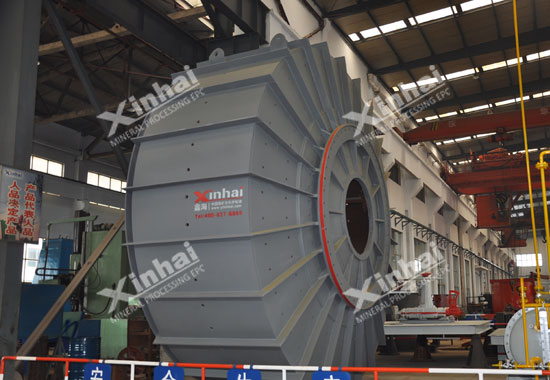 Autogenous Mill
3. Separation
Common phosphorite beneficiation processes include scraping-desliming process, heavy medium separation process, flotation process, gravity separation + magnetic separation + flotation process, roasting-digestion process, microbiological treatment process, dry electrostatic separation and magnetic coating process. In general, Xinhai often adopts flotation process and heavy medium separation + flotation process in phosphorite beneficiation process.
ⅠFlotation Process
Advantages: This process can deal with various kinds of phosphorite ores.
Direct flotation process can remove siliceous gangue, so it is often used in silica-phosphate.
Single inverse flotation process can remove calcium (magnesium) gangue, so it can be used to treat sedimentary calcium (magnesium) phosphate rock;
Direct-reverse flotation and double reverse flotation process can beneficiate phosphate minerals by eliminating silicate minerals and carbonate minerals, which can handle refractory sedimentary type silicon calcium (magnesium) phosphate rock;
Stage floatation process can be used to process collophanite with fine gangue minerals and phosphite. The grade of phosphorus concentrate can reach 30%~ 40%, and recovery rate is up to 75%~ 90%.
Phosphorite flotation indexes as follows:
| | | | | |
| --- | --- | --- | --- | --- |
| | Flotation Time(min) | Concentration(%) | Phosphorus Gradeβ(%) | Phosphorous Recovery Rateε(%) |
| Roughing | 2~3 | 20~45 | 12.00~25.00 | 85.00~96.00 |
| Scavenging | 2~3 /td> | | | |
| | | | | |
| --- | --- | --- | --- | --- |
| 25~45 | 0.80~2.50 | 5.00~20.00 | | |
| CleaningⅠ | 2~5 | 25~50 | 18.00~30.00 | 80.00~93.00 |
| CleaningⅡ | 3~7 | 20~45 | 20.00~38.00 | 78.00~90.00 |
| CleaningⅢ | 3~7 | 20~45 | 24.00~40.00 /td> | 75.00~88.00 |
| CleaningⅣ | 3~7 | 20~45 | 30.00~42.00 | 72.00~87.00 |
Main Flotation Equipment: Common floatation cells are self-induced mechanical agitation type, air-inflation mechanical agitation type, air-lift flotation cell. At present, Xinhai has developed various flotation equipment with full specifications (applied in the large, medium and small plant), high operation efficiency, low maintenance rate, low energy consumption and good flotation index, which greatly reduce the flotation costs.
ⅡHeavy Medium Separation and Flotation Process
Advantages: this process is widely used in the separation of silicon calcareous phosphate ore. Phosphorus concentrate grade reaches 30%~ 41% and phosphorus recovery rate is up to 75%~ 90%. Heavy medium separation has low cost and small environmental pollution. Heavy medium separation can discharge most tailings, which greatly reduce flotation agents and equipment and save ore dressing cost.
Heavy Medium Separation and Flotation Equipment: Xinhai usually adopts heavy medium cyclone and jig as heavy medium separation equipment and various flotation equipment. The common heavy medium includes silicon iron, magnetite, pyrite and so on. Xinhai has developed various diaphragm jig, sawtooth wave jig and flotation cell that can provide the most suitable equipment for all kinds of phosphate ore separation, and achieve the best separation indexes.