What is Gold Mining Process?
2015-11-23 XinHai Views (1055)
If you want to know more information, like quotation, products, solutions, etc., please contact us online.
Gold mine can be roughly divided into an alluvial gold mine and rock gold ore. According to the different gold mine properties, there is also some difference in the gold mining process.
Alluvial gold mine usually adopts disintegrated, desliming, gravity separation and other joint processes to separate gold-bearing mineral, purification.
For the rock gold mine, due to the gold particles is closely associated with mine rock, the separation process requires the certain crushing grinding process to make one of the minerals to achieve monomer dissociation, and then adopting gravity separation, flotation, cyanide leaching or joint process to extract the gold.
Taking a gold mining process designed by Xinhai mine design institute for a gold ore extraction plant as an example.
First, mined ore is put into the warehouse cache of the ore dressing plant.
Through the feeder, the ore is put into the jaw crusher to crush and the crushing product will be sent to the screening plant by the belt conveyor.
Screening operation uses two vibrating screens to divide the ore into three kinds of products in accordance with the particle size. Oversize products are sent into the jaw crusher for re-crushing.
Crushing and screening products, intermediate grade materials are collected in the No. 2 belt conveyor and then sent to the crushing workshop, crushed through the cone crusher. Crushed products are returned to No.1 belt conveyor and then returned to the screening plant.
Undersize products are transported to the powder by belt conveyor.
In the gold mining process, the grinding operation often uses hydrocyclone, closed circuit grinding process. Hydrocyclone overflow enters into the agitation tank and then add flotation reagents into it, after immersion sent it to the flotation cell. The bottom of the flotation flow to the tailings by slurry pump, and the flotation foam products through concentration, filtering processing get the final gold concentrate.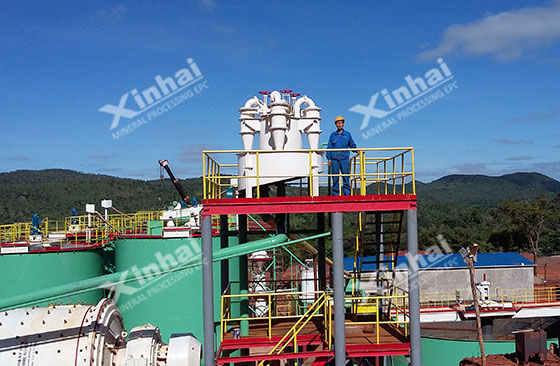 In rock gold mining process, there is a small difference in crushing and grinding process, while the separation process is various according to the gold particle size, the associated relationship between rock khenpos, gangue mineral composition and other properties.