Xinhai Mining was highly focused on the Mongolia Mining 2019!
2019-04-15 XinHai Views (1123)
If you want to know more information, like quotation, products, solutions, etc., please contact us online.
On April 10th, the three-day Mongolia Mining 2019 International Mining & Oil Expo, also called Mongolia Mining 2019 for short, opened in Ulan Bator, Mongolia. This EXPO attracted 130 exhibitors and 3400 merchants, which aimed at aware of the new development of global mining technology and speeding up the cooperation development of Mongolian mining industry.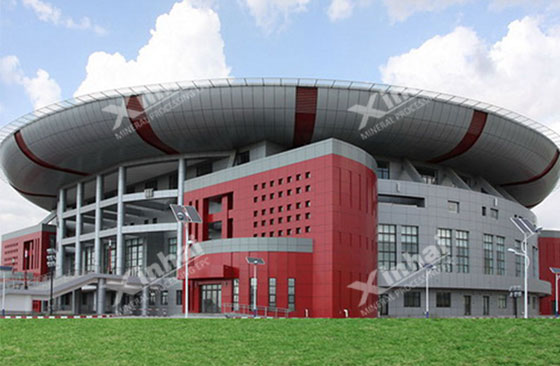 (Mongolia Mining 2019 in Ulaanbaatar sports center, Mongolia)
China mining enterprises never absented this heavy-level mining great meetings: Xinhai Mining, as China famous mineral processing brand, attended Mongolia Mining 2019 with mineral processing EPC+M+O service again. Through this international stage, visitors from all over the world witnessed the different charm of Xinhai Mining.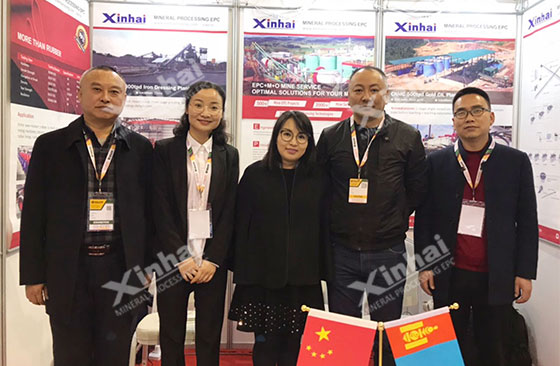 (Xinhai Mining exhibition personnel and clients)
Mongolia possesses over 80 kinds of mine resources such as: copper, tungsten, fluorite, gold, silver, aluminum, tin, iron, lead, zinc and so on. Among these mine resources, the reserve of gold and copper are among the top ten in the world. However, Mongolia is weak in heavy industry. The equipment and technology are not enough for independent development and utilization. Therefore the whole mine industry is basic totally depending on abroad mining technology and machinery equipment. Besides, Mongolia government pays more and more attention on mine industry, not only issued a series of mineral resources policy and legal policy, but also increased mining infrastructure construction efforts. China, as the the country with the longest border with Mongolia, undoubtfully became the first choice of Mongolia mining development depending on rapid raising mine industry.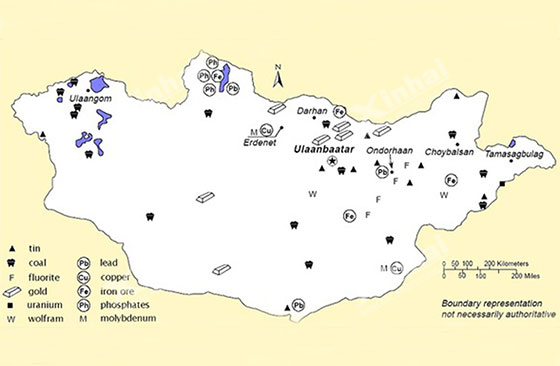 (Map of mine resources in Mongolia)
Xinhai Mining decoration exhibition hall was located in booth C04 in Mongolia Mining 2019. After careful preparation, many clients came to Xinhai Mining for consultation because one admires its fame. Through the communicate with clients, Xinhai exhibition personnel found the current main problem, which was lack of homologous mine management and mineral processing technology in Mongolia for independent modern mineral processing plant construction. So the mineral process index, economic effect and investment cost couldn't be guaranteed.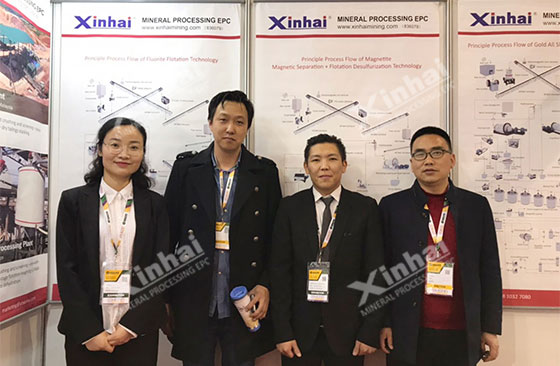 (Xinhai Mining exhibition personnel and clients)
As for this question, Xinhai Mining exhibition explained to clients in details about how Xinhai EPC+M+O service solved the problems such as over budget, schedule delay, equipment or technology substandard, uncertain recovery effect, uncertain responsibility of manufacturers, uncertain responsibility of aftersales services and so on. Xinhai mineral processing EPC+M+O service is one-stop service including dressing plant design and research, a set equipment manufacturing and purchasing, commission and delivery, mine management and mine operation, basis from the actual situation of dressing plant and customized for each plant.
1.Design and Research service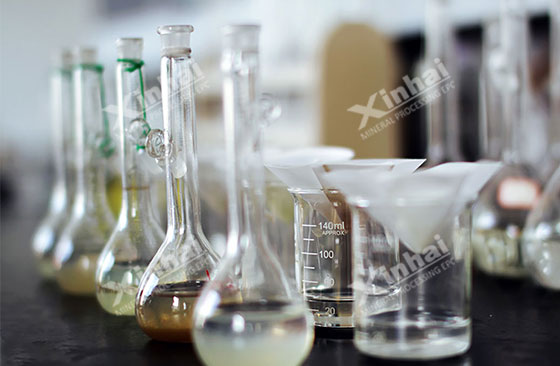 Including project consultant service, mineral dressing test, mineral processing flow and equipment selection, processing plant scheme design and production drawing design and so on.
2.Complete equipment manufacture, supporting materials and purchasing service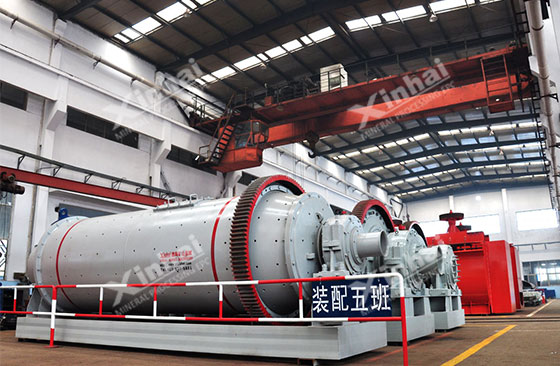 Including manufacturing and purchasing complete mineral processing equipment, mine supporting materials, installation and fixture instrument, machine maintenance workshop, experiment laboratory equipment, modular housing, steel structure workshop, combine type steel structure production line, alter-cyanidation leaching reagent, flotation reagents and so on.
3.Commission and Delivery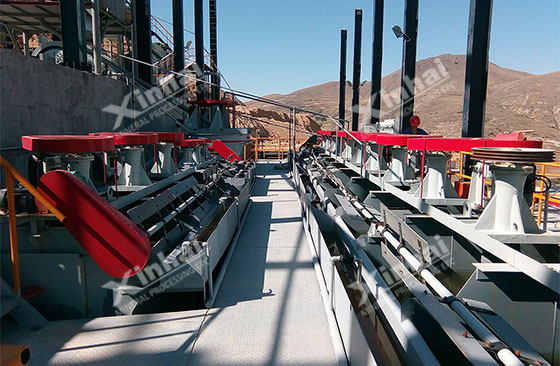 Including instruction of dressing plant construction and equipment installation, accomplishing equipment commission, training dressing plant workers, providing spare parts and consumables, maintaining and fixing equipment.
4.Mine Management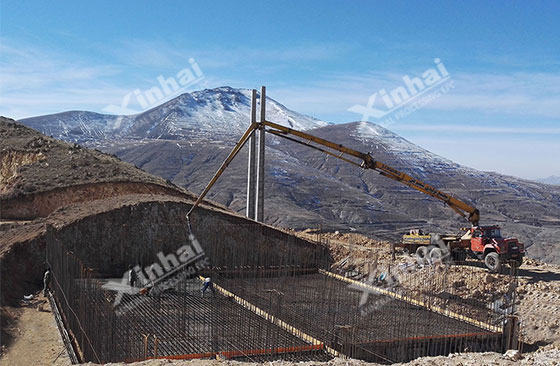 Management during the construction period depending on the dressing plant requirement, including the construction and management of mining engineering, civil engineering, and tailings pond.
5.Mine Operation
Providing operation contraction and management during production phase.
As for the mineral processing type, Xinhai mineral processing EPC+M+O service has advantages like:
1.Xinhai mineral processing EPC service is throughout the whole life cycle of the mineral processing plant, combining the three stage of mineral processing plant construction, befor-middle-after, into a customer needs oriented value link.
2.Xinhai mineral processing EPC service effectively overcomes the restrict and disjointed contract between the links such as design, manufacturing, purchasing, engineering, installation and so on. It is beneficial for reasonable connection between each link of the concentrator project service.
3.Xinhai mineral processing EPC service effectively controls project construction schedule, cost and quality, which confirms a better mineral processing index and economic effect.
Through the detailed introduction of Xinhai exhibition personnel, clients had a new cognition of Xinhai Mining, and highly agreed to Xinhai mineral processing EPC+M+O service. They deeply felt the great charm of China manufacturing.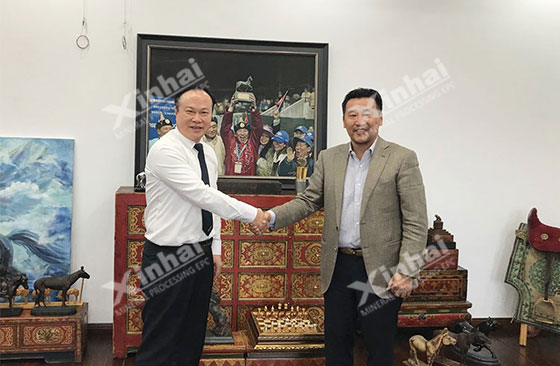 (The chairman of Xinhai Mining, Mr Yunlong Zhang visited clients. )
During the exhibition, Xinhai Mining showed clients from all-round about its cases in Mongolia and even in all over the world. It also showed the quality precision which Xinhai Mining insisted customer-focused and service-focused. It also brought Xinhai Mining many praises from clients.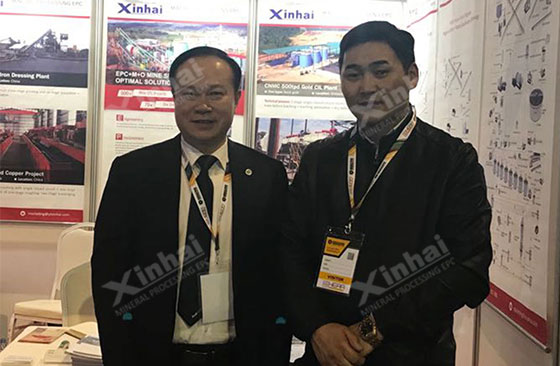 (The chairman of Xinhai Mining, Mr Yunlong Zhang and clients.)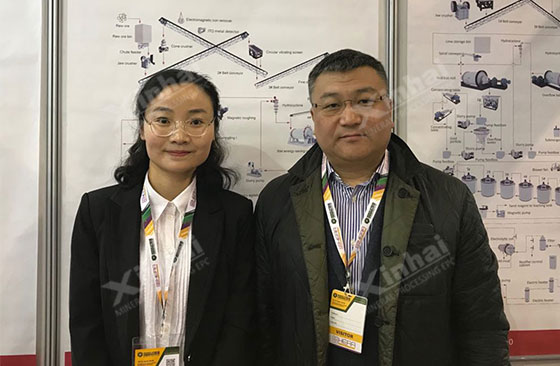 (The chairman of Xinhai Mining, Mr Yunlong Zhang and clients.)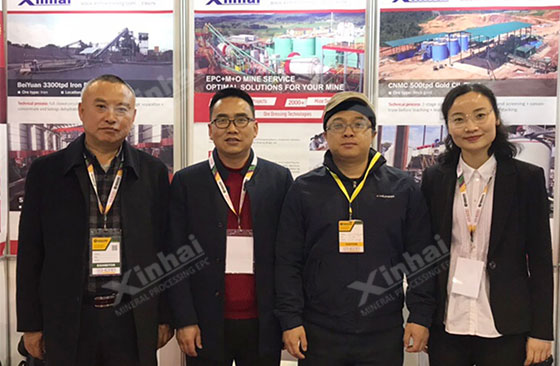 (The chairman of Xinhai Mining, Mr Yunlong Zhang and clients.)
Till now, Xinhai Mining already finished several mineral processing EPC+M+O projects, over 500 mineral processing EPC+M+O projects all over the world, served over 2000 mines in over 90 countries and districts for over 70 kinds of mines, which is very rich in experience.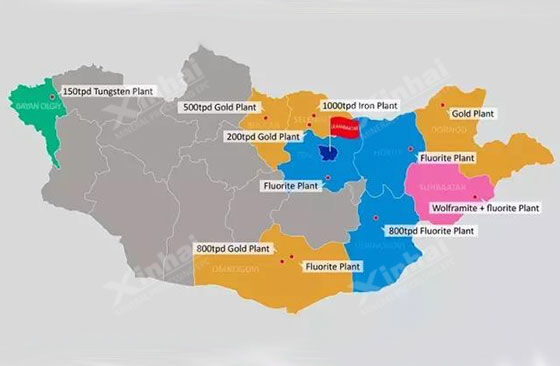 (Distribution map of Xinhai mineral processing EPC+M+O plants)
1.Mongolia 2000t/d gold heap leaching EPC+M+O project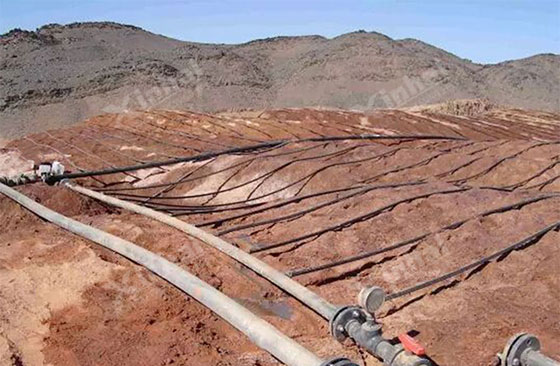 Ore characteristic: Accumulated thickness of main ore body is 120~130m. the grade of Au is 0.81~1.96g/t.
Xinhai scheme: The crushing products adopt three sections and one closed flow. Multi-layer heap construction + spray leaching process. Heap leaching pregnant solution gravity flow to pregnant solution pool. Heap leaching middle solution returns to ore heap for circulating spray. Pregnant solution adopts process flow of carbon adsorption-desorption electrolysis-smelting and gold extraction. Carbon adsorption poor solution returns to the heap leaching spray. Desorption poor solution back to carbon absorption. Electrolysis poor solution returns to desorption. The final product, alloy, is obtained by fire smelting
2.Mongolia Tungsten gravity separation plant project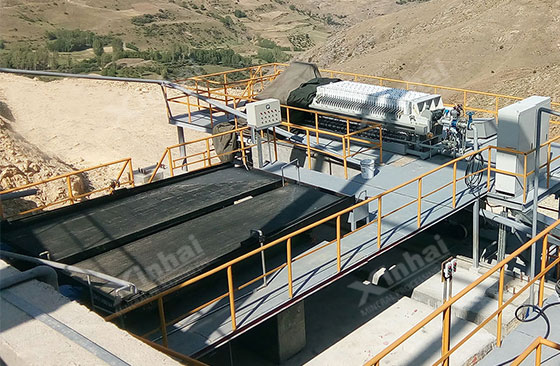 Ore characteristic: W2O3 in the ores, the mean third oxidation content of tungsten is 0.2-2.6%
Xinhai scheme: Process flow of two blocks of close circuit crushing-grinding and classification-gravity separation-tailing dewatering.
The tungsten grade of the first-grade tungsten concentrate in this project is 65.3%, and the recovery rate is 72.74%. the second-grade of tungsten concentrate is 15.3%, and the recovery rate is 5.03%. Finally the project reached designed size, with annual revenue $15.02 million, annual profit over $7 million. The clients were very satisfied with the mineral process index and economic effect.
3.Mongolia 150t/d tungsten processing EPC+M+O project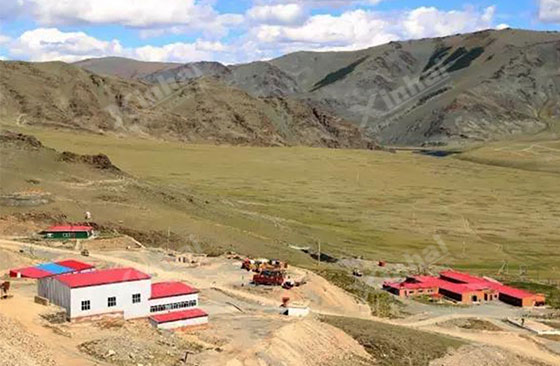 Ore characteristic:Tungsten is main ore. The grade of tungsten is around 7%. The particles over 1mm contain more undissociated tungsten minerals and the fine mud contains a small amount of tungsten minerals.
Xinhai scheme: Process flow of one block open circuit crushing- one block close circuit grinding-gravity separation-tailings dewatering.
In the workshop design, the gravity flow layout is completed by making full use of the difference of topography, at the same make the industrial plant as compact as possible, keep warm, facilitate winter production. Gravity separation adopts spiral chute, which effectively reduced spaces of equipment and also increasing tungsten recovery rate by tailings scavenging. Grinding adopts 110kw wet rob mill, guaranteeing the best dissociative granularity(-1mm) and at the same time avoiding overgrinding. Besides, hydrocyclone and concentrating table are added and highly increasing tungsten recovery rate in fine mud slurry.
4.Mongolia 1000t/d gold processing EPC+M+O project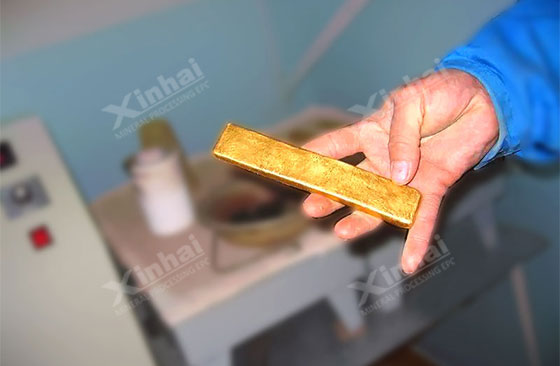 Xinhai scheme: Process flow of three blocks and one close circuit crushing and screening-two blocks close circuit grinding-gravity separation, cyanidation carbon pulp, desorption electrolysis- tailings dewatering.
This project is built on plate ground. The design scale is 1000t/d. Annual capacity is 300000 tons. At the early stage of this project, the mine experiment was finished by a Canadian research institute, and designed by the international famous Outokumpu Oy. During the customer's investigation of Xinhai Mining, with excellent technical strength and years of practical experience, the technical team of Xinhai Mining tailor-made an mineral processing EPC+M+O service plan for the plant with less investment and shorter construction period for the project, which won the customer's recognition and successfully undertook the project.
China and Mongolia are friendly neighbors linked by mountains and rivers. Now China "One belt and road" propose is highly consistent with Mongolia "Road to development" plan, which pushes the development and cooperation of the two countries to the next stage. This Mongolia Mining is providing China and Mongolia cooperation a good opportunity. In the future, Xinhai Mining will keep pushing the development of Mongolia mining industry, seeking cooperation and common development to promote China's mining machinery and equipment to go out!