Focus on China's Two Sessions, These Hot Points Are Concerned About Xinhai Mining!
2019-03-26 XinHai Views (1161)
If you want to know more information, like quotation, products, solutions, etc., please contact us online.
Recently, the high-profiled National People's Congress and the Chinese Political Consultative Conference (NPC&CPPCC) felt its certain. Voices from all round gathered and collided, resulting in a common consensus which was to paint accordingly for the development of China. During the Two Session, President Keqiang Li, on behalf of the State Council, reported to the second session of the 13th National People's Congress on the work of government, which entirely concluded the main work and effect in 2018 and stated the target task and pointed work in 2019.
Referring to the main work task of the government in 2019, some hot words like transformation and update, creation driven industry, Chinese manufacture, the Belt and Road Initiative and so on were mentioned repeatedly by President Keqiang Li. These hot words aroused a lot of attention and expectations. Among them, some Two Session hot words are closely linked with the development of Xinhai.
Use the table of contents below to navigate through the guide:
01

1. Promoting the Upgrading of Traditional Industries

In the main work task of government in 2019, President Keqiang Li mentioned that: "We will work to transform and upgrade traditional industries. To promote the development of high-quality manufacturing. we will strengthen the foundations of industry and the capacity for technological innovation boost the integrated development of advanced manufacturing and modernized services and work faster to make China strong in manufacturing. We will create industrial internet platforms and expand Intelligent Ps initiatives to facilitate transformation and upgrading in manufacturing. We will support enterprises in speeding up technological transformation and equipment upgrading by extending the preferential policy of accelerated depreciation of fired assets to the entire manufacturing sector. We've will strengthen the supporting capacity of quality infrastructure. upgrade our standards to meet advanced international ones. and improve the quality of products and services to encourage more domestic and foreign users to choose Chinese goods and services."

Actually, Xinhai Mining has explored to transform and update since 2012. It has extended the single mineral manufacturer into mineral processing EPC service which contains mine design and research, complete equipment manufacturing and purchasing, installation, commission and delivery.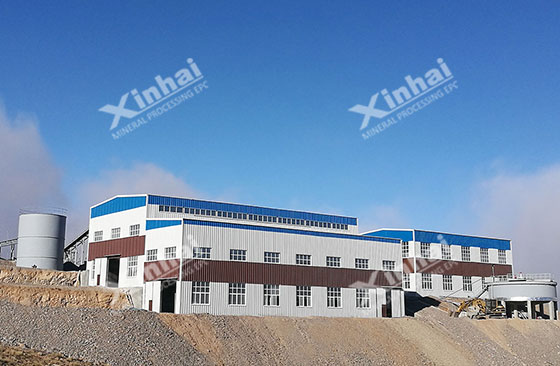 (Xinhai Morocco silver mineral processing EPC project)
Until 2019, Xinhai extended mineral processing EPC service into EPC+M+O service combined with the professional mineral processing technology and years of mineral processing experience. The EPC+M+O service is the one-stop service of mine design and research, complete equipment manufacturing and purchasing.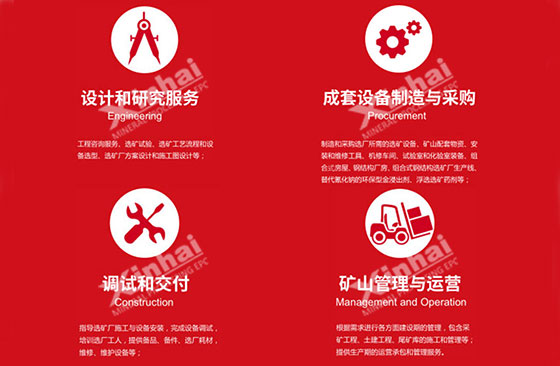 (Mineral processing EPC+M+O service)
It is worth to mention that, Xinhai Mining can design on Chinese design standard, Australian JORC standard, Valmin standard or Canadian NI43-101 standard by the requirement of clients. For some countries and regions such as Africa, South America, Mid Asia and Southeast Asia, Xinhai can design referring to Chinese, Australian, Canadian or local design standard.
Besides, Mr. Zhang, the chairman of Xinhai, is the fellow of the Australasian Institute of Mining and Metallurgy (AusIMM), which means that the geological survey result report and mine consultant technology report from Xinhai are recognized by the foreign open-up mine market.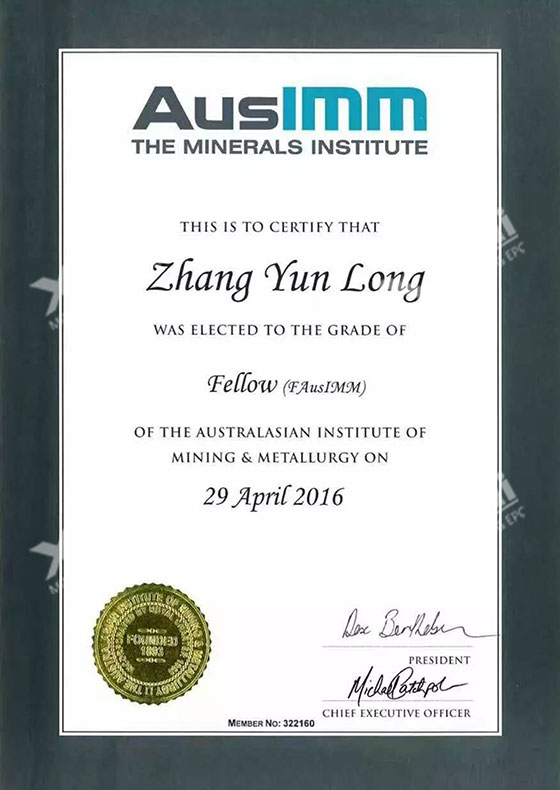 (Fellow of the Australian society of mining and metallurgy)
Depending on the international view, strict international standard and leading international level, Xinhai wined the clients from all over the world, contributing its Chinese wisdom to solve the global mine development.
02

2. Insisting Innovation Leads Development

With regard to scientific and technological innovation, Premier Li Keqiang said: "we should get all the advantages of rich human resources and large domestic market, reform the mechanism of R&S and industrial application, accelerate the shift in driving forces for development. And we should support enterprises in promoting technological transformation and equipment upgrading, strengthen the original innovation and enhance the industry's core technology.

For Xinhai Mining, its growing way is a developing road of constantly tamping technology innovation.

In the scientific and technological research and development, Xinhai Mining successfully acquired Shandong Jiangxin Design Institute Co., ltd. in 2018. With the help of SolidWorks, 3D design software and PDM design management system, Xinhai Mining can customize the plant design for each mine, which greatly enhances its overall strength in mineral processing technology.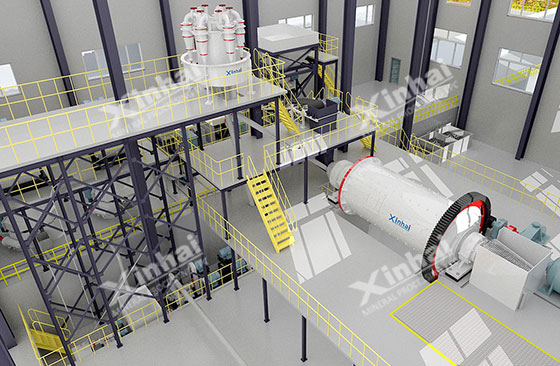 (3D mine design draw)
In the equipment manufacturing, Xinhai Mining machinery design and research institute not only has rich mining machinery design experience, but also has a large number of technical personnel who is equipped with mechanical design experience and mineral processing experience. So far, Xinhai Mining machinery design and research institute has made the upgrading for more than 80% of common mineral processing equipment and applied for 194 national patents, even some of them has reached the international leading level.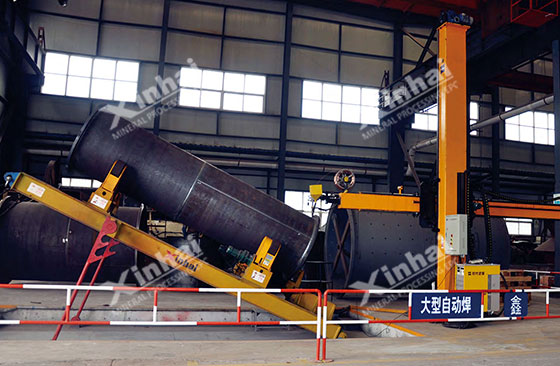 (Equipment manufacturing workshop)
In addition, Xinhai Mining conducted in-depth research on the industry demand, paid attention to the "long tail demand" that neglected previously, and develop the next generation of mineral processing technology and intelligent equipment to strengthen its competitive advantage.
03

3. Driving All-round Reform and Opening-up

In the government work report, Premier Li Keqiang stressed: "we should further expand the scope of opening-up and optimize the layout of opening-up, continue to promote opening up based on flows of goods and factors of production, and opening up based on rules and related institutions, drive an all-round deepening of reforms through high-standard opening up."

Today, the One Belt and One Road initiative, launched more than five years, has achieved gratifying results. So far, 152 countries and international organizations signed cooperation documents with China. Each party conducted close cooperation in relevant areas of connectivity and achieved positive results.

For Xinhai Mining, market internationalization has always been an important development strategy that it adhered. Since 2012, Xinhai Mining actively respond to the national strategy of "going out", then followed up the One Belt and One Road initiative, Xinhai Mining always kept up with the national strategies, vigorously developed the overseas mineral processing market, and set up the overseas offices in multiple countries and regions. Its globalization strategic map was extended from 40 countries and regions to more than 90 countries and regions in the world, 500 mineral processing EPC plants, 2000 serviced mines were around the world.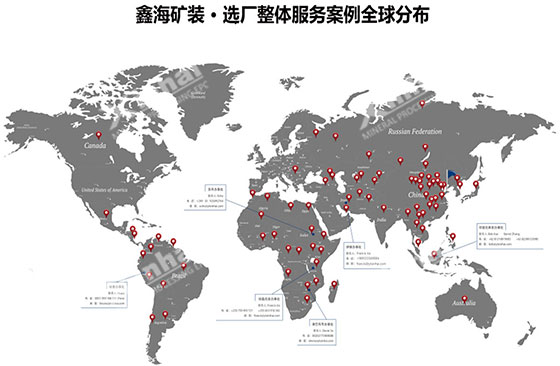 (Global distribution map of Xinhai mineral processing EPC plants)
It is not hard to see, Xinhai Mining is actively deepening its transformation and upgrading of "manufacturing servicizing", and providing the global customers with practical and advanced practical technology, complete and professional production line configuration, high-quality manager service, namely "mineral processing EPC+M+O service".
Another spring comes, another voyage begins. In the future, Xinhai Mining will continue to implement the development strategy of "manufacturing servicizing""development innovation" and "market internationalization", provide the customized "mineral processing EPC+M+O service" for global mines, and help to build a community of global mining development. Dream building is underway……