Letter of Acknowledgement from Africa
2015-02-13 XinHai Views (1434)
If you want to know more information, like quotation, products, solutions, etc., please contact us online.
In Xinhai Annual Meeting, Xinhai received a letter of acknowledgement from Africa! The client expressed acknowledgement, affirmation of cooperation benefit and best wishes to Xinhai employees.
The following is the full text of this letter:
4 February, 2015
Khartoum, Sudan
Mr. Zhang Yunlong
General Director
Yantai Xinhai Mining Machinery Co, Ltd
Dear Mr. Zhang,
On behalf of our company and myself I would like to express our best wishes and greetings to you and your colleagues on the occasion of the Chinese New Year - " Spring Festival " We deeply appreciate the mutually beneficial and fruitful cooperation with Yantai Xinhai Mining Machinery Co, Ltd.
We would like to emphasize that the employees of your company under the guidance of Mr. Zhang Xuguang diligently work on the installation of the equipment, focus on the successful launch of the factory, and demonstrate high quality and a professional approach to their work.We wish your company successful business, prosperity, happiness, and luck to you and your loved ones. Sincerely,Evgeny Alexanderov,
President of the Board Managing Director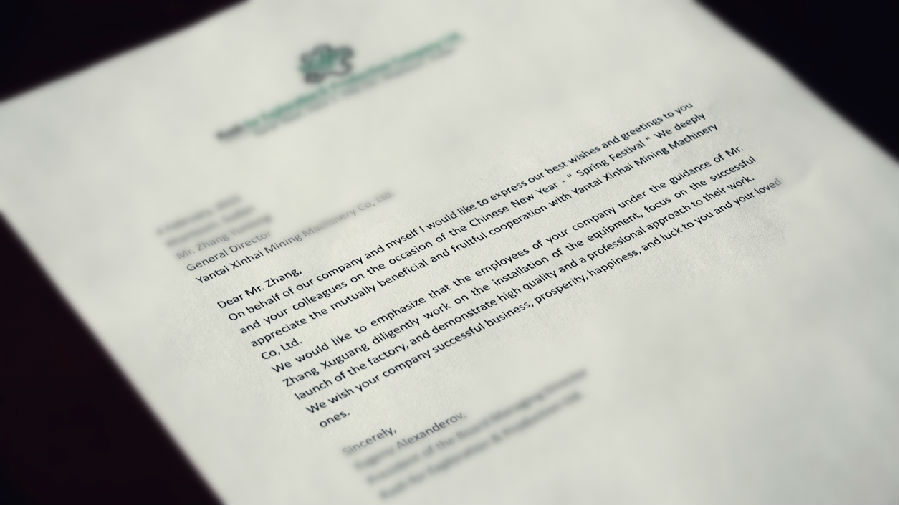 Pictures of Mining Site