Congratulate on the Strategic Partnership between Xinhai and CNMC
2018-04-13 XinHai Views (905)
If you want to know more information, like quotation, products, solutions, etc., please contact us online.
(Signing ceremony between Xinhai and CNMC)
On April 10, Xinhai Mining successfully signed the mining development strategic partnership agreement with CNMC Goldmine Holdings Limited (SGX: 5TP), aiming at promoting mining development to a new level through powerful combination.
One of the reasons for this cooperation was because the first cooperation in 2017, laying a solid foundation. Besides, Xinhai was equipped with strong technology, high efficient equipment and meticulous service, which can help CNMC to maximize the mine benefits.
Executive chairman of CNMC said: "As a listed company, CNMC is rewarded as the leasing mining company for two years. In order to maintain this status, we are very strict with the choice of partners, especially in quality and production. The reason why we choose Xinhai is that it is a typical and influential company who has high execution, service consciousness, international view and pioneering spirit. What's more, Mr. Zhang is a senior mineral processing engineer, and is selected as an academician of Australasian Institute of Mining and Metallurgy (AusIMM)."
Mr. Zhang also said: "The cooperation with CNMC is very smooth. The early cooperation project is in good operation now. And Xinhai is willing to contribute to the development of CNMC. The growth of Xinhai's overseas market is benefited from our rich experience of overseas mineral processing EPC projects."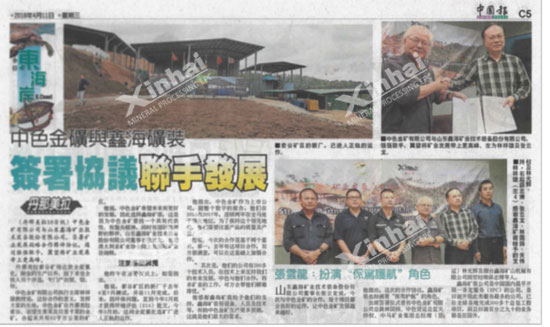 In addition, this cooperation attracted widespread media attention. Singapore Nanyang Business, China Daily and Sin Chew Daily, three largest Chinese medias, made headlines separately. Then, Xinhai will continue to adhere "what you need is what we can do", provide customers with customized and optimized mineral processing EPC solutions.