The deposit consisted of auriferous quartz veins. Xinhai offered tailored solutions to the project, and crude ingots were produced as final products after smelting.
Xinhai Solution
01

Crushing and screening: raw materials were transported by trucks, and two-stage closed-circuit crushing was adopted.

02

Grinding and classification: After the surge fine ore bin, crushed products entered the two-stage closed-circuit grinding and classification system.

03

Gravity concentration: gravity concentration system was added between the first-stage ball mill grinding and closed-circuit classification. Jigs and shaking tables were used for roughing and concentration respectively.Cyanide leaching: the two-stage classification cyclone overflow entered the cyanide leaching system which adopted eight-stage leaching and absorption and reverse carbon extraction.Desorption electrolysis and smelting: the saturated gold-bearing carbon was fed to the high-temperature high-voltage desorption electrolysis system for gold extraction. The gold slime, which had a high grade Au, was fed to the high-frequency furnace to produce crude gold ingots.

04

Tailings dry stacking: tailings were dehydrated by filter press. The dehydrated tailings (20-25% water) were transported to the tailings pond, while the filtrate was recycled to achieve no discharge of production sewage.
Project Result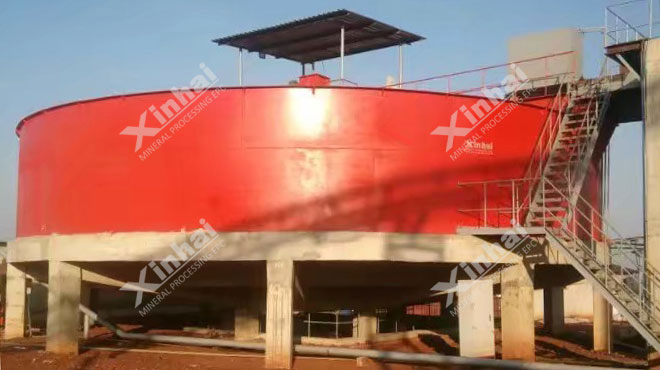 Based on comprehensive planning, Xinhai worked to shorten construction duration, provide optimal service, optimize plant layout, and ensure environmental protection and workplace safety.