Principle of Efficient Deep Cone Thickener
2018-07-31 XinHai Views (899)
If you want to know more information, like quotation, products, solutions, etc., please contact us online.
Since its establishment in 1993, Xinhai has been committed to providing customers with high-efficient and energy-saving mineral processing equipment for more than twenty years. Taking its efficient deep cone thickener as an example, it is mainly used for high concentration of concentrate and tailings in the mineral processing plant. Besides, it also can be applied to the concentration of fine particles and small dense slurry in environmental protection, chemical industry, metallurgy and other fields. Here is the working principle of efficient deep cone thickeners.
Use the table of contents below to navigate through the guide:
01

What is the working principle of deep cone thickener?

As a new type of thickener used in the solid-liquid separation process, efficient deep cone thickener has advantages of less investment and high thickening efficiency. Its processing capacity is 3-8 times that of traditional thickening equipment, the quality of overflow water totally reaches the national emission standard, and the underflow density is up to 300-800g/L. Efficient deep cone thickener is mainly composed of circular thickening tank and rake scraper. Under the action of gravity, the flocculated solid particles gradually settled to the bottom of the thickening tank. After a period of time, the clear water remains the top of the thank, while the sludge stays on the bottom. Under the action of the sludge scraper, the sludge gathered at the discharge port at the center of the thickening tank, and the clear water overflows from the top edge of the tank.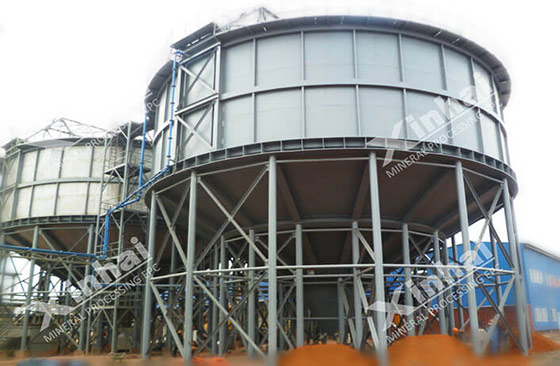 02

What are the differences between deep cone thickener and ordinary one?

The working principle of efficient deep cone thickener is similar to that of the ordinary thickeners. Different from those ordinary thickeners, it is a vertical cone shape, and the tank height is much higher than its diameter. Because of the addition of flocculant in the thickening process and the slender body, the speed of solid-liquid separation process obviously accelerates. In addition, this thickener is featured with the small cover area, larger processing capacity, high degree of automation and less energy consumption.
03

What are the technical parameters of Xinhai deep cone thickener?

There are various types of efficient deep cone thickeners produced by Xinhai, whose inner diameter of thickening tank is among 3-20m, the depth is about 4.4-22.8m and the settlement area is 21-2700m2. Besides, their processing capacity is up to 2600m3/h. Xinhai has been committed to providing customers with the advanced process, energy-saving equipment and high-quality services, thus creating a modern and profitable mining enterprise.