Wear-resistant Rubber Used in Copper Ore Dressing Process
2018-03-12 XinHai Views (1454)
If you want to know more information, like quotation, products, solutions, etc., please contact us online.
Copper ore is a kind of mid-hard ore, which is usually processed by crushing and grinding, then separated and purified by floating after monomer separation. What's more, the grinding operation is a very important part in the above operations, which directly restricts the actual processing capacity. Besides, grinding quality plays a role in the subsequent flotation indexes. As to liner wear problem, Xinhai developed a super wear-resisting rubber liner, which achieved good results in many mines and solved the wear-resisting problem.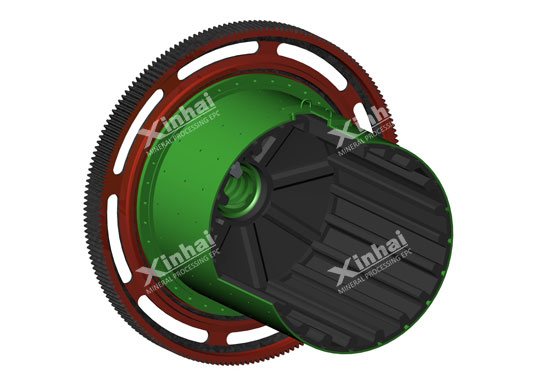 Grinding operation is a necessary part of the copper ore dressing process, in which ball mill is the core equipment in grinding operation. Its main component is a reasonable cylinder with a certain proportion of diameter and length. The driving parts make the cylinder rotate, and the internal cylinder liner brings the steel ball to a certain height, then the impact force caused by steel ball falling crushes copper ore. However, the impact force caused by steel ball falling also plays a similar role in the cylinder liner. The long-term wear will change the shape of the liner and affect the grinding efficiency. In addition, the replacement of liner requires much time and effort, which greatly reduces the operation rate of grinding equipment. In order to improve the processing efficiency of copper ore process, Xinhai has developed a kind of super wear-resistant rubber liner to solve the problem of wear, whose wear resistance has reached the international top level. The unique "liquid nano•ambient curing" technology, make the abrasion resistance of Xinhai wear-resistant rubber is far ahead of similar products. Except for liner of ball mill, it is also used in wear parts of the slurry pump, hydrocyclone, screen and valves.
Xinhai is the first mineral processing EPC servicer in China. With a lot of mining design practice, Xinhai research team clearly knows various issues in the copper ore dressing process. Wear-resistant rubber liner not only improves the operation efficiency, but also decreases the energy consumption.