The Structure and Design of Thickener
2016-01-05 XinHai Views (1249)
If you want to know more information, like quotation, products, solutions, etc., please contact us online.
The thickener is mainly used for the thickening of ore concentrate and the dewatering of tailings and purification in the mineral processing plans. Thickener structure and design are composed of two major parts including circular thickening tank and the rake-type mud scraper. The solid particles settled in the tank, which makes the solid-liquid separation. The slurry deposition at the bottom of the thickening tank is continuously scraped by the rake-type mud scraper and discharged by the outlet.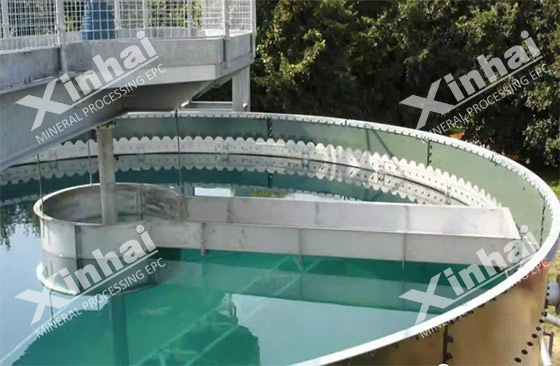 With the development of science technology, thickener types and design are constantly changing. There are more advantaged technological thickeners emerging. For example, there is the center transmission thickener in the early time. Nowdays, there are new types of thickeners, such as thickener with the peripheral rack transmission, high-efficiency thickener, and deep–cone thickener and so on.
Here we take the NZ-20Q center transmission thickener as an example. In general, the whole structure of thickener is composed of seven parts. They include thickening tank, rake, and transmission device, rack lifting device, feeder, discharger, and signal safety device.
In order to improve the efficiency of the thickener, inclined plates are set along the perimeter of the thickening tank. For different types of thickeners, the discharging ways are also different. Just like that, the concentrated ore is discharged from the bottom of the thickening tank, and the clear water, which dewatered from the tailings is discharged through the overflow.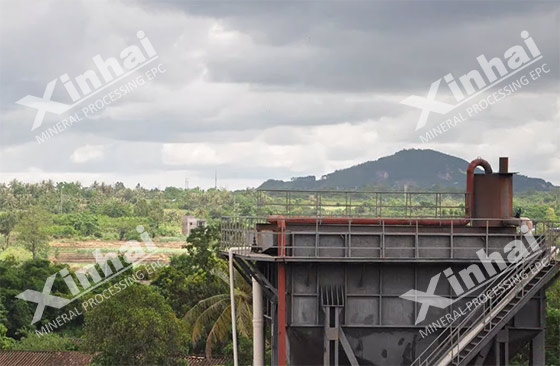 As the development of the technology, automatic rake device is applied in the Center Transmission Thickener and Thickener with Peripheral Rack Transmission instead of a manual rake. High-efficiency Thickener, a new type of thickener, which has more device of flocculant configuration, automatic control and other components to carry the flocculant.
In order to continuously control the parameters of the process steadily and detect accurately. The High-efficiency Thickener is improved in various parts, which can help some manufacturer protrudes from others. For example, Xinhai Mining Machinery Company adopts a new thickener structure to strengthen the role of the flocculant, and actually, the flocculation system is the core competitiveness of its products in the market.