How to Choose Thickener Manufacturer
2015-12-09 XinHai Views (803)
If you want to know more information, like quotation, products, solutions, etc., please contact us online.
The thickener is the necessary equipment of concentrator and sewage treatment plants, used for increasing the concentration of low concentrations slurry or sewage. Thickener late development in China, the first thickener was made by Shenyang metallurgical machinery imitate Soviet thickener manufacture in the mid-1950s. After a decade of development, formatted Chinese own concentrated series, which could meet the requirements of the concentrator. It should be noted that, at that time barrier of technology in China, substantially all of the concentrator are SMEs, so only these SMEs could meet the requirements of concentrator. To the 1980s, promoted by the reform and opening up, there is a large development of thickener. Various types of thickeners, and advanced technology concentrator start to appear, such as φ100m large-scale concentrator, deep cone thickener and so on.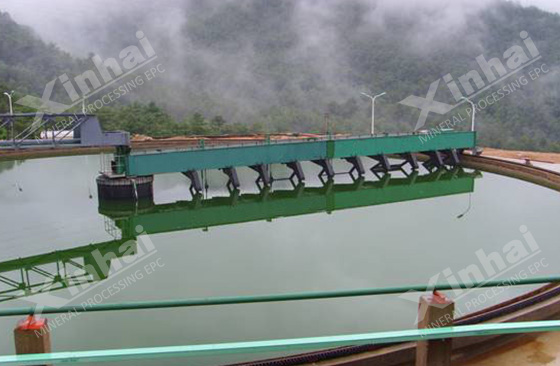 There are many manufacturers of concentrator, the production center transmission thickener still within the current development of small and medium range, such as Shen Ye, heavy and so on. As early as the 1980s, together with the relevant units Shen Ye experiment successfully with polyether polyurethane synthetic rubber wheel replaced the steel roller, good effect, extend life expectancy has more than doubled. In recent years, many manufacturers have concentrated machine instead of the center feed the periphery feed or bottom feed, to increase the concentrator processing power, reducing the overflow solids content, increased speed grit.
Xinhai mining is an integrated thickener manufacturer among them. The leader of a thickener manufacturer is Shenyang metallurgical machinery who own the most advanced technology and longest history, the professional thickener manufacturers include Xinhai.