Tungsten Extraction Gravity Separation Equipment
2021-07-14 XinHai Views (532)
If you want to know more information, like quotation, products, solutions, etc., please contact us online.
Tungsten is one of the important metal minerals. Because of the large density, gravity separation is the important separation method of wolframite and scheelite group minerals, which is wildly used in tungsten extraction plants. The main gravity separation equipment includes jig, shaking table, spiral chute, spiral separation, etc. In this passage, we will introduce you the usage of different tungsten extraction gravity separation equipment.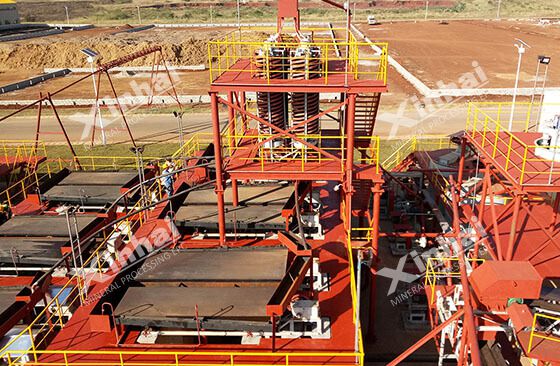 Use the table of contents below to navigate through the guide:
01

Jig

Jig is one of the important equipment of wolframite gravity separation. The three-stage jig is the common tungsten extraction jig separation. It is to separate tungsten ore into three particle size grade of coarse, middle and fine. Among them, the particle size of coarse grade jig separation is up to 13mm, generally 8-10mm. The particle size scale of middle particle grade is 1.5-5mm. The tailings of coarse and middle grade jig separation regrind and reseprate. The particle size of fine grade jig separation is under 2mm. The tailings of fine grade jig separation enter shaking table separation through hydraulic classification.

The recovery rate of coarse and middle grade jig separation is generally up to 65%-75%. While the recovery rate of fine grade jig separation is rather lower. It is because the fine grade tungsten minerals are most exist in the part under 0.074mm, which is easy to lose in tailings. Therefore, jig is usually used as the coarse processing equipment of coarse concentrates.

The type of jig for tungsten extraction gravity separation is various, including down-moving cone jig, top-moving moving screen diaphragm jig, side-moving diaphragm jig, etc. Among them, the top-moving moving screen diaphragm jig is suitable for tungsten separation in coarse grade as 4.5-10mm, and middle grade as 1.5-4.5mm. The side-moving diaphragm jig is suitable for tungsten minerals in 0.074-0.5mm.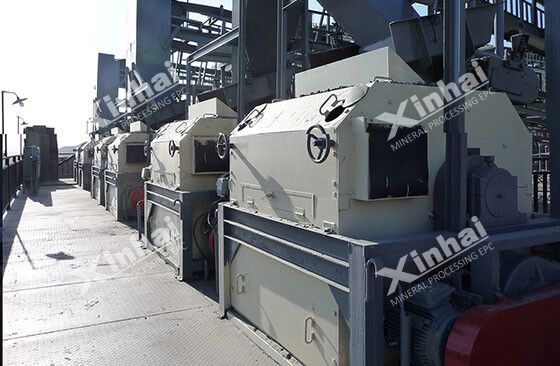 02

Shaking table

Shaking table is significant in tungsten extraction processing. It has a higher concentration ratio. Through only one stage of concentrating table separation, the high grade concentrates and tailings can be required. At the same time, the minerals with different densities are obvious zoning on the table and intercepted. However, shaking table has disadvantages such as large floor area, low capacity and other problems. It is usually used as concentrating equipment in large scale tungsten processing plant and coarse and concentrating equipment in small scale processing plant.

Shakers commonly used for gravity separation of tungsten ore include 6-s shaker, cloud-tin type shaker, spring shaker, etc. The 6-S shaker is better for processing -2+0.2mm coarse-grained tungsten ore. For fine-grained tungsten ore with a particle size of less than 0.2mm, the effect of using Cloud-tin type shaker is better. The bed surface of the shaker also has a variety of materials to choose from, including lacquer bed surface, rubber bed surface, glass fiber reinforced plastic bed surface, etc. Different materials produce different frictional forces in the movement of tungsten ore. Among them, glass fiber reinforced plastic bed surface has better processing effect.

In addition, the bed surface of the shaker is generally equipped with riveted strips or grooves, and its height and shape also have an important effect on the separation of ores with different particle sizes. The grooved riveted strips have straight strips, single waveforms, and double waveforms. The number of single-slot rifle bars determines the selected particle size of the mineral. Generally, the more rifle bars, the finer the particle size of the selected mineral.
03

Spiral chute

The spiral chute has a relatively simple structure, has a large processing capacity per unit area, and does not require power. It is often used in the gravity separation stage of black and white mixed tungsten ore in tungsten extraction beneficiation. The spiral chute not only has the function of sorting, but also has the function of grading desliming. It can be selected under a wide particle size level, simplifying the reselection process.

Spiral chute can also be divided into spiral chute and rotary spiral chute. Under the same sorting conditions, the processing capacity of the spiral chute is larger, and it is more suitable as a roughing equipment for tungsten ore.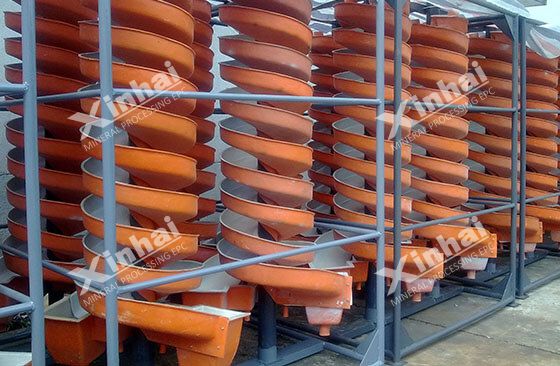 04

Spiral separator

The spiral concentrator can also be used as a gravity separation equipment for black and white mixed tungsten ore. It has a similar structure to the spiral chute, no moving parts, small footprint, high unit processing capacity, simple operation and maintenance, and the suitable feed size is 0.1~2mm. In the tungsten extraction beneficiation process, the spiral concentrator is suitable for the gravity separation and roughing operations after grinding and classification, and can discard most of the gangue minerals, which is beneficial to the selection of tungsten minerals.

The above is the gravity equipment for tungsten extraction. In actual production, the selection of tungsten extraction gravity separation equipment is mainly based on its process flow. The specific selection needs to be determined by comprehensive economic, technical indicators and other factors. It is recommended to determine a scientific and reasonable process flow, and select appropriate gravity equipment according to the process to achieve the ideal economic benefits.