Copper Sulfide Ore Flotation Technologies
2018-01-30 XinHai Views (886)
If you want to know more information, like quotation, products, solutions, etc., please contact us online.
Copper sulfide ore has good inherent floatability, so flotation process is a mature method used for copper sulfide ore separation. In recent years, with the continuous development of copper sulphide flotation technology, many scholars also proposed a series of new principles of mineral processing, such as "collect early, loss early" and "more crushing and less grinding". At present, copper sulfide floatation technologies mainly include instant flotation technology, copper staged preferential flotation technology and electrochemical flotation technology.
Instant flotation technology: This technology is developed by Finnish Outokumpu Company. The principle of this technology is to select coarse grain of useful minerals by flotation cell. The advantages of this technology are that it can handle cyclone desilting, minerals with large feed size and high concentration, then float monomer dissociated coarse minerals quickly, thus reduce overcrushing & energy consumption, and improve the recovery rate. This process has been applied in many copper mines and got good economic indicators.
Copper staged preferential flotation technology: This technology is to float dissociated copper concentrate first after grinding and classifying, then strengthen flotation reagent to float copper-sulfide mixed concentrate from tailings, finally dissociate copper and sulphur. This technology can improve the recovery rate and grade of various useful metals. And it is widely applied in many large and medium-sized mineral processing plants.
Electrochemical flotation technology: This technology is to regulate pulp potential by adjusting slurry PH value, which strengthens hydrophobic or hydrophilic of sulfide mineral surface, then finish flotation process. It is suitable for flotation between polymetallic and mixed concentrates. This method can reduce the dosage of flotation reagents and optimize flotation index.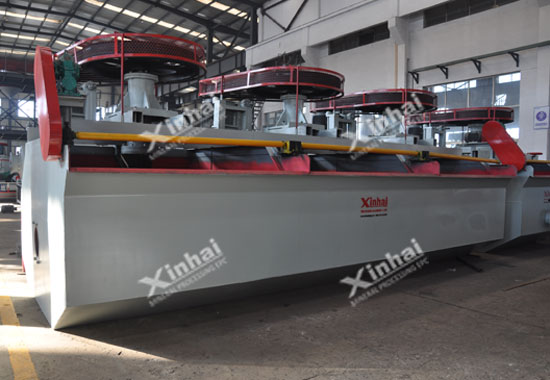 Xinhai is a professional copper ore processing equipment company, we provide various specifications of crushing equipment, screening equipment, grinding equipment, classifying equipment, flotation equipment, thickening and dewatering equipment, etc., with excellent quality, favorable price. Xinhai is the ideal choice for your mines!