4 Kinds of Phosphate Mineral Processing Processes
2023-10-05 XinHai Views (91)
If you want to know more information, like quotation, products, solutions, etc., please contact us online.
Phosphate mineral is one of the main raw materials of phosphate fertilizer. Phosphate rock resources are increasing year by year, but at the same time, the amount of rich phosphate rock is getting smaller and smaller. The mining and utilization of low- and medium-grade ores are gradually attracting people's attention. How to enrich these low- and medium-grade phosphate resources to produce suitable phosphate concentrates to meet industrial needs? Phosphate ore beneficiation mainly uses flotation process, roasting and digestion process, scrubbing and desliming process, etc. There are also some new processes that have emerged with the development of science and technology, such as chemical separation, heavy media separation, combined mineral separation, etc. The following will introduce you to several phosphate mineral beneficiation processes.
Use the table of contents below to navigate through the guide:
01

Phosphate mineral scrubbing and desliming process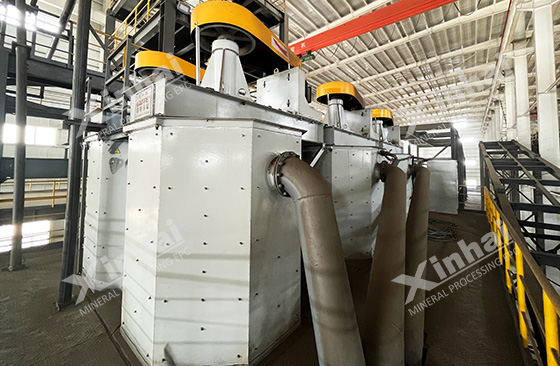 The scrubbing and desliming process of phosphate rock is an environmentally friendly physical beneficiation method. The process flow is simple and easy to operate, and no chemicals are consumed. Scrubbing desliming ore dressing technology is mainly used to treat surface weathered ores that contain more mud and have higher ore grades. As the degree of weathering deepens and the ore structure is destroyed, the ore becomes loose, brittle and soft. This situation will cause a large amount of iron, aluminum, carbonate and other minerals to be lost or directly enriched in the slime. Phosphate or silicate is relatively concentrated in these ores. The mined phosphate ore is crushed and classified and then processed in a scrubbing device to obtain phosphate concentrate.
02

Phosphate mineral flotation process

Flotation is one of the commonly used methods in the phosphate ore beneficiation process, and its beneficiation effect is better than other beneficiation processes. The flotation process generally plays a dominant role in the phosphate ore beneficiation process. According to the different separation sequence, phosphate rock flotation methods can be divided into: forward flotation, reverse flotation, forward and reverse flotation, reverse flotation, stage grinding and stage separation, and double-reverse flotation process.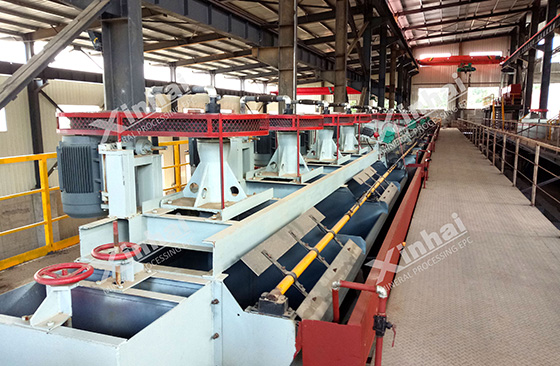 1. Phosphate ore positive flotation process
Positive flotation is a method that first suppresses silicate and carbonate minerals during the flotation process and preferentially flotates phosphorus minerals. This flotation method is mainly used to treat siliceous phosphate rock with low magnesium oxide content.
2. Phosphate ore reverse flotation process
The reverse flotation process mainly suppresses the emergence of phosphorus minerals, and then preferentially selects gangue minerals such as carbonates, while the concentrate products remain at the bottom of the flotation machine tank, thereby achieving the separation of gangue minerals and phosphorus minerals. Calcareous phosphate rock with low silica content and high content of carbonate minerals such as dolomite is often sorted by this method.
3. Phosphate ore forward and reverse flotation process
The forward and reverse flotation process preferentially floats out phosphorus minerals and carbonate minerals by suppressing siliceous minerals. The carbonate minerals are then reverse-flotated in acidic media. Anyway, the flotation process is the opposite. This method can effectively separate gangue minerals and concentrates.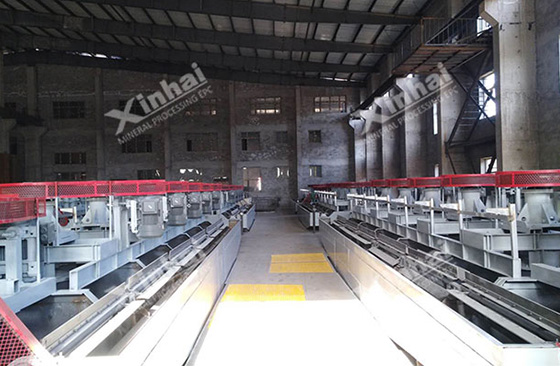 4. Phosphate ore double reverse flotation process
The double reverse flotation process mainly takes advantage of the characteristics of phosphorus minerals being inhibited in acidic media such as phosphoric acid or sulfuric acid and their derivatives, and prioritizes the gangue minerals for flotation before slurry mixing. Adjust the slurry to alkalinity, and use a cationic collector to float out the siliceous gangue under alkaline conditions, thus effectively separating gangue minerals and phosphate concentrate.
5. Stage grinding and stage beneficiation
These two mineral processing processes mainly use the difference in dissociation degree between minerals to separate gangue minerals and useful minerals. Since carbonate minerals have low hardness and are brittle, at coarser grinding fineness, carbonate minerals can be dissociated preferentially, and then flotation separation is performed to float out the siliceous minerals.
03

Phosphate mineral roasting and digestion process

This method is a chemical beneficiation method that sinters the ore under high temperature conditions, and the carbonate in the phosphate rock is thermally graded and released in the form of carbon dioxide. The generated calcium oxide and magnesium oxide can generate hydroxide when added to water, and the hydroxide can be easily desorbed, enriching the phosphorus minerals in the coarse-grained product. This method can be used to treat low- to medium-grade weathered ore, powdered ore and phosphorus furnace tail gas, effectively reducing production costs.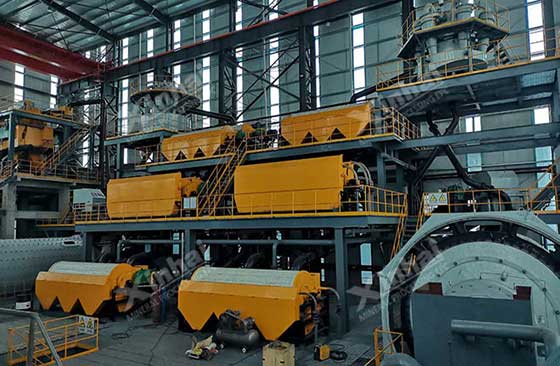 04

Phosphate mineral photoelectromagnetic separation process

Optical separation mainly uses the different color differences between minerals for separation. Electric separation is based on the different conductivities of minerals. Magnetic separation removes magnetic mineral impurities from phosphorus minerals. In actual production, this process also needs to be used in conjunction with other processes to complete the separation and sorting of gangue minerals and phosphate rock.

The above contents are several phosphate mineral processing methods. Different mineral processing technologies are suitable for different types of ores. For phosphate rocks with complex components, it is sometimes necessary to combine several mineral processing methods to complete the separation of concentrates. Therefore, according to the ore composition and production requirements, choosing the appropriate phosphate mineral processing technology can improve the mineral processing efficiency, reduce production costs, improve resource utilization and obtain ideal economic benefits.