Xinhai Mining in China Mining Conference&Exhibition 2023
2023-11-02 XinHai Views (64)
If you want to know more information, like quotation, products, solutions, etc., please contact us online.
On October 28, the 25th China International Mining Conference came to a successful conclusion. This conference attracted industry insiders from 28 countries and regions, and more than 260 institutions and companies participated in the exhibition.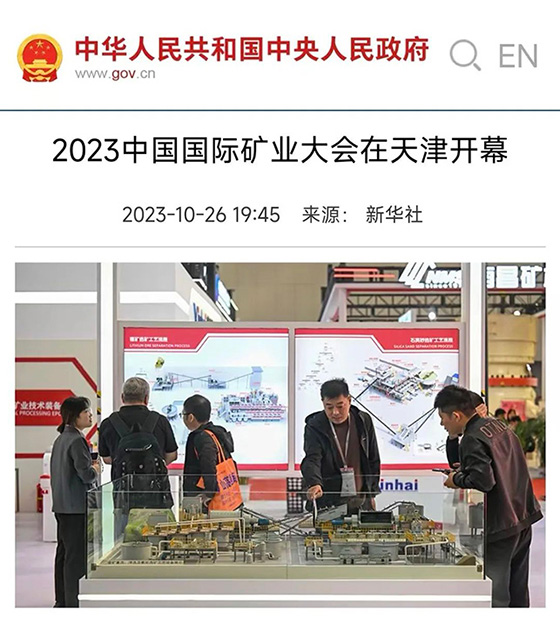 (reported by Xinhua News Agency )
As the sole sponsor of the conference badge, Xinhai Mining made its appearance again and attracted the attention of many guests with its " Turnkey Service for Mineral Processing Plant (EPC+M+O)", and it is attracted many guests at present.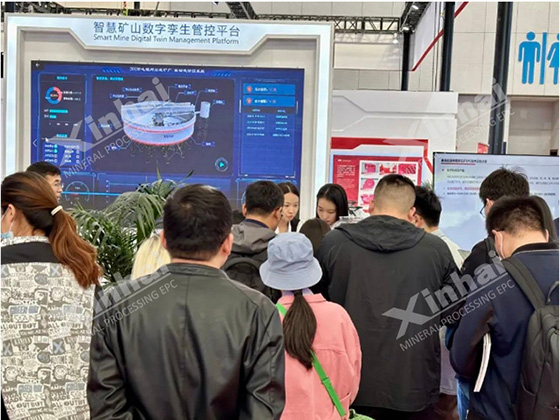 Xinhai Mining's booth covers an area of nearly 300 square meters. In this year's booth layout, Xinhai Mining integrated a variety of new technologies and new achievements into the design, making it colorful and striving to display Xinhai Mining Service to the guests in a more intuitive and efficient way.
Use the table of contents below to navigate through the guide:
01

Smart mine digital twin management and control platform

Xinhai has been carrying out smart mine layout. At this exhibition, Xinhai announced a smart mine digital twin management and control platform. Taking the 2 million TPA spodumene project in Zimbabwe as an example, it demonstrated how Xinhai can realize the digital twin of the mine by combining mine automation with the mine digital model. Through this platform, mine managers can operate and manage mines more scientifically and greatly improve production efficiency.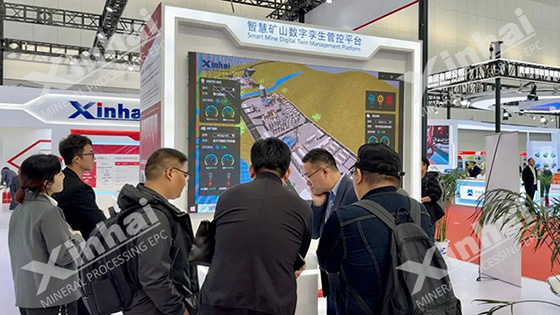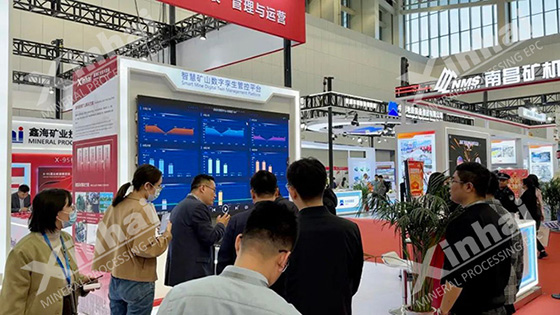 02

Naked-eye 3D tri-fold screen

Xinhai creatively built a 2.5mx4mx4m three-fold giant screen at the booth to achieve a stunning naked-eye 3D visual effect, allowing attendees to feel the charm of concentrator more intuitively. Such a novel expression attracted guests to stop and watch and take photos.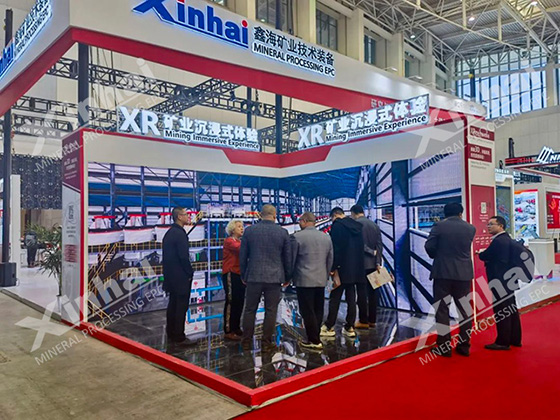 03

VR immersive mining experience

Through virtual reality technology, Xinhai perfectly restored many classic projects, allowing guests to observe the process and mining equipment immersively. The immersive and interactive experience impressed the guests, and there was a constant flow of people in front of the VR booth.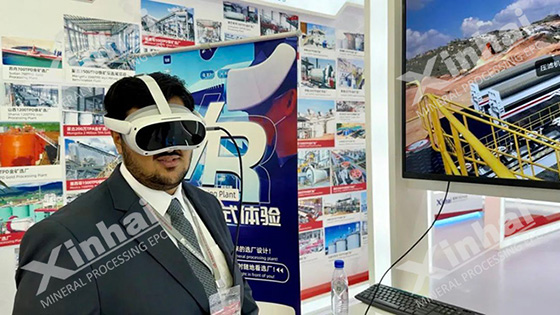 04

Sand table model of 3D mineral processing plant

Xinhai's 3D sand table model of the dressing plant is also a highlight of the booth. Together with the on-site explanations by Xinhai technical staff, visitors can have a clearer understanding of the overall picture of the dressing plant.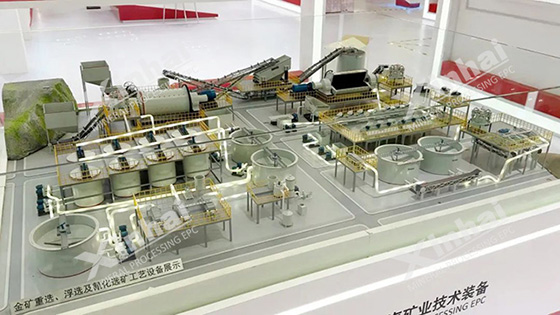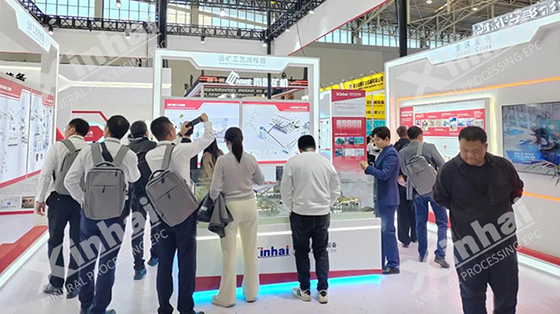 05

Intelligent rubber industry product area

Xinhai's booth has a special high-quality wear-resistant rubber product display area, which displays Xinhai X-95 wear-resistant rubber sheets, as well as various intelligent rubber products such as slurry pumps and valves, so that guests can touch the real products and experience quality of Xinhai rubber products.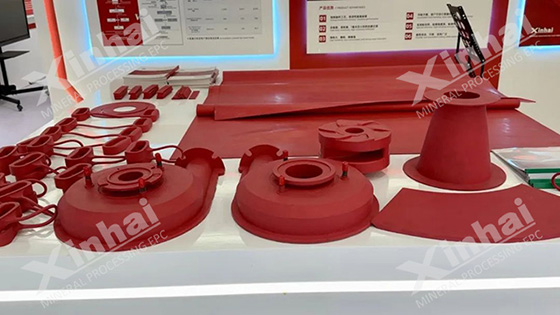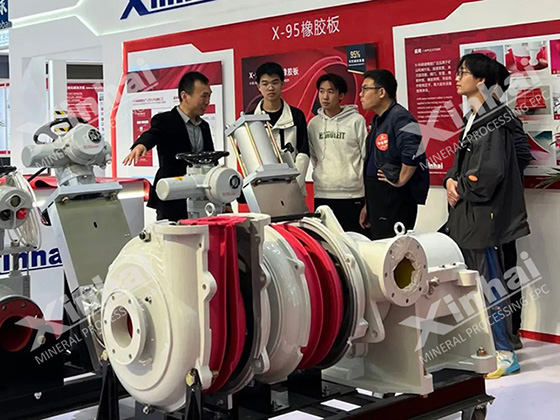 Xinhai Mining's booth was very wonderful, and there were constant inquiries from Chinese and foreign customers during the period. Xinhai's technical experts listen to customer needs, answer questions patiently, and provide customers with customized solutions.


Mr.Elon Zhang, Chairman of Xinhai Mining, had a friendly exchange with the Minister of Industry and Trade of Ghana at the booth, and they had an in-depth discussion on mining cooperation.
The deputy mayor of Tianjin and the president of the China Mining Federation also visited Xinhai's booth and spoke highly of Xinhai's technology and products.
In addition, Mr.Elon Zhang also accepted interviews from Xinhua News Agency and Tianjin TV Station, introducing Xinhai's development and future development direction to reporters.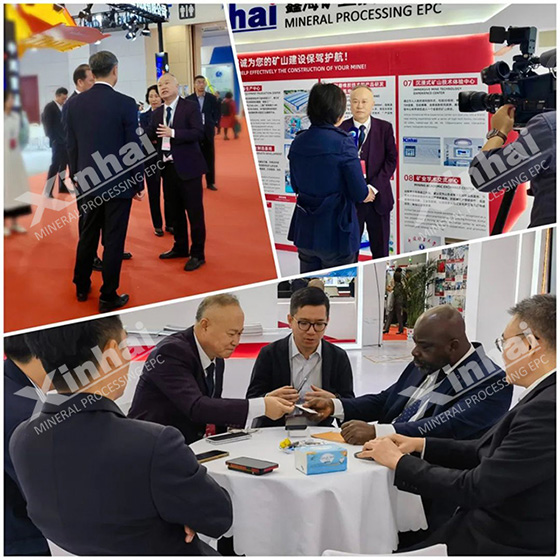 Xinhai has always adhered to technological innovation and equipment innovation. Through this exhibition, Xinhai also actively conducted technical exchanges with other peers. At the Mining Equipment Forum, Mr.Elon Zhang delivered a keynote speech on the theme of "Ultra-fine Dry Grinding and Dry Separation System Equipment" and introduced Xinhai's independently developed brand-new products to the participants.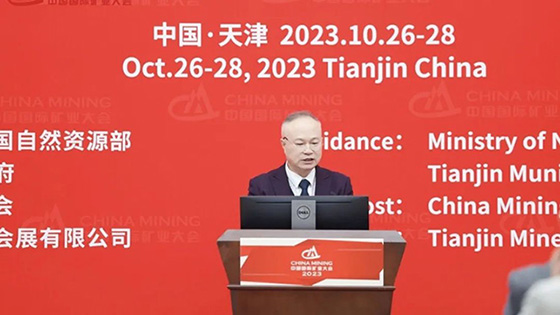 After the meeting, the guests came to the Xinhai booth and had in-depth exchanges on mining technology with Mr.Elon Zhang shared with everyone the technical experience of Xinhai's Zimbabwe 2 million TPA spodumene project. This project was designed and constructed by Xinhai and was officially put into production in just one year, demonstrating Xinhai's speed to the world. Xinhai has the first-level qualification for general contracting of mining projects and is an important guarantee for the EPC+M+O service.
Students majoring in mineral processing at the University of Science and Technology Beijing also came to Xinhai's booth to visit and study. Xinhai's technical staff patiently explained mineral processing knowledge to them and helped them better understand the technology applications in the industry.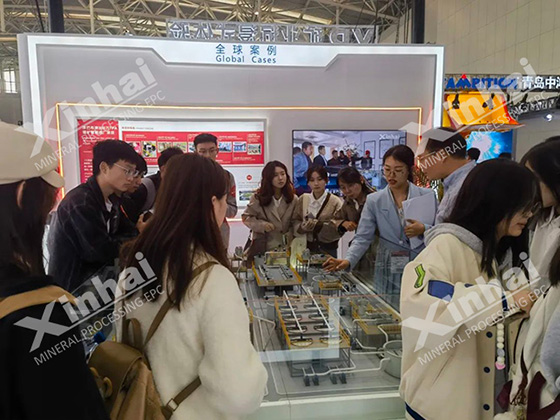 At this point, the 2023 China International Mining Conference has come to a successful conclusion! Thanks to every Xinhai staff for their hard work, and also to friends from all walks of life for their attention and support. In the future, Xinhai Mining will continue to provide customized smart mining services for global mines and help build a community with a shared future for global mining development.