Warmly Welcome the Visit of Association of Industry and Commerce Group
2018-03-30 XinHai Views (1302)
If you want to know more information, like quotation, products, solutions, etc., please contact us online.
Recently, in order to implement the spirit of new and old kinetic energy conversion project and convey the important speech of Secretary of District Committee, Association of Industry and Commerce organized some entrepreneurs to visit Xinhai, which can enhance the market competitiveness of enterprises, help the enterprises adapt to the development of a new era, then play a greater role in regional economic and social development.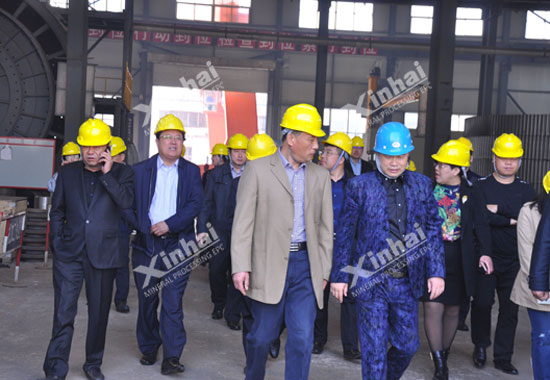 (Association of Industry and Commerce organized some entrepreneurs to visit Xinhai)
At the meeting, Yunlong Zhang, Xinhai's chairman, delivered a keynote speech. Mr. Zhang thought "Going out" is the inevitable choice of manufacturing enterprises! In 2012, under the conditions of sluggish global economic, overcapacity caused malignant homogeneity competition and deteriorating enterprises survival condition, China put forward "the Thirteenth Five-year Plan", which explicitly pointed out that we would foster export superiority, decrease the cost of real economy enterprises, further promote the cooperation in international capacity and equipment manufacturing and open "One Belt And One Road" economic corridor! In this way, Xinhai grasped this opportunity to carry on enterprise transition, and succeeded to ride on the "Internet" train, then firstly adopted the "Internet Plus Industry" model, expanded overseas markets. Now, Xinhai has successfully finished transformation from the single mechanical equipment manufacturer to the mineral processing EPC service provider, and realized the transformation and upgrading of traditional industry. At present, the business of Xinhai mineral processing EPC service has covered 90 countries. The annual profit is increasing by 20% every year!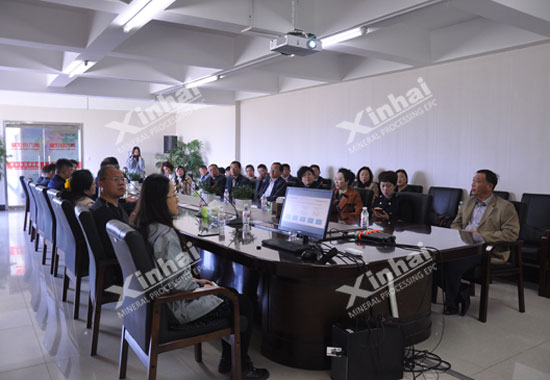 (Xinhai report back meeting)
After the meeting, "6 O'Clock This Morning" reported this event on the full page with the title of "Fushan Old Enterprise "Vacating Cage to Change Business", Ride on the "Internet" Train with "Yantai Speed". The participants said that Xinhai's experience of cross-border e-commerce to global market also brought them a new enlightenment. If we want to achieve a real shift, the development mode must to create the enterprise core supported by information technology and integrate ourself deeper into "One Belt And One Road", then form the adaptive system based on the data, realize the transformation of "intelligent enterprise"!