Focus on the Way of Xinhai Transformation
2017-09-12 XinHai Views (1065)
If you want to know more information, like quotation, products, solutions, etc., please contact us online.
Under the severe economic environment and industry situation, Xinhai actively explored the way of manufacturing enterprise servitization and Internet and finished its transformation and upgrading firstly, so it became a learning target of insiders and got attention from government and media.
On June 28, a group of medium friends (from Yantai TV Station, Yantai People Radio and TV, YantaiDaily, Yantai Morning News, Yantai Evening News, Jiaodong Online and YMG) visited Xinhai to research and investigate under the organization of Yantai Municipal propaganda Department and Yantai Economic and Information Commission. This investigation was aimed at thoroughly implementing the concept of national scientific and technological innovation conference, developing the spirit of innovation and development, and promoting advanced experience of transformation and upgrading, setting up advanced enterprise model.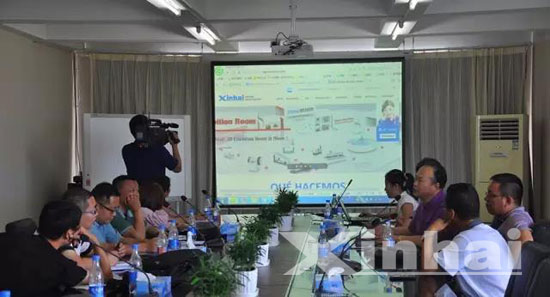 Xinhai Chairman, Zhang Yunlong (third from right) introduced Xinhai website.
Mr. Zhang summed up Xinhai's transformation and upgrading as follows:
First, Manufacturing Servitization. Learning from the experience of Euramerican enterprise, Xinhai expanded its main business from "mine equipment manufacturing" to "mineral processing EPC service" including mine design and research, complete equipment manufacturing and procurement, commissioning and delivery, which greatly improved the development potential and profitability.
Second, Marketing Internet. Xinhai carried out "Internet+" strategy. By setting up e-commerce and international sales center, Xinhai actively used e-commerce means to expand overseas market with the help of various network platforms and marketing methods, which gradually improved the marketing accuracy and conversion efficiency. Besides, Xinhai explored new market space and profit model by the analysis of million level of customer data.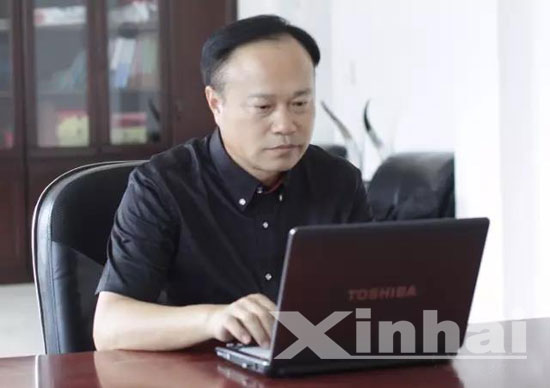 Mr. Zhang (left first) emphatically introduced the process that how did Xinhai improve its "mineral processing EPC service" and adopted internet to the international market step by step.
Third, Market Internationalization. Xinhai actively responded to "go-out" strategy, not only implemented overseas strategy to expand overseas markets, but also set up overseas office, strengthened offline service capability and expanded sales dimension. 13th Five-year Plan that published recently clearly indicates that China should strengthen export advantage, decrease the cost of real economy enterprises, further promote cooperation between production capacity and equipment manufacturing and open " One Belt, One Road " Economic Corridor, which further enhanced the confidence of expanding overseas market.
Fourth, Development Innovation. Xinhai not only focused on mode innovation, but also paid more attention to technology and product innovation. Relying on scientific and technological strength, Xinhai improved product quality and technical content, and actively developed the next generation of mineral processing technology and intelligent equipment, strengthened Xinhai's competitive advantage.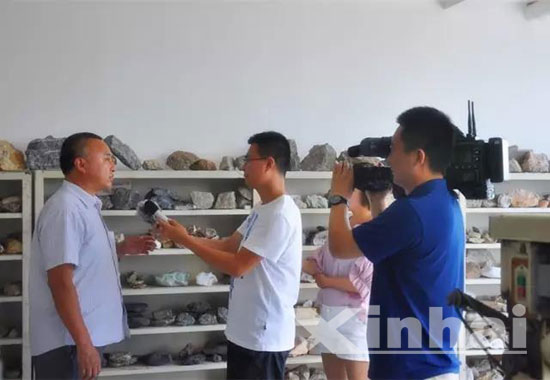 Guofu Wu, director of Mining Research Institute, led journalists to visit Xinhai mineral processing laboratory, explained those stories behind the ore samples, and illustrated that how did experimental research on mineral processing create value for customers.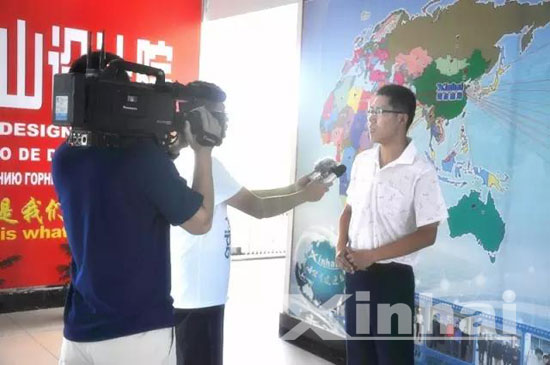 Zhidong Lu, director of Yantai e-commerce department, explained the operation mode of Xinhai e-commerce, and further discussed the secrets of Xinhai e-commerce operation.
In general, according to the analysis about industry development situation and its advantages, Xinhai optimized its industrial structure, adopted Internet to realize its business mode, management mode and technology innovation. Finally, Xinhai initially completed its transformation and possessed the capability of forming service industry with brand advantage.
At the end of the visit, Mr.Zhang said, Xinhai would firmly grasp the opportunity of "Made in China 2025", speed up the development process of "industrialization and informationization". Besides, Xinhai would play its social influence and brand appeal by relying on its abundant strength and advanced concept, then try its best to become a world-class mineral processing EPC servicer as soon as possible.
In the future, Xinhai will also continue to play a good demonstration for Yantai high-tech industry, promote the development of Yantai e-commerce industry groups, and drive two integration of small and medium-sized enterprises. Xinhai will not only strive to seek its development, but also make greater contribution to the economic development and industrial transformation in Yantai.