Design Standard of Xinhai Mine Design Institute Integrates with the World
2017-08-25 XinHai Views (1061)
If you want to know more information, like quotation, products, solutions, etc., please contact us online.
Recently, Xinhai Mine Design Institute officially signed a feasibility study contract about a gold ore project with a mining company in Busia, Uganda. The gold ore project was located in the east of Kampala, Uganda with the whole plant covering 11.92 square kilometers. Because the deposit exploration was lower and the ore body was extending along the direction, this plant had good exploration potential. The research would be carried out strictly in accordance with Canadian NI43-101 standard and comply with the international standard for mining documentation. The feasibility study of this project will be completed in September 2017.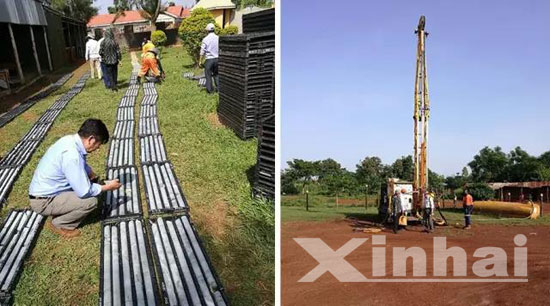 (Pic1: On-the-spot investigation of Xinhai PMT)
After communicating with the company, Xinhai Mine Design Institute set up the project management team in the first time and established feasibility study progress schedule & project rights and liabilities distribution system, refining the work content. Besides, Xinhai also assigned the work (geology, mining, beneficiation and economy included) to everyone, ensuring the effective project operation.
As the technical support of mineral EPC project, Xinhai Mine Design Institute has always followed the pace of overseas development strategy. The mine design business has spread over more than 30 countries in Southeast Asia, Africa, the Middle East, South America, and Eastern Europe. So far, Xinhai has completed more than 300 mining engineering designs in Indonesia, Burma, Pakistan, Mali, Sudan, Zimbabwe, Mongolia, Malaysia, Colombia, Nigeria, Uganda, Malaysia, Kyrgyzstan, Tanzania, Ecuador, Nicaragua, North Korea, Morocco, Vietnam, South Korea, Philippines, Cambodia, Peru, Guyana, Armenia, Ghana, Chile, Russia, Madagascar, Laos, Fiji and Alguinea.
Use the table of contents below to navigate through the guide:
01

Profile of Xinhai Mining Research & Design Institute

Xinhai Mining Research & Design Co., Ltd is a wholly-owned subsidiary of Shandong Xinhai Mining Technology & Equipment Inc. It is an integrated scientific and technological enterprise that includes engineering design in black, non-ferrous and gold mine, experimental research and mine consulting. What's more, it possesses A-Class design qualification on construction industry (architectural engineering) and metallurgical industry (metallurgical mine engineering).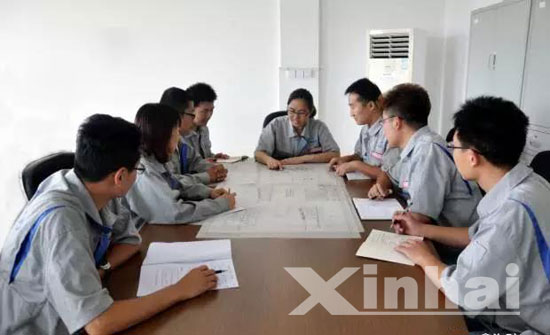 (Pic2 The project seminar of Xinhai Mining Research & Design Co., Ltd)
The design department was equipped with 40 professional personnel who specialized in geology, mining, beneficiation, minerals, tailings, electricity, general drawing, budget, technology, construction, drainage, heating and ventilation. More than 85% researchers and the engineering technical personnel have the bachelor degree or above. By the division refining, global support and database optimizing, Xinhai promoted the technical level of technical engineers and formed strong technical supporting power.
Based on 20 years of mineral processing EPC service experience, Xinhai can offer customized design services according to customer's needs. Besides, Xinhai can adopt 3D interactive software to display the final effect picture, which improved customer's comprehensive experience.
02

Innovations of Xinhai Mine Design Institute
1. Hainan "Green Mine" Design Project
Hainan province was very strict in approval of mining project, and this gold project was located in a forest reserve, which had high standards for environmental protection. Therefore, building a green mine became the important mission of Xinhai Mine Design Institute.
The mining site was equipped with slag discharge field, which avoided forest occupation and environment destroy. In the early stage, all of the rubble was transported to the ore processing system. Large particles of stone were sold as building materials, meeting the stone demand in Hainan construction market. Stone powder mixed with tailings, then both were used as other building materials. After a period of production, some waste stones and tailings can be filled in underground.
All tailings were sent to tailings dry stacking system, the tailings soil was sent to building material system, and the water entered into sewage treatment system. Adding a certain proportion of coagulant to stone power can be made into various building materials, such as baking-free brick, hollow brick, cement block, colored floor tiles, water permeable brick, road traffic stone (these products were a set of mechanical system, the customer just transform the different molds), which not only solved many problems, such as large area tailing pond, great investment, serious environmental influence, but also provided high-quality building materials for surrounding urban and rural construction and brought certain benefits for enterprise.
2. Nigeria Gold, Silver, Copper and Lead Module Project
Xinhai Mine Design Institute divided the plant into different modules, including steel raw material bin and feeding machine module, crusher combination module, screening system combination module, belt conveyor module, steel silo and feeding machine module, ball mill module, separating system module, etc.
These modules were processed, assembled and debugged uniformly. After the debugging, the modules were apart then put into the container to the plant site for reassembling, which the completion of installation and debugging in the shortest time. Because all equipment was placed on the steel module, the construction project was finished fast and saved the investment. The module plant can guarantee the period of site construction, equipment installation and commissioning decreased by more than half.
3. Gansu Refractory Gold Ore Project
The gold ore of this project contained arsenic, antimony, carbon, super-argillization, fine grain, which belonged to refractory ore. The flotation reagents needed various kinds and they woould interacted with each other. Moreover, some agents need sufficient reaction time. Finally, Xinhai Mine Design Institute strengthened the design of pulp and agitation tank, and adopted multi-section efficient agitation tank. After the design optimization, the recovery rate was up to 90%.
Xinhai Mining Research & Design Co., Ltd always takes innovation as the core concept of company, constantly focuses advantage resources, and enhances core competence, further contributions to engineering technology innovation and development.
What you need is what we can do! Xinhai not only offers high-quality equipment, perfect configuration, and reasonable technological process, but also provides the perfect service. We're looking forward to collaborating with you!