【Case Review】Pakistan 1500TPD Copper Processing Plant Project
2021-05-10 XinHai Views (950)
If you want to know more information, like quotation, products, solutions, etc., please contact us online.
Pakistan has rich mineral resources such as copper, iron, chrome, iron, lead, zinc, bauxite, etc. Blocked by various factors, Pakistan is late in economy situation and weak in basic infrastructure. The mineral processing technology can hardly satisfy the local development requirement. Therefore, the are large mineral development potential. China and Pakistan are hard-core brothers and all-weather strategic partner. Pushed by the Belt and Road propose, the relationship between the two countries go further, which provides good opportunities for mining cooperation.
Use the table of contents below to navigate through the guide:
01

Project background

The client of this project intends to use advanced technology and equipment to build a modern beneficiation plant. By chance, the client of this project came into contact with Xinhai Mining "design and research, complete equipment manufacturing and procurement, commissioning and delivery, mine operation and management" mineral processing EPC+M+O service with a strong interest in this beneficiation model.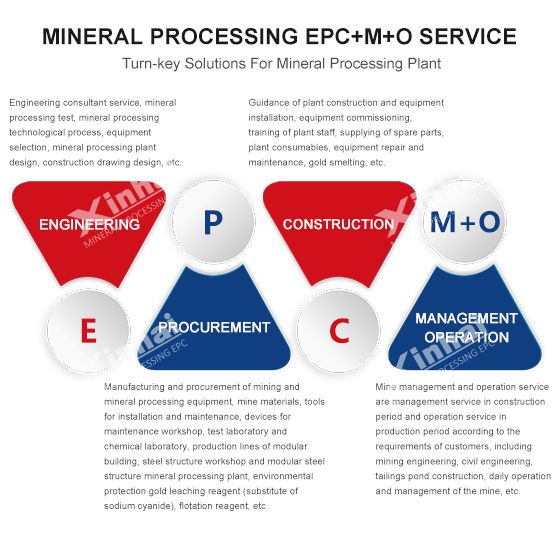 During the communication with Xinhai technics stuff, the client deeply discussed about efficiency, recovery rate and costs. Based on the previous experience of the project undertaken in South Asia, the technicians of Xinhai Mining put forward an effective solution to the project customer. After communication, the client was deeply impressed by the strong technology.
Later, the customers of this project once again deeply understood the strength of Xinhai Mining's mineral processing technology through the video. The tailor-made mineral processing EPC+M+O projects are a strong proof of the quality and service capabilities of Xinhai Mining's equipment. In the end, the two parties successfully reached a cooperation. Xinhai Mining provided it with one-stop mineral processing EPC+M+O service including beneficiation test, mine design, equipment manufacturing and procurement, packaging and shipping, installation and commissioning, worker training, meeting standards and production, mine management and operation.
02

Project overview

Ore characteristic: The mineral constitute is simple. The metal minerals are mainly copper pyrite, iron pyrite, etc. The non-metal minerals are quartz, chlorite, etc. The copper grade of raw ore is 0.80%. Copper is the only valuable element.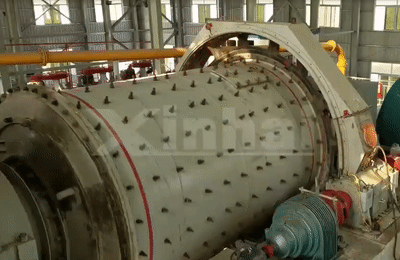 Capacity: 1500tpd
Xinhai solution: Two and a half closed circuit crushing – one-stage closed circuit grinding and classification – one-stage coarse, two-stage scavenging and two-stage concentrating flotation – two-stage mechanical dewatering process flow.
Main equipment: cone crusher, wet grid ball mill, linear vibrating screen, hydrocyclone unit, XCF flotation cell, KYF flotation cell, BF flotation cell, high-efficiency updated thickener, chamber filter press.
03

Xinhai solution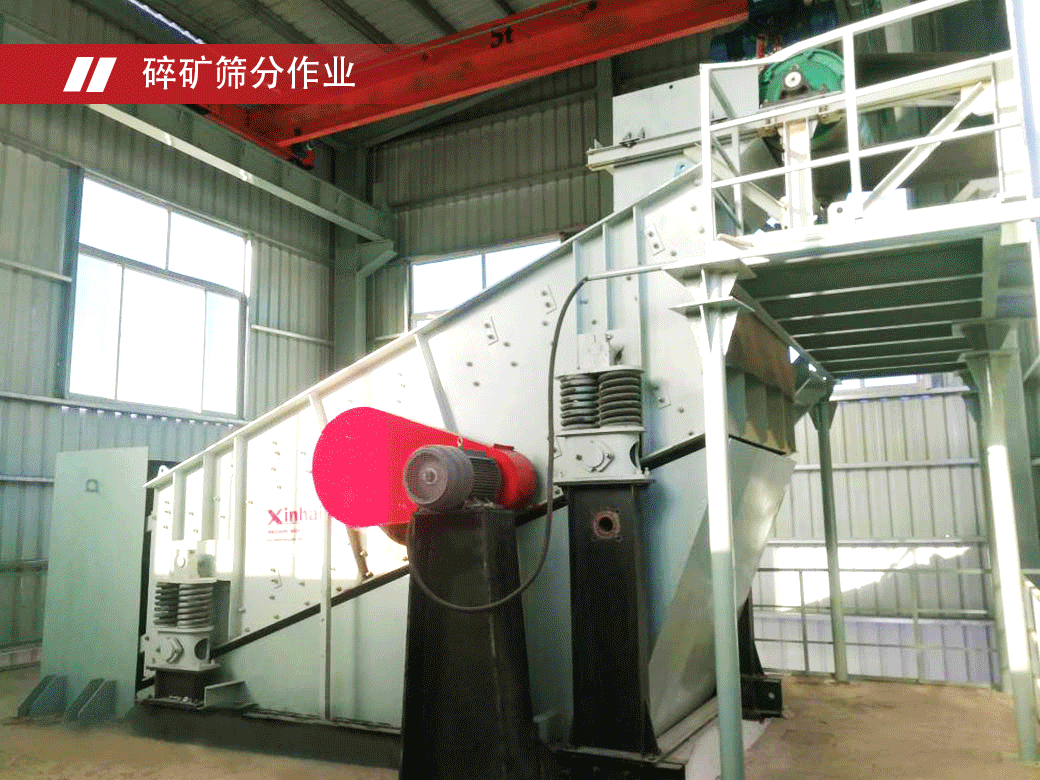 Crushing and screening operation
Coarse crushing and half crushing used jaw crusher. Fine crushing used cone crusher. Screening used heavy circular vibrating screen. The final crushing particle size was under 12mm.
Grinding and classification operation
Grinding used wet grid ball mill. Linear vibrating screen was used for pre-classification. XCII classifying hydrocyclone unit was used for controlling classification. The final grinding fineness was 68.4% under 200 meshes.
Flotation operation
Calcareousness was used as regulator, and Z200 as collector. Under the grinding fineness of 68.4% under 200 meshes, XCF and KYF flotation cells are used for coarse flotation and two-stage scavenging flotation. BF flotation cell was used for two-stage concentrating flotation. Finally, the grade of flotation copper concentrates were over 20%. The copper recovery rare was over 90%.
Concentrates dewatering operation
Updated high-efficiency thickener was used for one-stage dewatering operation. Chamber filter press was used for the second
04

Project lightspot
Taliored design solution with reasonable layout
Xinhai provided customized mineral processing EPC+M+O service for this project, from mineral processing experiment, mine design, equipment manufacturing and purchasing, packaging and delivery, installation and commission, worker training, to mine management and operation. During the whole process, Xinhai considered from the actual situation of mineral processing plant, and carried out production line design reasonable. Fully optimizing the design solution saved the equipment amount and reduced the cost of operation.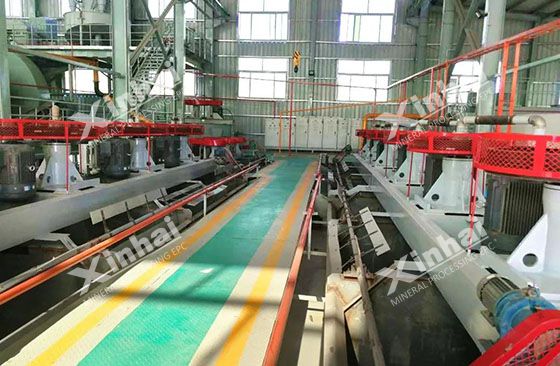 Advanced technology and reliable equipment, saving investment
Xinhai Mining applied advanced technology, large scale high-efficiency mineral processing equipment, and practical controlling technology based on the principle of saving investment as much as possible. In terms of equipment, Xinhai Mechanical Design Institute improved responsibly according to the actual production, which made the technology and equipment at the advanced level at home and abroad. The whole project operated stable and high efficient. Besides, two and a half closed-circuit crushing technology was applied for this project. The production layout was centralized and compact, which reduced floor space and also convenient for equipment inspection and repair.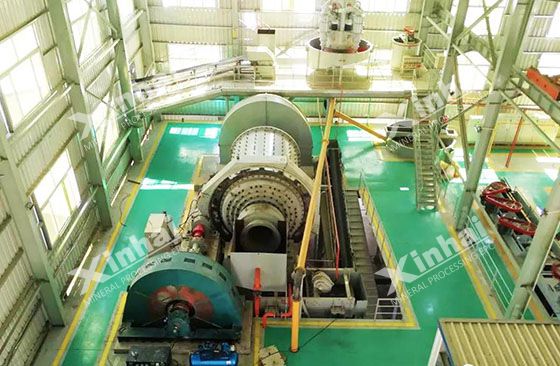 Short construction period and quick return
As for the short design period, Xinhai Mine Design Institute set up the project team. They went to the scene for inspection and collected design information. Combined with the site topographical conditions, they accomplished design with both quality and quantity.
05

Client feedback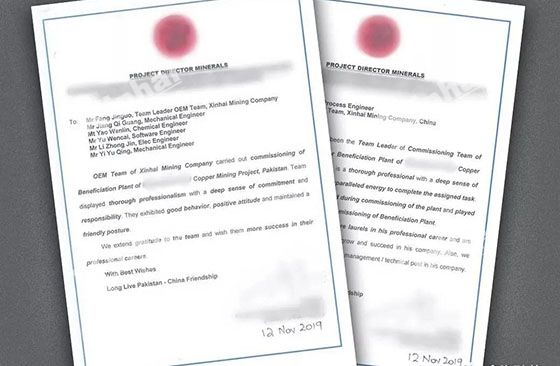 Till now, the whole processing plant operates stable. The equipment is with reliable quality. The indexes and economic efficiency both reached the expected goal. After the accomplishment of project, Xinhai received the thank-you letter from client. Among the words, it expressed praise to the skilled professional skills, meticulous dedication and high sense of responsibility of the installation and commission team of Xinhai, which laid the hard foundation the cooperation afterwards.
At present, Xinhai has served over 2000 mines, over 500 mineral processing EPC+M+O projects in over 90 countries and regions all over the world, involving over 70 kinds of minerals. This cooperation with the Pakistan gold corporation is the evidence of China-Pakistan friendship, which also compacted the mining development of Xinhai in South Asia. Xinhai mineral processing service was highly focused in South Asia. In the future, Xinhai will root in the countries in South Asia, taking it as our responsibility to spread correct concepts and methods of mine construction, pushing the implement of Xinhai solution, and providing more perfect, professional, and enough mineral processing EPC+M+O, devoting to build community of shared future for global mining development.