The useful component of ore was gold with other minerals, such as pyrite, galena, sphalerite, chalcopyrite, natural gold, little arsenopyrite, copper blue and gangue minerals of quartz, calcite, etc. The gold minerals in ore existed in three types: embedded gold, intergranular gold and fissure gold, accounting for 43.17%, 41.55% and 15.28% respectively, and their distribution was very uneven.
Xinhai Solution
01

Ore Preparation Stage: The maximum feeding size of raw ore was ≤350mm. In crushing operation adopted two stage and one closed circuit method, with final crushing size of ≤15mm. For grinding operation adopted one stage closed circuit for grinding and classification, which final grinding fineness was -200 mesh accounting for 68%.


02

Separation Stage: The separation operation adopted the combined separation process of gravity separation and flotation. After grinding and before classification, jig machine was used for first separation, obtaining coarse concentrate, which entered shaking table for two stage beneficiation operation in order to obtain gravity processing concentrate. The ore pulp with qualified fineness was classified into flotation operation and the gold concentrate was floated through one coarse separation, two scavenging and two cleaning operations.


03

Dewatering Stage: Concentrate dewatering adopted two stage of concentration and filter press, which final product moisture was≤15%. Tailings dewatering adopted one stage filter press operation, with ≤20%final product moisture.

Project Result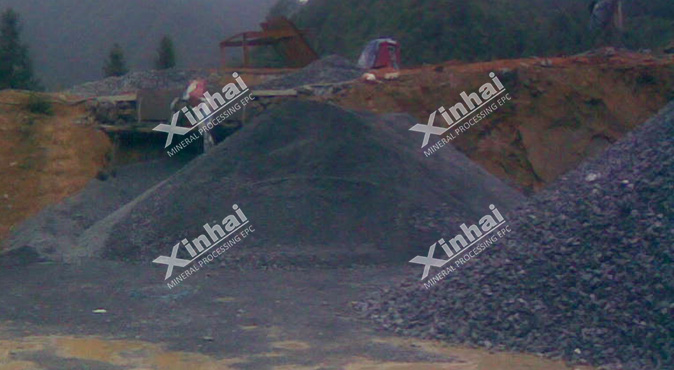 After grinding of raw ore (-200 mesh accounting for 68%), the productivity of gravity operation was 0.21%, gold grade of 750.8g/t, gold recovery rate of 50.18%. Entering flotation operation after gravity operation, through one coarse separation, two scavenging and two cleaning beneficiation, got gold concentrate, with productivity of 3.23%, grade of 40.7 g/t and recovery rate of 41.83%. The recovery rate of gravity separation and flotation operations was 92.01%.