Gold in ore of the project was the only recyclable element with a grade of 2.6 g/t.
Xinhai Solution
01

Crushing and Washing Stage: It used cylinder screen to wash ore and the large pieces on the screen are crushed by a hammer crusher. Raw ore ≤150mm was crushed and washed to obtain a mineral sizeof ≤5mm with a concentration of about 35%, which was transported to the dip tank through alloy pump.


02

Pool Leaching Adsorption: Gold liquid was with about 40m³/h, which was transported to 3 adsorption columns by chemical pumps. Gold Intermediate and Poor liquid Adsorption Stage: After adsorption, the intermediate liquid entered the intermediate liquid tank and circulated through chemical pumps. The fully-absorbed poor liquid regularly got into the poor liquid tank and was discharged after removing cyanide ions.

03

Desorption Electrolysis: The gold-loaded carbon was processed by the desorption electrolysis system.


04

Activated Carbon Pickling Regeneration: Adopted the activated carbon pickling and regeneration system, equipped with united operation with desorption electrolysis. Smelting: After the smelting treatment, gold bullions with a purity higher than 80% were obtained.
Project Result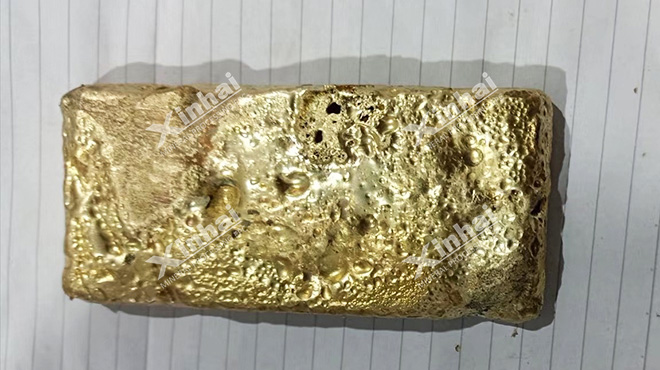 Based on the principle of saving investment costs as much as possible, Xinhai Mining has designed the gold mine pool leaching process for the concentrator. In terms of technology, it is simpler than carbon leaching process with low investment cost, which could meet the requirements of the concentrator. In terms of equipment, Xinhai Mining Machinery Design Institute has made corresponding improvements to actual production of the concentrator, which met all the process conditions. With stable operation of entire concentrator and reliable equipment quality, the beneficiation indexes and economic benefits had reached expectations of actual recovery rate with 85%.