As the exploration got deeper, the original 300tpd silver cyanide plant was no longer able to meet the process needs. Due to the shortage of equipment maintenance and the inappropriate process, the plant capacity fell short of expectations and silver recovery dropped year by year. So the client decided to upgrade the plant. The raw ore consisted of metallic minerals (native silver, pyrite and limonite) and gangue minerals (quartz, feldspar and clay), with silver being the valuable mineral.
Xinhai Solution
01

Crushing: two-stage semi-closed circuit crushing. Jaw crusher was used for coarse and intermediate crushing, cone crusher for fine crushing and circular vibrating screen for screening. Crushed products were transported by belt conveyor to the original fine ore bin and then by trucks to the new plant.

02

Grinding: two-stage closed-circuit grinding. Grid ball mill was adopted in the first-stage grinding. Discharged ores were first treated by jig and concentrates by shaking table for concentration; gravity tailings were classified by single spiral classifier. Wet overflow ball mill was adopted in the second-stage grinding. Hydrocyclone cluster was used for second-stage classification. The fineness of first- and second-stage grinding was -200 mesh (55-60%) and -200 mesh (85-90%) respectively.

03

Flotation: one-stage roughing, three-stage scavenging and two-stage concentration. Concentrates dewatering adopted two-stage mechanical dewatering: thickener in the first stage and filter press in the second stage. The water content of filter cake is around 20%. Tailings were directly discharged in the tailings pond and the water was recycled.

04

Slurry conditioning: the conditioning system was installed in the original plant; ores were fed by grab bucket, conditioned in the high-concentration agitation tank and treated in the current grinding and classification system. The cyclone overflow was thickened by thickener, leached in the original leaching system for over 60h, and washed for five times. The pregnant solution was treated by Merrill Crown System for smelting and tailings were pumped to the tailings pond after treatment.
Project Result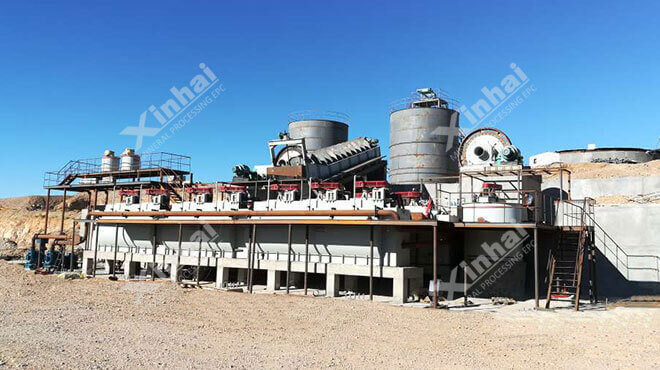 The project saw a reduction of 15% in production costs, exceeding the client's expectations by 5%. The silver recovery was up to 83.95% after the raw ore was grinded and treated by gravity concentration and flotation. The whole plant ran smoothly with sound equipment performance, and the mineral processing indices and economic benefits met the requirements. Xinhai's EPC+M+O service received full recognition from the client.