The raw ore was high-sulfur Cu-S ore in the form of dense lump. Cu, S and Fe were closely associated. With Cu minerals being fine, the ore was of hard beneficiation.
Xinhai Solution
01

The raw ore was ground to -200 mesh (71.5%) and treated through the flotation process of one-stage roughing, two-stage scavenging and three-stage concentration. Copper concentrates were treated by medium-intensity magnetic separator to remove pyrrhotite and other magnetic materials. The final copper concentrates had a yield of 5.25%, a Cu grade of 21% and a Cu recovery of 84.76%. The refused magnetic materials had an S grade of 31.86%, and were mixed with sulfur flotation concentrates as final sulfur concentrates. After slurry conditioning of tailings of copper flotation, the pH value was kept at around 6.5 and sodium sulfide was used to activate pyrite. Sulfur concentrates were produced through the common flotation process of one-stage roughing, one-stage scavenging and one-stage concentration, with a yield of 34.83%, an S grade of 58.5% and an S recovery of 82.26%. Tailings from sulfur flotation were treated in the magnetic separator to gain iron concentrates which had a yield of 8.67%, a Fe grade of 70.18% and an S grade of 1.63%.

Project Result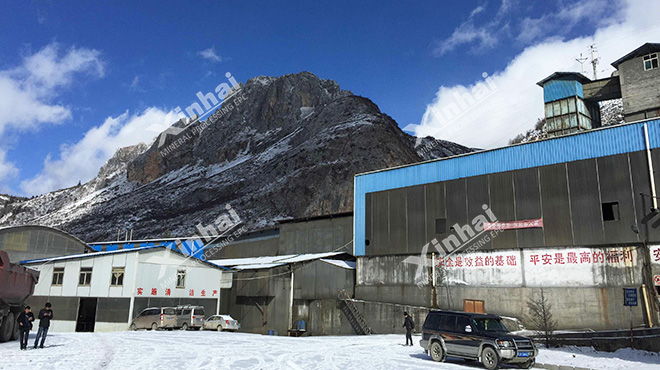 The final products were sulfur concentrates and copper concentrates. Comprehensive analysis showed that the project was relatively lucrative. The project fully tapped into the mineral resources and ensured environmental protection through solid waste recycling.