Ten Highlights of Xinhai Ball Mill Design!
2020-05-19 XinHai Views (1155)
If you want to know more information, like quotation, products, solutions, etc., please contact us online.
The grinding operation is directly relative with the capacity, economy and technology indexes of processing plant. The grinding equipment also has a large proportion of mineral processing plant construction and production cost. Therefore, energy-saving, low consumption, and high efficiency are the most important things to consider in grinding operations.
In equipment manufacturing and innovation:
Over 200 manufacturing workers for mineral processing equipment in two production plants manufacture ball mill with automatic welding manipulator, vertical lathes of various models, and hobbing machine.
The top-ranking mineral processing equipment designer team focus on ball mill design over 20 years and applied for multiple patents.
Xinhai MIning can customize various aspects of ball mill to combine with processing technologies perfectly, improving production rate, reducing energy consumption, and extending equipment stable operation period.
Use the table of contents below to navigate through the guide:
01

1.Multiple feeding device choices

Xinhai has drum feeder, joint feeder and feeding trolley three types of feeder ball mill design.

(1)Drum feeder

The materials are pushed into feeding throat though spiral plate, realizing compulsive feeding.

Special design of anti-spitting small cone effectively solve the material leaking problem.

It is suitable to use with single spiral classifier or hydrocyclone, with a simple structure, which is easy to use and needs no maintenance.

(2)Joint feeder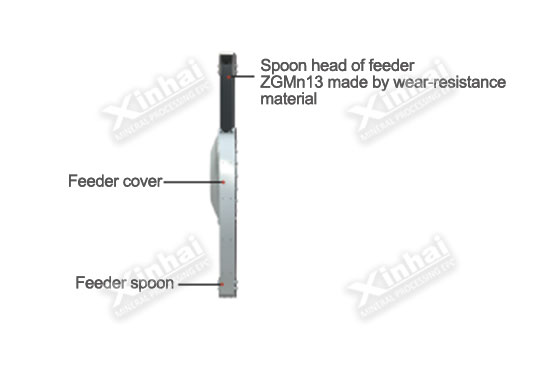 Maintaining feeding from high position, refusing backward flows and reducing labor intensity. Avoiding pollution and improving efficiency as well.
It is suitable to use with double spiral classifier.
(3)Feeding trolley
The car can move forward or backward on the track. The feeding elbow can insert into the feeding throat directly.
The connecting flange can connect with feeding device (feed bin or feeder).
It has simple structure which is easy to maintain, suitable for large grinding machines over 32.
02

2.Multiple devices of feeding throat to extend the working period.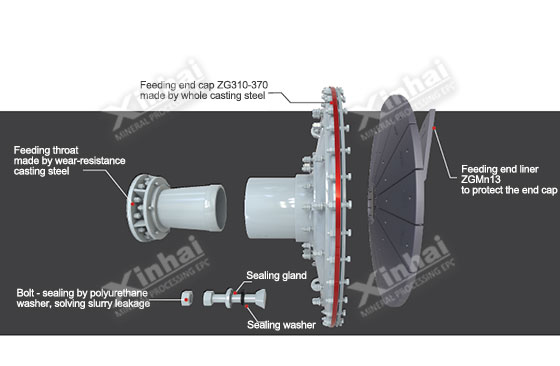 03

3.Submerged arc automatic welding of cylinder, and inner liner plate protecting cylinder

(1)The cylinder

It is welded with thick steel plate;

The submerged arc automatic welding has a good quality and good appearance.

The both-end flanges connect with cast steel end cap of throats.

(2)Liner

The liner is installed in the cylinder to protect inner wall of cylinder and to control the movement of steel balls in the cylinder.

High manganese steel (ZGMn13): lost foam casting, fast installation and high precision.

High chromium cast iron liner: the quality score of chrome is over 11%, and the ratio of chrome and carbon content is over 4.5.

Rubber liner: with steel membrane, vulcanization made by butylbenzene or natrual rubber. Akron abrasion is 0.14cm3/1.6km.
04

4.Large and small gear spray lubrication system

(1)Large and small gears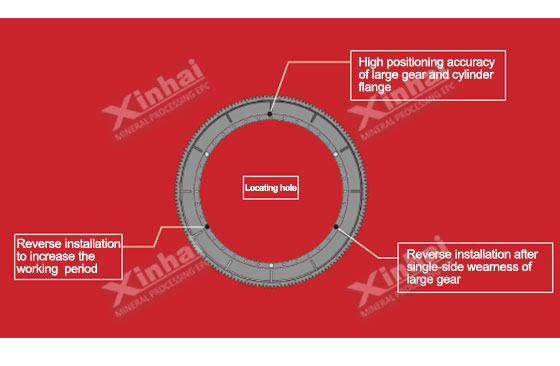 The large gear is foreign hobbing, and casting by ZG310-570
The small gear is forged by 45# steel in a whole part. The gear part is high-frequency quenching made with high precision and stable transmission. Small noises and long working period.
(2)Spray lubrication system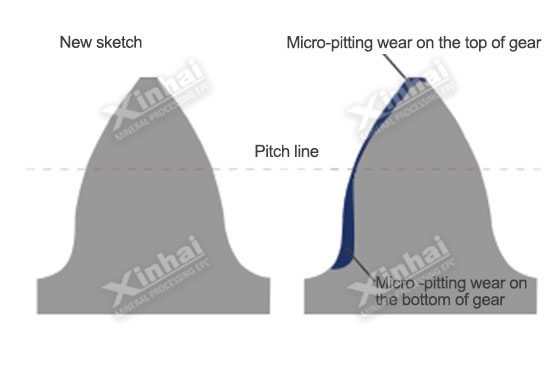 The damage and losing efficiency most appear in the wear, agglutination and corrosive pitting. The main reason is weak lubrication. Therefore we suggest deploying large and small gear spray lubrication system for ball mills over 27.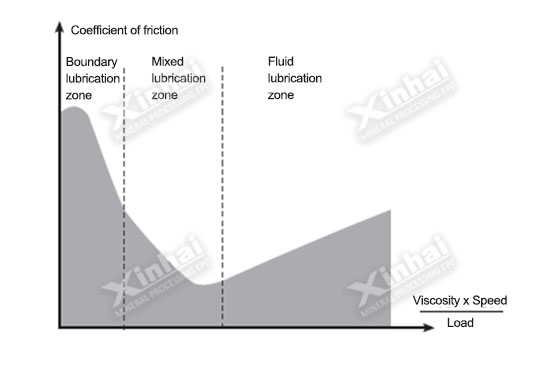 It is the lubrication system designed for large and small gears. The dry oil or thin oil are atomized and spray on gears by compressed air and form meticulous and even dry oil film, which can easily reduce the force of friction and save energy. When the oil foam forms, it is among the liquid friction zone and reducing force of friction.
05

5.Antifriction bearing replacing sliding bearing.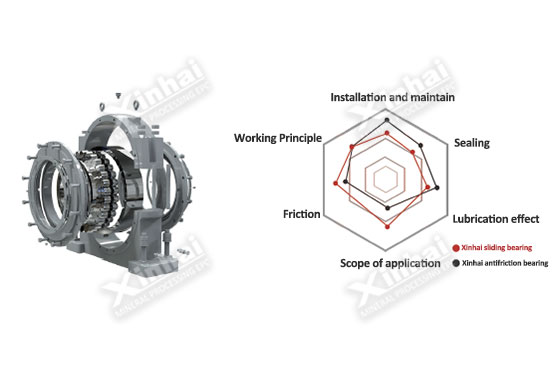 The bearing is double row t aligning roller bearings from national famous brand replacing sliding bearing. It deploys labyrinth sealed rolling bearing and linear contact. The friction force is much less than sliding bearing face to face.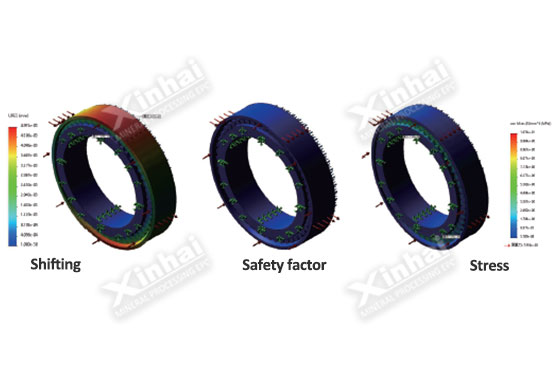 Every kind of ball mill design has its own bearing. After the simulation analysis of the stress, total displacement, deformed shape, and safety deformation coefficient, the model bearing is determined whether it is suitable for the ball mill model or not.
06

6. Multiple types of discharging methods

(1) Grid type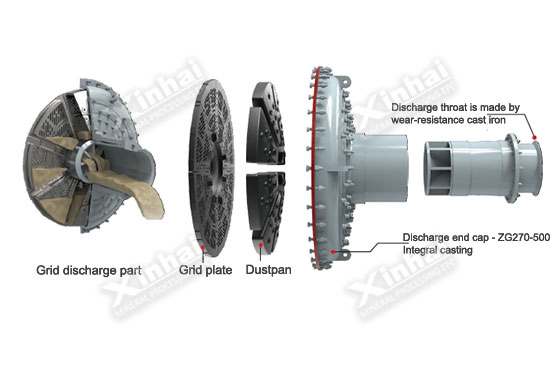 It is special for grid ball mill design, and forcing discharge, which is suitable for the rough grinding and the first stage of grinding.
(2) Overflow type
The overflow ball mill design has the same end cap and linear for feeding end and discharging end.
The discharge throat is made by wear-resistance cast iron.
Double reverse thrust spiral
a.The coarse particles and steel ball ban be reverse pushed into the cylinder.
b.The discharge particle size is up to the technology required standard.
c.It is suitable for the fine grinding and the second stage grinding.
07

7.The transmission system with slow transmission system device

(1)Transmission department (asynchronous motor drive)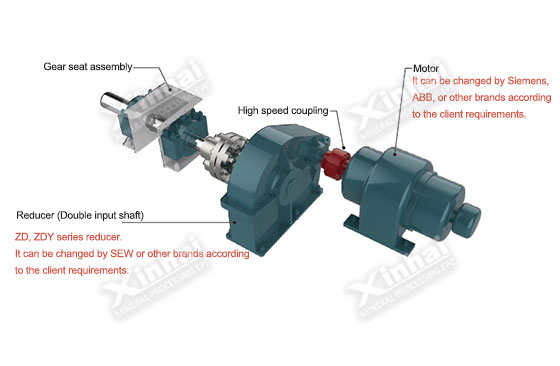 The asynchronous motor is under 400kw, and the motor is squirrel-cage induction motor or wound induction motor with high starting torque.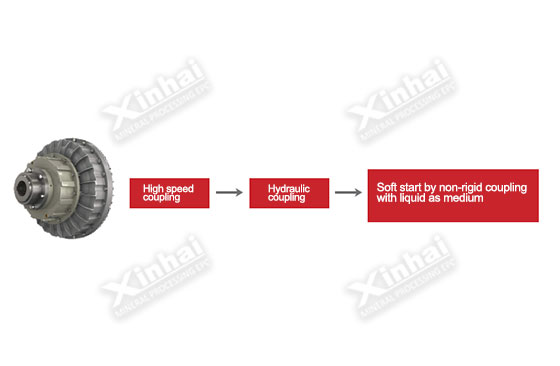 (2)Synchronous motor transmission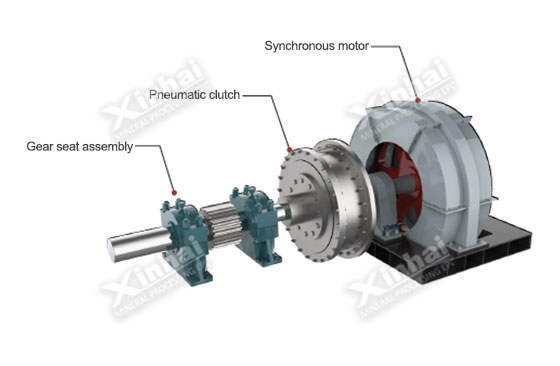 The synchronous motor is over 400kw. Professional TDMK slow synchronous motor connects little gear through pneumatic clutch to realize single-stage reduction transmission and driving the rotation of cylinder.
Pneumatic clutch can realize segment start of motor and main frame, improving starting conditions, and with overload protection.
(3)Slow transmission system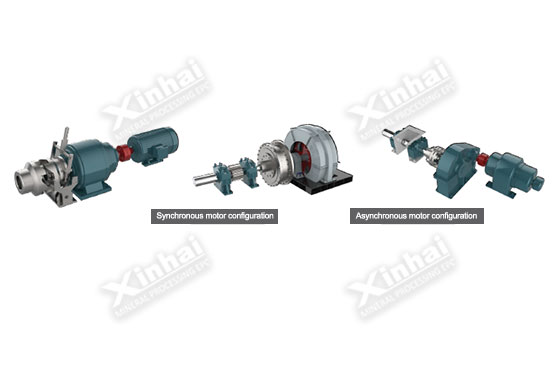 Slow transmission system can provide convenience for ball mill overhaul and liner changing. If the shut-down period is over 4 hours, it is hard to start for the material consolidation in cylinder. Slow driving jigger before turn on the main motor. It can loose the materials and convenient for main motor turning on.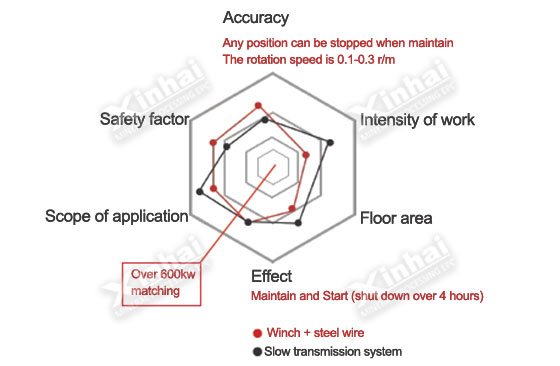 08

8.Frequency control cabinet

Frequency-sensitive resistance cabinet, variable frequency drive cabinet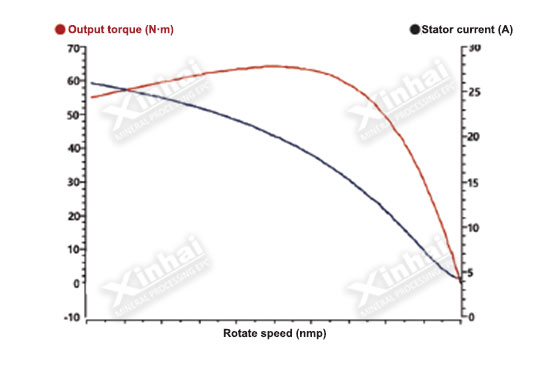 Shaft output torque and stator flow changes when the motor turns on.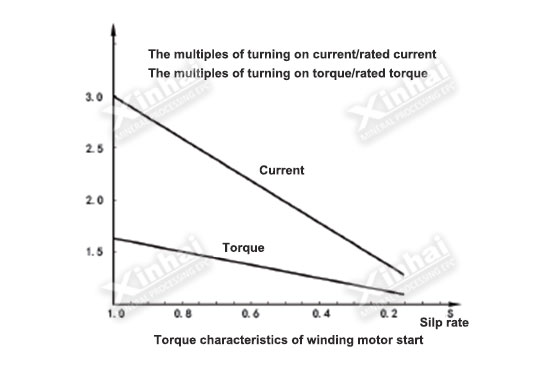 Realizing reduction voltage starting uses winding motor time-frequency start cabinet or liquid resistance start cabinet. It can reduce the attack to power grid. Current and torque changes during turning on motor.
Advantages:
(1)Reduce the attack to power grid through resistance cabinet when turning on.
(2)Protect the motor through hydraulic coupler or pneumatic clutch.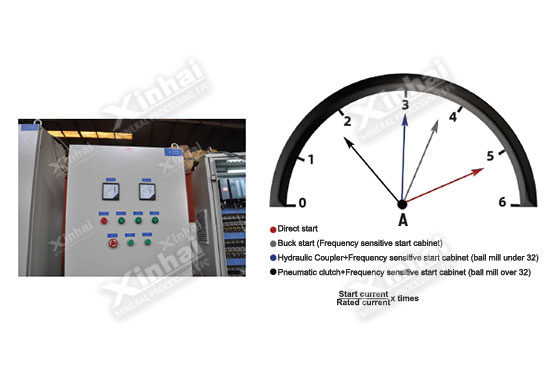 09

9.Hydraulic jacking device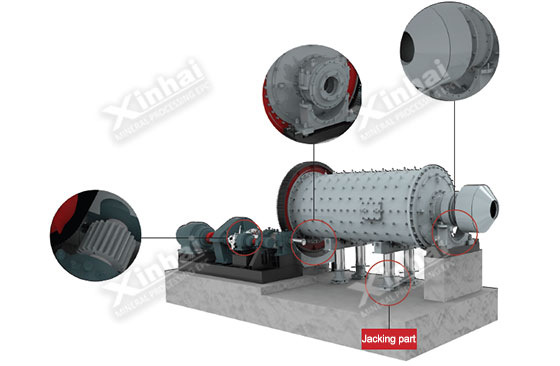 Jacking part: cylinder, feeding throat, discharging throat. It is convenient to maintain ball mill bearing, and low in cost.
The hydraulic jacking device is mainly made up with hydraulic jack and hydraulic station system. During the maintaining of ball mill, the hydraulic jack lifting is controlled by hydraulic station hand shank.
010

10.Overall rack

(1)For middle and small ball mill design, Xinhai deploys overall rack for ball mill. The ball mill is installed on an integral welding frame. The ball mill installation and commission can be accomplished in factor. Just put it on the pre-made foundation at the scene, and find the level and install it firmly. It reduces the engineering quantity and working period, and also convenient for the long-term transportation of equipment.

(2)Non-integral rack is suitable for large ball mill installation.