Common Gold Placer Mining Equipment
2015-11-16 XinHai Views (960)
If you want to know more information, like quotation, products, solutions, etc., please contact us online.
Xinhai is a large company that provide placer mining equipment including jigs, concentrating tables,etc. Xinhai Placer gold mining equipment is used for the processing solution of gold. The primary gold deposits exposed in air through weathering of ore is broken gradually gold particles and debris, under external force moving the proportion of larger particles in places such as slopes, river and lake shore beach enrichment, when these deposits have development value becomes the sand gold. Gold placer mining equipment as gold mining solutions can be divided into the preparation job and sorting operation. Here briefly introduce the common gold placer mining equipment.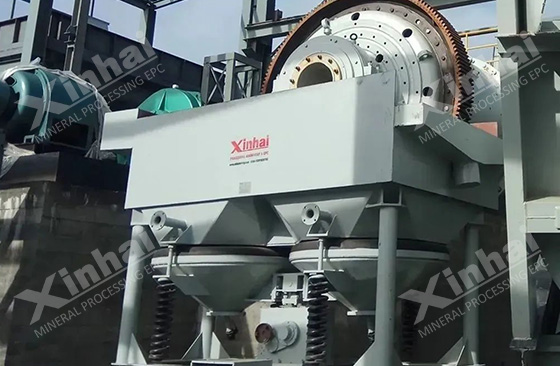 Gold placer has larger humidity and granularity and good dissociation. Generally after crushing and declining operation, gold placer mining equipment taking gravity concentration can get high rough concentrate. Before selecting Placer gold mining equipment, the selection of coarse grain placer must be crushed to avoid inclusion in its internal gold and loss to the tailings in the process of separation. At the same time, part of gold attract to the coarse grain, so it must be detached in the process of crushing operation and improve the gold recovery rate. Fine grain contains little gold so its recovery is difficult. However, the finely grained slime has great influence on subsequent reelection work so fine slime must be removed in the prepared work. Gold placer mining equipment in prepare part are a cylinder and flat concentrating table, jig, Helix chute, Helix separator, etc. In the placer gold mining selection process, the particle size, shape, and specific gravity were used to separate and enrich. There are three methods for the reelected coarse gold mine: first, with artificial elutriation pan out gold grains then heavy sand discarded; second, amalgamated by amalgamation barrel, get amalgam then heavy sand discarded; third, after artificial elutriation or amalgamated to extract gold, heavy sand will be sent to concentrate factory, and recycle heavy minerals with magnetic, electrical selected methods.
Xinhai mining company is the most experienced team of gold placer mining equipment, at the same time, it focuses on optimization and improvement of gold equipment sales. Gold placer mining equipment has won the acceptance of customers at home and abroad.