Sinomine Resources Group CO., LTD. acquired Zimbabwe Bikita lithium mine for 1.146 billion. After learning about Xinhai Mineral Processing EPC+M+O service, it signed the contract of Zimbabwe 2 million TPA Spodumene Ore Processing Project with Xinhai Mining. Xinhai Mining will provide the mineral processing EPC+M+O service including research and design, all-set equipment manufacturing and procurement, commissioning and delivery.
Xinhai Solution
01

Petalite dense medium recovery: Petalite is similar to potassium feldspar, albite and other minerals in nature. The flotation process has poor flotation separation effect, and it is difficult to achieve effective recovery. Xinhai Mining decided to use dense media for recovery before grinding.

02

Tantalum and niobium gravity separation:The by-product tantalum-niobium concentrate is obtained by adopting spiral chute roughing + magnetic separator primary selection + shaker secondary concentrating.

03

Lithium mica flotation: After recovering tantalum and niobium, the tailings enter the lithium ore flotation system, and go through three operations in sequence: desliming - magnetic separation - lithium mica flotation - spodumene flotation to obtain lepidolite (containing rubidium and cesium) and spodumene concentrate.

04

Spodumene flotation separation: Spodumene flotation adopts a closed-circuit process of roughing once, scavenging three times, and concentrating three times.
Project Result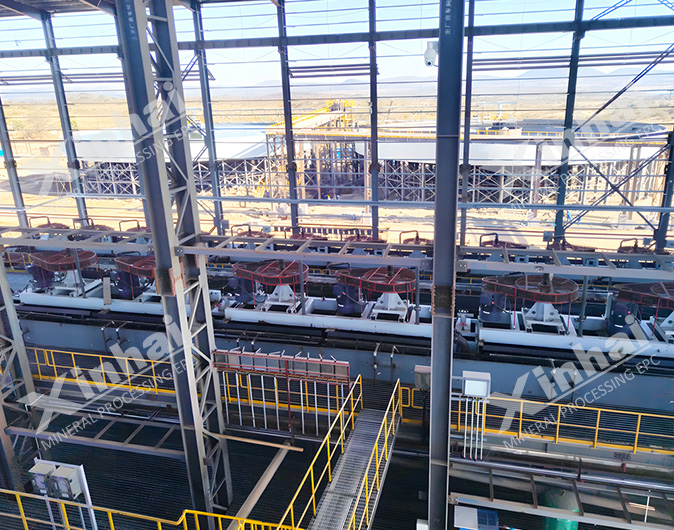 In July 2023, the official commissioning and trial operation started, it took only one year. Since the commencement of construction, the construction of projects undertaken by Xinhai Mining has been steadily advancing, and has successfully entered the trial production stage. In the later stage, Xinhai Mining will concentrate on the operation and management of lithium mine projects, and optimize project investment, cost and improve benefit! The smooth commissioning trial operation of this project once again proves the ability and strength of Xinhai Mining's "Turn-key Service for Mineral Processing Plant(EPC+M+O)"!