Four Advantages of Xinhai Pipeline Sampler
2018-02-07 XinHai Views (1079)
If you want to know more information, like quotation, products, solutions, etc., please contact us online.
As one of the most common sampling equipment in modern industrial production, pipeline sampler is widely used in petroleum, mineral exploration, mineral processing, chemical industry and other fields.
Compared with the traditional manual sampling, pipeline sampler not only strengthens the stability, evenness, and reliability of sampling, reduces the labor intensity, but also improves the accuracy analysis and automation degree, greatly improves the production conditions.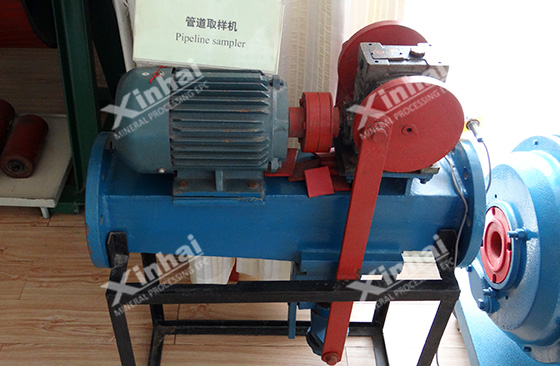 According to the sampling market survey, Xinhai has upgraded the optimized traditional sampling equipment, and developed a new efficient pipeline sampler, especially in terms of sampling precision.
1. Control sampling point automatically, random sampling intelligently, which not only perfectly avoid the interference of human factor, but also meet the requirements of the timeliness and accuracy. Besides, it can achieve sampling automatically on a slurry pipeline in the real time.
2. Electric appliance adopts photoelectric program control technology, and strictly controls start and stop time. When the setting time is reached, the controller will send operation instruction, and the motor rotation force makes the sampling pipe increase evenly through the guide, then the sampling pipe entrance opens automatically. After the sampling is completed, the electronic control system sends an instruction to stop the sampling pipe. In addition, Xinhai pipeline sampler can set sampling time interval, the time interval can reach 1 min/ time at least, and it can be adjusted freely according to the requirements of laboratory personnel, thus the selected samples can intuitively reflect pulp change during a period of time.
3. Pipe installation, without any elevation difference, which realizes zero-drop of pulp. At the same time, pipeline structure is easy to install and maintain, which greatly saves the maintenance cost.
4. Xinhai pipeline sampler adopts steel shell, stainless steel sampling pipe, regulating pipe, tin-bronze guider, motor, speed reducer, etc., its operating life can be up to 6 years, and the failure rate is extremely low.
Xinhai pipeline sampler takes both accurate sampling needs and high-efficient performances into consideration at the beginning, so that it stands out in many sampling equipment. Customers speak highly of Xinhai pipeline sampler whether it's running state or the final sampling result.