Gold Heap Leaching Process
2018-01-03 XinHai Views (1268)
If you want to know more information, like quotation, products, solutions, etc., please contact us online.
There is a long history to extract metal from ore directly with heap leaching process. This process is firstly used in low-grade copper deposits and then used in the leaching of low-grade uranium ore. With the development of technology and economy, heap leaching technology has been widely used in low grade oxidized ore to leach gold. What's more, the rising of activated carbon adsorption gold technology makes the heap leaching process widely used in the whole world, especially low-grade gold deposit and small gold mine.
With the rising gold prices in recent years, it further stimulated the rapid development of the gold industry. As the exhaustion of high-grade gold ore, researching on middle-low grade and refractory gold ore and strengthen the traditional gold beneficiation undoubtedly have become the main trend in global gold beneficiation industry. With its low construction investment, quick production result and good flexibility, gold heap leaching process has rapidly occupied a significant position in the ore dressing process.
Gold heap leaching processes include:
(1) Heap leaching - zinc powder replacement - gold mud roasting
(2) Heap leaching - activated carbon adsorption - desorption electrolysis
(3) Heap leaching - activated carbon adsorption - incinerator gold-loaded carbon - ash melting
After many experiments, Xinhai ore dressing tester found that "heap leaching -- activated carbon adsorption -- desorption electrolysis " process has better gold leaching effect than others among above three kinds of heap leaching processes.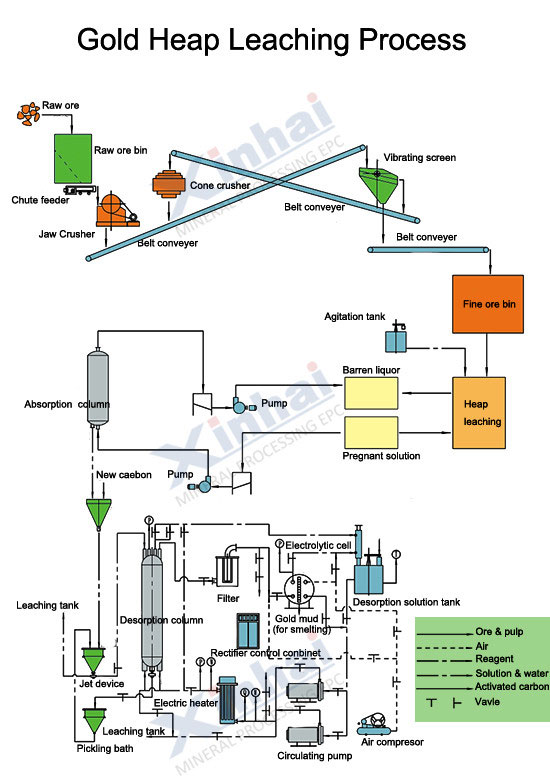 Heap leaching—activated carbon adsorption—desorption electrolysis:
1.Ore Preparation
Raw ore is crushed into fine particles (30-50mm) by using jaw crusher or cone crusher produced by Xinhai, then will be heap leaching directly; or pelletization (fine particles are pelletized into bigger lumps ), then piled by forklift.
2.Heap Leaching Base Wad
Leakproof heap leaching base wad is made of asphalt, concrete and plastic materials.
3.Heap Leaching System
Spray leaching solution (low concentration of cyanide, alkaline solution, nontoxic solvent or dilute sulphuric acid) to the ore heap, then the gold-bearing solution (rich solution) leak from the bottom of ore heap and flowing into rich solution pool.
4.Gold Extraction
Activated carbon adsorption and zinc powder replacement methods are used to recover gold mud.
The gold-bearing solution is pumped into adsorption column via rich solution pump. The solution that absorbed by activated carbon is the poor solution, which will be returned to spray system reuse for recycling. Besides, after rich solution purification and deoxidation treatment, add zinc powder replacement device to get gold mud.
Features:
1. Less requirement on heap leaching site, large processing capacity
Heap leaching process is easy to adapt to local condition. Permanent heap plant or overlap-type heap plant can be built according to landscape situation.In addition, the processing capacity of heap leaching technology can reach several million tons, which greatly reduces production cost.
2. Easy to process low-grade gold ore
In general, the gold grade is 0.55 ~ 3.0g/t, the lowest average grade is 0.59 g/t, the boundary tenor of gold ore is 0.275 g/t.
3. Without huge capital construction and complex equipment, thus construction cycle is short and investment is much low.