Small Scale Gold Mining Equipment for Sale
2022-03-10 XinHai Views (862)
If you want to know more information, like quotation, products, solutions, etc., please contact us online.
Gold mining equipment refers to the machine that extracts gold ore from the earth's crust and separates gold from other gangue minerals. Small scale gold mining equipment is mainly used in small-scale gold mines and mobile gold processing plants.
Common small-scale gold mining equipment includes drilling equipment, loading shovel equipment, transportation equipment, crusher, grinding equipment, classification equipment, cyanidation equipment, flotation equipment, gravity separation equipment and so on.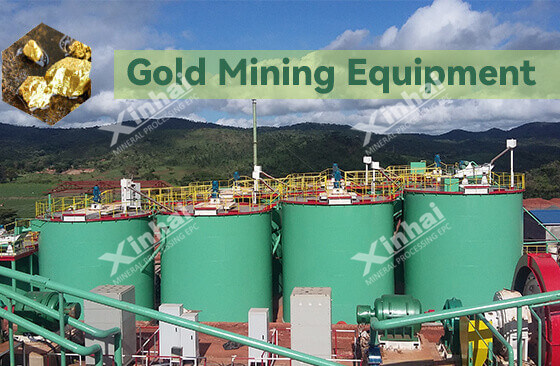 Use the table of contents below to navigate through the guide:
01
Gold Drilling Equipment
Gold drilling equipment is the machine that leaves a cylinder or hole in the ore by rotary cutting or extrusion with a tool harder and sharper than the ore, which is the preliminary equipment for gold ore mining. Common small-scale gold drilling equipment includes down-the-hole drilling rigs, hand held rock drill, drifter, drilling jumbo, etc.
| | |
| --- | --- |
| Down-the-hole drilling rig | Hand held rock drill |
| Drifter | Drilling jumbo |
02
Gold Loading Shovel Equipment
Gold loading shovel equipment is the main machinery of gold mining and mainly used for gold ore shovel, loading, unloading, transportation and other operations. It can also complete bulldozing and lifting operations if changes the different working devices. Common small-scale gold loading shovel equipment includes rock loader, mucking Loader, excavator, load haul dump, etc.
| | |
| --- | --- |
| Drilling jumbo | Mucking Loader |
| Excavator | Load haul dump |
03
Gold Transportation Equipment
Gold transportation equipment is mainly used to transfer gold ore mined underground to the ground and processing plant. The characteristics of mine transportation are large transportation volume, many varieties, different transportation distances, and complicated routes. Common small-scale gold transportation equipment mainly includes mining locomotives, hoists, dump trucks, belt conveyors, etc.
| | |
| --- | --- |
| Mining locomotive | Dump truck |
04
Gold Crushing Equipment
Crusher mainly crushes large gold ore into small pieces through extrusion and bending, and is the common equipment in gold mining plants. According to the feeding and discharging particle size, crushing operations can be divided into coarse crushing, medium crushing and fine crushing. Common small-scale gold crushing equipment includes jaw crusher, hammer crusher, cone crusher, impact crusher, gyratory crusher, roller crusher, etc.
| | |
| --- | --- |
| Jaw crusher | Impact crusher |
| Cone crusher | Hammer crusher |
05
Gold Grinding Equipment
Grinding stage is an operation with large power consumption and investment in gold processing plants, often used in combination with crushing operation. The purpose is to maximize the dissociation of gold ore and gangue minerals, so that the gold ore particle size meets the requirements of the next beneficiation operation. Common small-scale gold grinding equipment mainly includes ball mills, rod mills, autogenous mills and semi-autogenous mills.
| | |
| --- | --- |
| Ball mill | Rod mill |
| Autogenous mill | Semi-autogenous mill |
06
Gold Cyanidation Equipment
Cyanidation method is one of the main gold extraction method, which can be divided into two categories: agitation cyanidation and percolation cyanidation. Among them, gold agitation cyanidation method mainly includes the cyanidation-zinc replacement process (CCD and CCF) and filter-free cyanidation carbon slurry process (CIP and CIL). And gold percolation cyanidation methods include pool leaching and heap leaching. Commonly small-scale gold cyanidation equipment mainly includes zinc powder replacement device, leaching agitation tank, desorption electrolysis system, air lifter, carbon screen and so on.
| | |
| --- | --- |
| Desorption electrolysis system | Zinc powder replacement device |
| Leaching agitation tank | Carbon screen |
07
Gold Flotation Equipment
Flotation is a widely used beneficiation method in gold processing plant. It is often used to process gold ore containing sulfide minerals with high floatability. Float gold into copper and lead concentrates, and then extract gold from these concentrates. Common small-scale gold flotation equipment are various types of suction mechanical agitation flotation cell (SF flotation cell, BF flotation cell, XJ flotation cell) and air inflation mechanical agitation flotation cell (KYF flotation cell, XCF flotation cell).
| | |
| --- | --- |
| SF flotation cell | KYF flotation cell |
08
Gold Gravity Separation Equipment
Gravity separation method is the process of using the difference in the density and particle size of minerals to create suitable loose stratification and separation conditions by means of the combined action of medium fluid and various mechanical forces, so as to obtain gold products with different densities or different particle sizes. It is mostly used to separate alluvial gold and vein gold before and after flotation and leaching to recover the coarse-grained gold from monomer dissociation. Commonly used small-scale gold gravity separation equipment includes jig, shaking table and spiral chute.
| | |
| --- | --- |
| Shaking table | Jig |
To Wrap Up

The above is the small scale gold mining equipment list. If you want to know the price of related equipment, you can leave a message or contact our online customer service, we will send you the quotation soon.