Serving Golbal Clients During Epidemic, Xinhai Mining Do Like This!
2021-04-20 XinHai Views (929)
If you want to know more information, like quotation, products, solutions, etc., please contact us online.
At the end of 2019, a battle without gunpowder arose suddenly. With the spread of epidemic, regions carried out various epidemic prevention measures. There are invisible barriers between countries. Under the influence of epidemic, the personnel flow was blocked. It is a difficult problem to go abroad for installation and commission. Although with installation and commission team abroad for part of project overcoming difficulties, there were still a large amount of insatiable installation demands. To guarantee projects put into production on schedule, Xinhai Mining found another way to guarantee the installation schedule such as using installation instruction book, 3D model and other measures.
In 2020, a gold processing project is urgent in the installation of desorption electrolysis system. As the important part of gold processing equipment, desorption electrolysis system is comprehensive and complex in equipment composition. In the absence of on-site installation, the progress of the project has reached a deadlock.
Faced with this difficult situation that has never been encountered, Xinhai Mining Design Institute and Machinery Design Institute have conducted technical discussions for many times. After repeated deliberation, Xinhai Mining has decided to innovatively use 3D models in installation instructions. The name and installation order of each component in the module design of the desorption electrolysis system are clearly marked, combined with the text description, to remotely guide the customer to install, meet the needs of on-site equipment installation, and help the project successfully complete the installation work.
Use the table of contents below to navigate through the guide:
01

Build a 3D model and restore the plant site

Xinhai Mining first carried out 1:1 3D modeling of the desorption electrolysis system based on CAD drawings to simulate the real scene of the concentrator, which not only facilitates design and verification, but also allows customers to experience the real scene of the project in advance.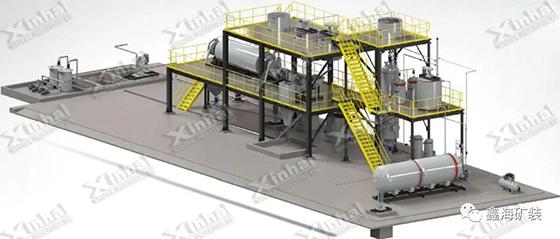 02

3D PDF documents, easy for customers to view

Based on the 3D model of the desorption electrolysis system, Xinhai Mining Equipment generates a 3D PDF file document. After the customer opens the document, it can be rotated 360°, and every part of the desorption electrolysis system can be observed. You can also hide every component in the design tree, so that customers can clearly see the connection of the parts they want to see, and guide customers to install correctly.
03

Mark the part number to clarify the installation sequence

In order to facilitate customers to install the equipment and pipelines of the desorption electrolysis system by themselves, Xinhai Mining Co., Ltd. marked the pipelines, steel platforms, bolt connections and other components according to the installation order with numbers, combined with the 3D model to indicate that the installation sequence is clarified, and the customers are convenient for self-installation.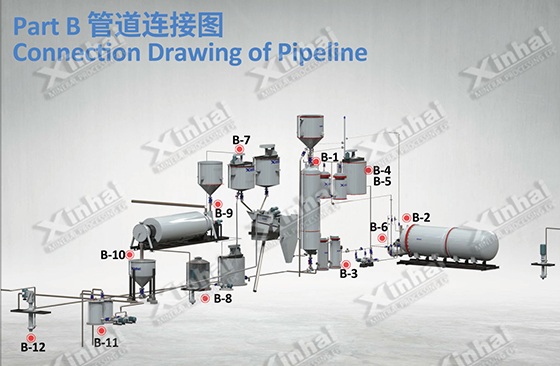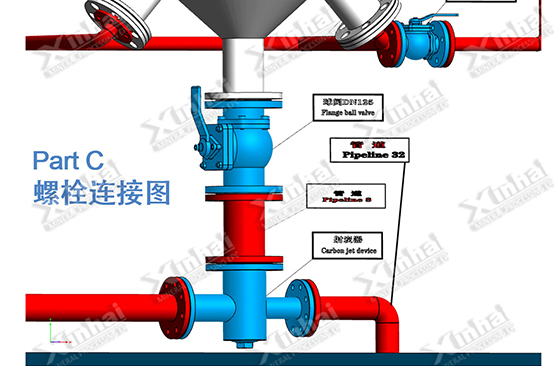 Before that, in order to help customers install and put into production on schedule, Xinhai Mining has compiled installation instructions for desorption electrolysis systems of different specifications such as 500kg, 1000kg, 1500kg, 2000kg, etc., to help customers successfully complete the installation of multiple gold mine projects.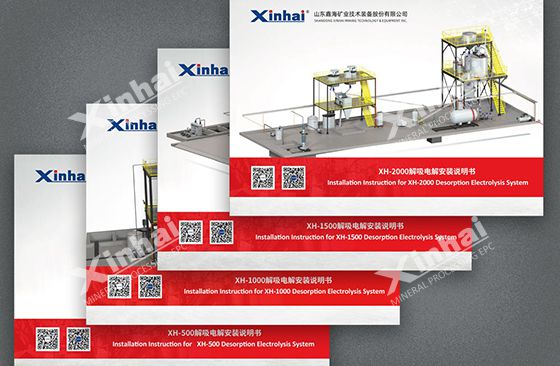 Think about what customers think, worry about what customers need, and solve their problems. As early as the establishment of Xinhai Mining, the concept of customer demand-oriented has been deeply rooted in Xinhai people's minds. At that time, the mining industry was mixed. Major manufacturers focused on selling equipment, and mining construction projects were all responsible. Xinhai Mining insisted on "what you need is what we can do" and adopted a one-stop service model for mining engineering to avoid responsibilities in each link are shirk, and then the service is continuously upgraded according to market demand, and gradually extended from a single mining equipment manufacturing to a "plant selection plant" integrating "mine design and research, complete equipment manufacturing and procurement, installation, commissioning and delivery" and other services as mineral processing EPC service.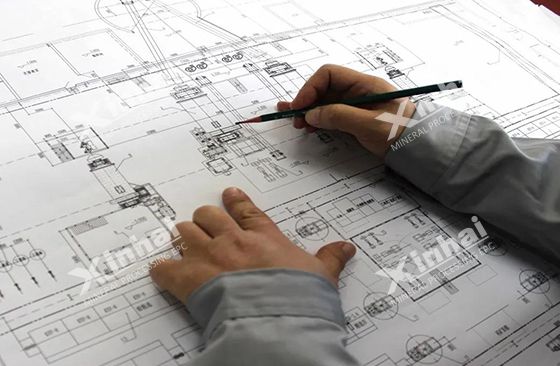 Then in 2019, combined with the global mining situation, Xinhai Mining updated mineral processing EPC service again as mineral processing EPC+M+O service. It integrates all the links involved in the construction of modern mining enterprises such as design and research, complete equipment manufacturing and procurement, commissioning and delivery, mine management and operation, and strives to carefully consider each link of project services, so that each link is connected in an orderly manner. The links are interlocked to avoid delays and delays in construction, and to ensure that the concentrator can obtain ideal economic benefits and technical indicators as soon as possible.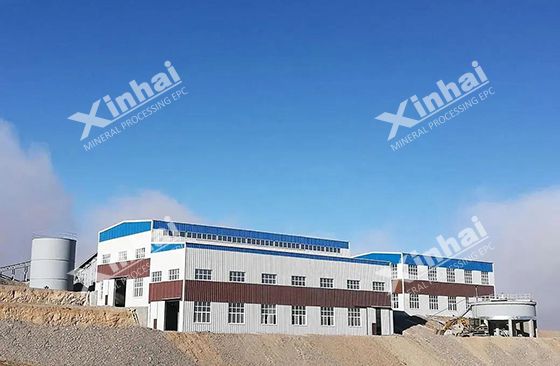 As the proposer and practitioner of mineral processing EPC+M+O service, Xinhai Mining has always been committed to providing customers with modern, energy-saving and high-efficiency mining project construction and operation solutions! The epidemic is still spreading. In the future, Xinhai Mining will always practice "What you need is what we can do", continuously improving the technological innovation, promotion and application of its own beneficiation process and equipment, and continue to develop on the road of service to provide project solution for more mines around the world.