Brief Introduction of Xinhai Hydrocyclone
2018-12-08 XinHai Views (760)
If you want to know more information, like quotation, products, solutions, etc., please contact us online.
There are four main types of Xinhai hydrocyclone: XCI hydrocyclone, XCII hydrocyclone, XCIII hydrocyclone and XCIV hydrocyclone. Here are brief introductions of them respectively.
These four types of cyclones from Xinhai have similar work principle with common cyclone, but each one with its own features.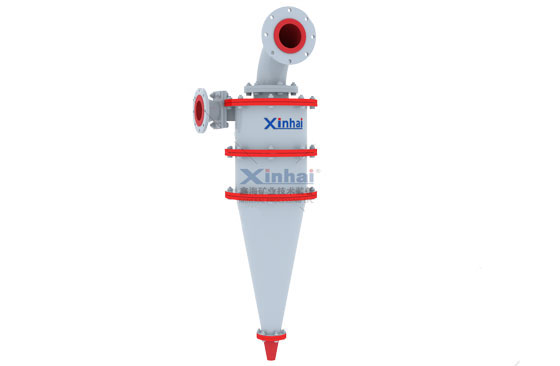 (XCI hydrocyclone)
XCI hydrocyclone, with adjusted feeding throat and desilting throat, is a new type high-efficiency hydrocyclone. It uses 3D model and CFD model and other professional design theory, at world-class level,which is suitable for classification and dewatering.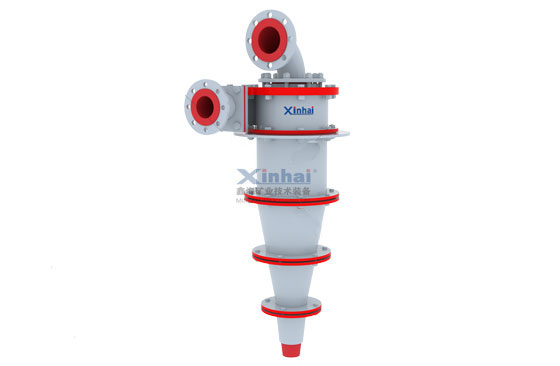 (XCII hydrocyclone)
XCII hydrocyclone could be divided as classifying type and thickening type. The feeding throats of XCII classifying hydrocyclone are involute type, which increases the centrifugal force to feed granule. So that it can get a better classifying effect and reduce the damage to feed box. XCII hydrocyclone is more suitable for classification and can replace spiral classifier completely in small and middle processing plants. The products through XCII classifying hydrocyclone can increase 10%-15% handling capacity to ball mill. XCII thickening hydrocyclone is a new type designed for tailings dry outlet. The structure of it is reasonable and the thickening effect is excellent too. The concentration of bottom flow reaches 75%. It gets obviously results in the practices of tailings dry raw application.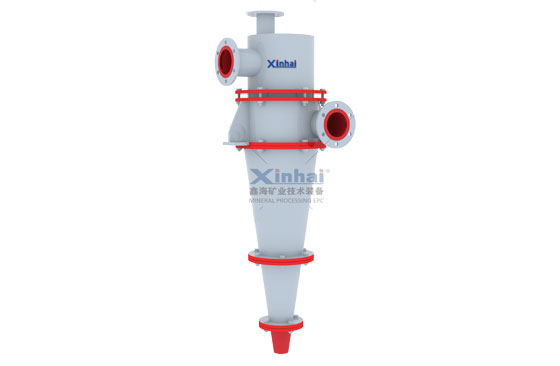 (XCIII hydrocyclone)
XCIII hydrocyclone, a patented product of Xinhai, is equipped with a special fishtail device at the desilting throat. It could adjust bottom flow concentration through the change created by adjusting siphon device. Thick granules are not easy to be left out when overflow. XCIII hydrocyclone is applied to thickening and classification.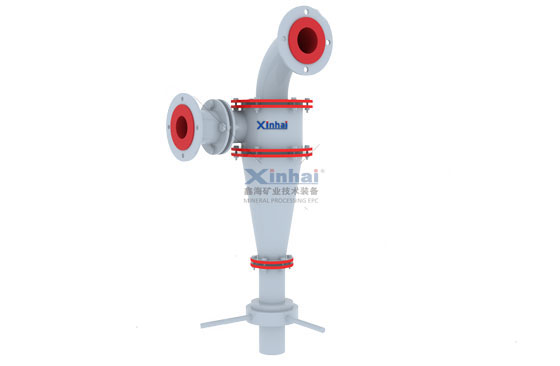 (XCIV hydrocyclone)
XCIV Hydrocyclone has a reasonable structure size, and equipped with an adjustable tightening sleeve at the desilting throat. The tightening sleeve can adjust the length of desilting exactly. XCIV hydrocyclone has a stable separation direction and applying for the classification and dewatering of thin granule.