How to Create a New World for Traditional Manufacturing Industry in Internet Era?
2018-08-03 XinHai Views (623)
If you want to know more information, like quotation, products, solutions, etc., please contact us online.
July 13th, 2018, the 17th China Internet Conference for three days dropped the curtain in Beijing. Twenty-five forums were held in this conference, which were around One Belt One Road, Blockchain, Internet Financial Security, Industrial Internet and many other hot points. During this conference, the government, scientific research institutions, experts and scholars in Internet area, and enterprises have talked freely about the future direction and path of development and inherit of the Internet.
Since the conception of Internet Plus was put forward in 2012, it has been focused by all sectors of society. In 2016, it was selected in Ten New Word and Ten Catchword of Report on China Language Life(2016). Internet Plus is not simply 'Internet plus Industry'. It is a new financial form which beneath a new life to the traditional industry by the Internet. Moreover, China is a manufacturing power in the world. Manufacture, as the national pillar industry, needs to be ready for the new era faster than other industries. Informatization, high-efficiency and convenience are the unique advantages of the Internet. The concerning problem of every traditional industry is how to use these advantages properly. Many Chinese enterprises thought that marketing and selling products on the Internet are enfo eService. However, it is wrong. The tool of the Internet needs to be mixed with the core of industry, reforming the organization frame, group and operation. It's definitely wrong to take the successful mode blindly from others, but to reform it for every single enterprise.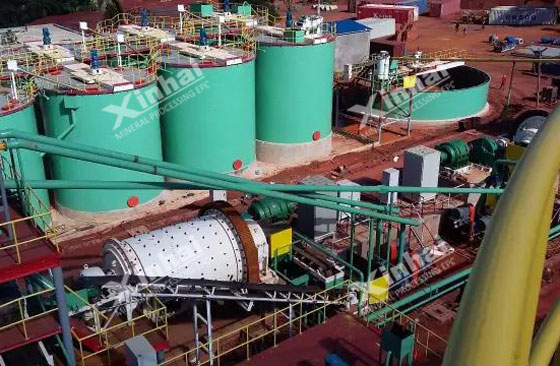 Shandong Xinhai Mining Technology and Equipment Inc., founded in 1997, mainly provides mineral processing EPC, concentrates on research and design, manufacturing, equipment procurement, management service, mining operation as a whole. In 2012, Xinhai began to put hands on transforming and updating. Depending on the unique features of the Internet, Xinhai have carried on a system of adaption, and successfully updated from traditional manufacturing industry into Internet service, such as adopting the mode 'Internet plus Industry' firstly, organizing its own e-commerce team, opening the overseas market, accessing to the global big data firstly, establishing multi-language enterprise website. Finally, Xinhai got great grades on Facebook, Google, Twitter and other marketing channels, especially it has over 1,000,000 fans on Facebook, and became the global classic marketing cases in 2017.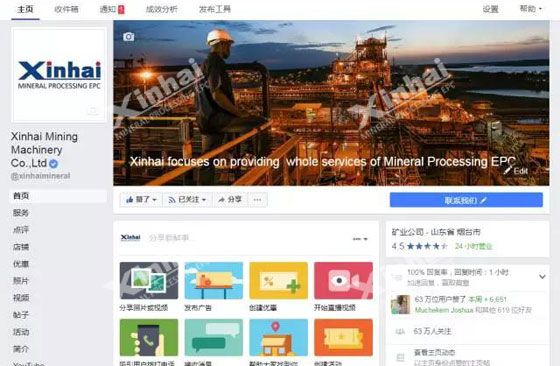 'Not copying, not following, not idle theorizing' were three rules Xinhai carried on in the practice of cross-border electronic commerce. Having tried many B2B network platforms and marketing plans, Xinhai finally found its own best overseas marketing mode.
In the ordinary state that manufacturing industries are common sag, Xinhai goes upstream by the internet, opening up the new overseas market with electronic commerce. Now Xinhai has provided services in over 90 countries and districtions all over the world, completed over 500 projects, and set overseas office in multiple countries, which increased Xinhai's income explosively in three years and turned into the leader of the industry.
After practicing carefully for many years, Xinhai has summarized two points of success: First, accurate marketing. The clients of mining equipment manufacturing and services are separated. The rage of target customers is ruled. It's necessary to market for specific customers who have the requirement. Second, combining online and offline. It is not proper to indulge offline market for the expansion of online marketing, because the online marketing is also supporting the offline marketing. The two side should be concerned together. At the same time expanding the scale of electronic business, the offline update should be improved.
As for employee of enterprise, Xinhai have adjusted itself for Internet Plus. It has improved talent introduction, not only promoting the percent of professional technics for technology revolution and advantage, but also introducing talents for electronic business, establishing the electronic business center, which made the division of labor more refining. So that production efficiency got improved, and the costs went down.
So far, Xinhai have obtained fruitful achievements on the way of Internet Plus, and successfully turned into professional mineral processing EPC provider from traditional mineral manufacturing enterprise. Now, over 90% projects were from overseas market, and over 90% orders came from the electronic business center. In the future, Xinhai would catch up with the step of the era and brave the wind and the waves in the ocean of the internet.